Rose-Hulman Professor and Students Develop Free Open Source Robotics Platforms to Help Increase Diversity in STEM
Tuesday, February 28, 2023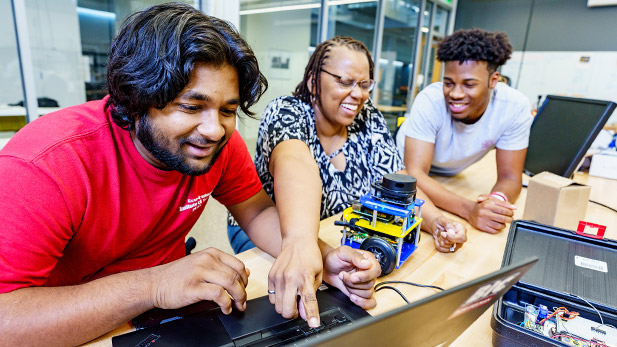 Esteemed electrical and computer engineering professor Carlotta Berry, PhD, feels her work can no longer be contained within a classroom and should be shared with others to change the face of science, technology, engineering, and mathematics (STEM) by introducing more diverse populations to engineering and robotics.
Her Robotics for the Streets initiative, supported by a $50,000 grant from the Open Source Hardware Association (OSHWA), aims to do just that.
Berry, who specializes in human-robot interaction, robotics education and undergraduate engineering education, and several students have spent the past year developing free open-source software and hardware platforms to help educators introduce mobile robotics to schools and community organizations, especially historically underserved youths.  
"My desire is for engineering to reflect the world we live in by changing the face of STEM," said Berry, the Lawrence J. Giacoletto Endowed Chair of Electrical and Computer Engineering and an open-source hardware trailblazer fellow. "If we are to solve the problems of the world, then the engineering and STEM thought leaders must have the same diversity as the world."
Berry is among the first group of nine college educators participating in OSHWA's new Trailblazers Fellows Program. She is documenting the development process through social media, maker sites and her personal website.
"We need to make STEM more accessible to more communities and in that way serve to diversify STEM," she added.
Her simple hardware platform is flexible enough to be created by using a 3D printer, Tinkercad modeling programs and Arduino microcontrollers to be used by everyone, from novice to expert in robotics, to create robots for outreach, education and research. It is modular enough so that a variety of technical elements, like sonar sensors, can be added to make the robot follow a line, stay within the boundaries of a pathway or avoid hitting obstacles.
The recently completed second phase of the project has featured the introduction of Lily∞bot and Daisy∞Bot for service and education to members of the community to evaluate. Then this summer Berry hopes to scale up to a Rosie-bot that does more advanced motions and will have a more diverse sensor suite for more advanced behavioral functions.
"Teaching is my spiritual gift, ministry and life's purpose and I now have an entirely new way to do it," states Berry, who earned distinguished teaching awards in 2022 from the Institute of Electrical and Electronics Engineers, Society of Women Engineers, and American Society of Engineering Education's Electrical and Computer Engineering Division.
Several Rose-Hulman students have contributed to Berry's Robotics for the Streets initiative by assisting in the development of the Flower∞Bot platforms, along with other open-source technical resources that will be used by educators throughout the world.
Computer engineering student Josiah McGee and Murari Srinivasan, an electrical engineering and computer science major, spent last summer helping create the initial design, software and 3D printing materials.
This school year, junior computer engineering student Sean Hyacinthe added a PlayStation controller to the platform and user-tested it with members of the Building Undergraduate Diversity (Rose-BUD) program. Katie Collins, a sophomore computer engineering major, had a primary role of building the Flower∞Bots platforms while Alejandro Marcenido Larregola, a sophomore mechanical engineering student, created most of the updated 3D designs and printed them for on-campus testing.
"This is another valuable steppingstone in my Rose-Hulman career. The opportunity to work with Dr. Berry on leading-edge technology that will be available for everyone to use has providing me a wealth of experiences and backgrounds on fields in computer engineering that I never knew existed," said Srinivasan, whose academic coursework and undergraduate projects helped earn an electrical engineering co-op with GE Appliances.
McGee remarked, "It will be great that teachers will be using the fruits of all our hard work to introduce robotics to school children around the world."
Berry has been a member of the Rose-Hulman's faculty since 2006, co-directs the institute's multidisciplinary robotics program, and co-founded the Rose-BUD program, which encourages students from marginalized and minoritized groups to pursue STEM careers. Since 2020, she has been an advocate for diversifying the engineering profession and helped start two advocacy organizations, Black In Engineering and Black In Robotics, to bring awareness to systemic racism in STEM, and build community and connection among higher education allies.
Berry also was recognized among Indiana's 2022 Women of Influence Award recipients by the Indianapolis Business Journal, one of INSIGHT Into Diversity's Inspiring Women in STEM, and was the TechPoint Foundation for Youth's 2021 Bridge Builder Mira Award recipient. She also received a Leading Light Award from Indianapolis' Women & Hi Tech organization, earned FIRST Indiana Robotics' Game Changer Award, and been featured in Reinvented magazine.