Imagine having the opportunity to conduct meaningful research to address a problem you care about while making connections with Rose-Hulman faculty and peer students on campus. That is exactly what the Rose Research Fellows program delivers. The new Rose Research Fellows program is offered to a select, small cohort of students. The program provides:
Face-to-face classes
Paid research experience
Opportunities to develop a network with faculty and fellow students
Rose Research Fellows creates an environment of excitement and recognition for undergraduate research on the Rose-Hulman campus. Students enroll in courses that introduce the process of research and provide skills for success in the laboratory.
Program Benefits
Hands-on research experience
Small cohort size
Course credit
Faculty research mentors
Peer mentorship community
Networking and speaker events
Spring research symposium

Career readiness
Post-graduate program readiness
Research travel awards
Cohort Schedule
Fall Experience
            MDS 220: Intro to Research Fundamentals (1 cr.)
 Winter Experience
            MDS 221: Conducting and Communicating Research (1 cr.)
            Paid research experience
 Spring Experience
            Paid research experience
            Research Symposium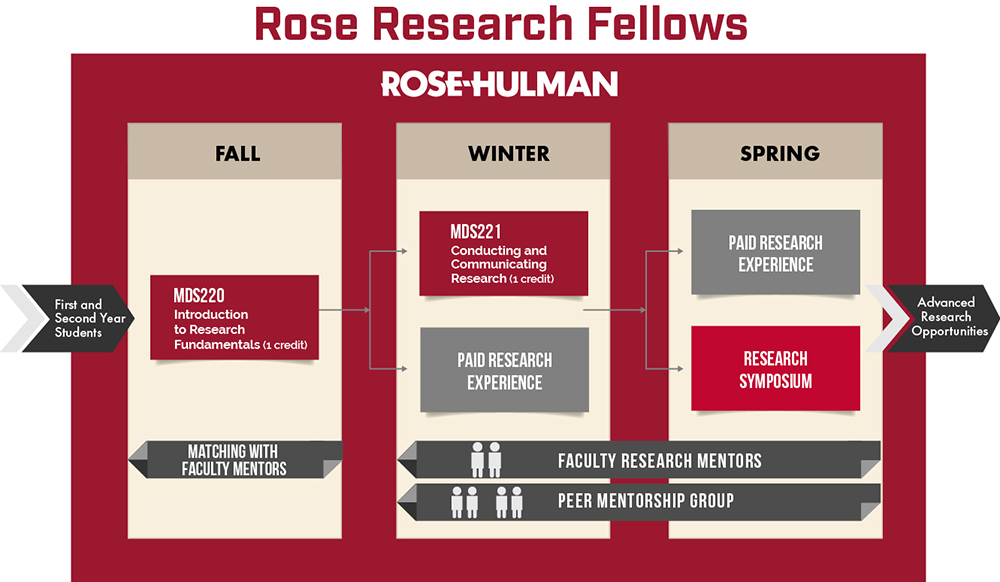 Eligibility: First- and second-year Rose-Hulman students.
Space is limited in this new program. Be one of the first to apply!