Berry Named Distinguished STEM Educator, Open Source Hardware Trailblazer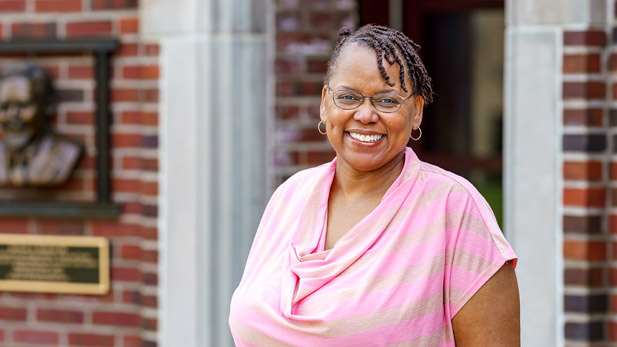 Carlotta A. Berry, PhD, the Dr. Lawrence J. Giacoletto Endowed Chair for Electrical and Computer Engineering, is no stranger to national recognition as a distinguished educator who's blazing new trails in electrical and computer engineering and robotics education. 
The latest honor features Berry earning the 2023 Undergraduate Teaching Award from the Institute of Electrical and Electronics Engineers for her contributions to multidisciplinary robotics education and leadership in creating a national platform to diversify science, technology, engineering, and mathematics (STEM).
Berry also has received the 2022 Distinguished Educator Award from the American Society of Engineering Education's (ASEE) Electrical and Computer Engineering Division. The honor is presented annually to recognize an individual who has shown evidence of vision and contribution to electrical and computer engineering education. 
Finally, Berry is among the first group of nine college educators participating in the new Trailblazers Fellows Program organized by the Open Source Hardware Association (OSHWA). She will use a $50,000 grant to incorporate open source hardware resources within academia while working with Rose-Hulman students on a project to create an open source low cost mobile robot platform that can be used for outreach, education and research. Berry will document the process of robot design, assembly, controls, and navigation through a multi-pronged approach on the OSHWA repository, social media, YouTube, maker sites, and her personal website.
A member of the Rose-Hulman's faculty since 2006, Berry was named a Fellow of ASEE in 2021 and is a past president of the editorial board for ASEE's Computers in Education Journal. She has a distinguished record of developing curricular materials in robotics engineering and has been named one of 30 Women in Robotics You Need to Know About by robohub.org.
Berry also was selected one of INSIGHT Into Diversity's Inspiring Women in STEM and was the TechPoint Foundation for Youth's 2021 Bridge Builder Mira Award recipient. She also received a Leading Light Award from Indianapolis' Women & Hi Tech organization, earned FIRST Indiana Robotics' Game Changer Award, and been featured in Reinvented magazine.
Since 2020, Berry has been an advocate for diversifying the engineering profession and helped start two advocacy organizations, Black In Engineering and Black In Robotics, to bring awareness to systemic racism in STEM, and build community and connection among higher education allies. She also co-founded Rose-Hulman's Building Undergraduate Diversity (RoseBUD) program, which encourages students from marginalized and minoritized groups to pursue STEM careers.
Berry's research is focused on educational mobile robotics, human-robot interactions and interfaces, and she is the author of the text, "Mobile Robotics for Multidisciplinary Study," published by Morgan & Claypool.
Learn more about Berry's professional background and activities in her faculty profile.