Learning & Research Facilities
Experience, explore, engineer and test to your heart's content! We have places for that. All over campus. Big spaces for projects. A phenomenal observatory. Science labs where equipment is continually updated so that it is always leading edge. And, our clean room for nanotechnology is open to all students—yes, even in your first year. You definitely won't experience that at the big schools. (Ask them!)
Branam Innovation Center
The Branam Innovation Center is a 16,200-square-foot open workspace that promotes multidisciplinary collaboration for project and competition teams.
Logan Library
Logan Library provides access to high quality resources, spacious study areas, excellent service, convenient hours and friendly, helpful staff to support you and your curriculum. We promote life-long learning to help you learn, share and succeed.
MiNDs Lab
Starting as a freshman, our MiNDs laboratory will give you opportunities in the area of semiconductor and micro/nano technology through courses and hands-on experiments in fabrication, characterization and modeling of micro/nano devices and systems. There are numerous professors performing state of the art research with undergraduates within the cleanroom year round.
Oakley Observatory
Located just east of the main campus, Oakley Observatory is equipped for teaching, as well as conducting research in variable star photometry, searching for supernovae or searching for comets.
JRSI Laboratory
In this lab, you will have the opportunity to work side by side with surgeons, faculty and engineers to design, execute and present scientific investigations in an effort to develop engineering solutions to clinical problems. Mechanical testing in the lab is conducted utilizing a state-of-the-art biaxial materials testing machine.
Rose-Hulman Ventures
Rose-Hulman Ventures is a program that brings together students and technology-based companies. For students, the program provides the best engineering professional practice experience possible. In turn, this provides businesses with prototypes, refinements to the design of existing products and expansion in current engineering capabilities. The facility is on the south campus of Rose-Hulman.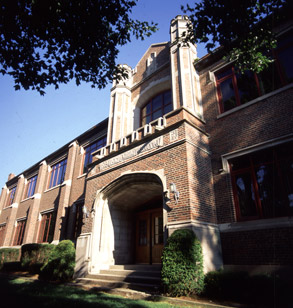 Moench Hall, the institute's main academic building, houses Electrical & Computer Engineering, Optical Engineering, Mechanical Engineering, Physics, Chemistry, Computer Science, Software Engineering, Biology and Biomedical Engineering, Engineering Management, and Humanities & Social Sciences.
Dedicated in 1983, Olin Hall houses the departments of Chemical Engineering and Civil Engineering. Olin Hall's High-Bay Lab is one of the most intriguing facilities on campus, and is another great resource for student research. The newer Olin Advanced Learning Center's state-of-the-art classrooms come equipped with computer projection and network links at every desk.
Located on the north edge of the Root Quadrangle, Crapo Hall is a classroom and laboratory building housing the Department of Mathematics. Both mathematics and chemistry classes take place in Crapo Hall and our Computing Center operates from the lower level. The building also houses our William Cook Lab for Bioscience Research, better known as our fully equipped greenhouse.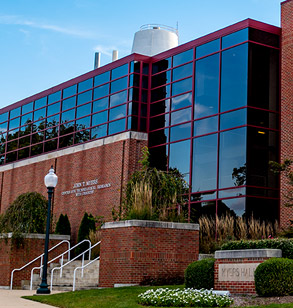 John T. Myers Center for Technology Research
The John T. Myers Center for Technological Research is a modern classroom and lab building devoted to student and faculty project work. The 40,000-square-foot facility provides specialized instrumentation for students and faculty to engage in engineering design projects for external clients. It includes our MiNDS lab and our Orthopaedic Biomedical Engineering Lab. One of the center's key features is convenient lab space for project-based education. Also, students and faculty can present their findings in a theater-style classroom enhanced with advanced presentation technology.