Professor Carlotta Berry Featured Among Indiana's 'Women of Influence'
Thursday, October 27, 2022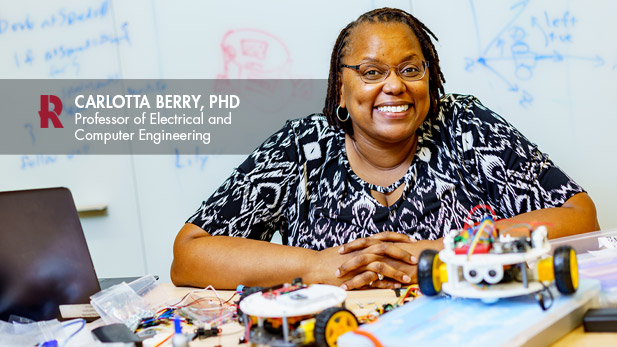 Carlotta A. Berry, PhD, the Dr. Lawrence J. Giacoletto Endowed Chair for Electrical and Computer Engineering, has been recognized among Indiana's 2022 Women of Influence Award recipients by the Indianapolis Business Journal for being statewide leaders in education, business, law, and public service.
Berry is among four award winners featured on the cover of the publication's special Women of Influence issue, along with a profile story, and joined this year's 21 awardees at a special recognition event in Indianapolis on Thursday, October 27. 
"We are thrilled to honor them as part of our 16th annual Women of Influence class, not only because of the great work they are doing for their companies and organizations but also because of the impact they are having in the community and on other women as mentors and trailblazers. I am inspired by their tenacity and passion," stated Nate Feltman, chief executive officer of IBJ Media and IBJ publisher, about Berry and this year's other honorees.
Berry was recognized for her achievements in academia and as a professional engineer, along with her efforts to support, encourage and mentor future STEM professionals, including those from underrepresented minorities in engineering and robotics.
A member of the Rose-Hulman faculty since 2006, Berry has brought her technical expertise and interests in mobile robotics and enhanced human-robot interfaces into the classroom. The Giacoletto Endowed Chair also has allowed her to showcase excellence and innovation in multidisciplinary robotics education, research, and outreach.
Berry currently co-directs Rose-Hulman's multidisciplinary robotics program, which provides students the opportunity to earn a minor in robotics to recognize their experience and knowledge of robotics-related materials. Her work as an Open Source Hardware Association Trailblazer Fellows is allowing Rose-Hulman students to create a low-cost open source mobile robot platform that can be used for outreach, education and research.
Her role as a mentor has included Berry helping start Black In Engineering and Black In Robotics organizations that are bringing awareness to systemic racism in STEM, and building community and connection among higher education allies. She also founded an education consulting firm, NoireSTEMinist, to provide workshops to make career fields in robotics and engineering more accessible and attractive to people of all ages and backgrounds. Berry has developed an international social media following with her regular robotics- and engineering-related videos, including a popular Kitchen Table Circuits series that uses household items to teach basic electrical circuit concepts.
At Rose-Hulman, Berry co-founded the Building Undergraduate Diversity (RoseBUD) program, which encourages students from marginalized and minoritized groups to pursue STEM careers
The Women of Influence Award is the latest recognition Berry has received for her academic and outreach efforts. She has received the Society of Women Engineers' Distinguished Engineering Educator Award, the Institute of Electrical and Electronic Engineers' 2023 Undergraduate Teaching Award, and the 2022 Distinguished Educator Award from the American Society of Engineering Education's (ASEE) Electrical and Computer Engineering Division. She also is an ASEE Fellow, been listed among the 30 Women in Robotics You Need to Know by robohub.org and one of INSIGHT Into Diversity's Inspiring Women in STEM, along with being among the first group of college educators participating in the Open Source Hardware Association's new Trailblazer Fellows Program.
Learn more about Berry's professional background and activities in her faculty at www.rose-hulman.edu/academics/faculty/berry-carlotta-berry123.html.