Sophomore Duo Named Goldwater Scholars for Science, Computing Research Contributions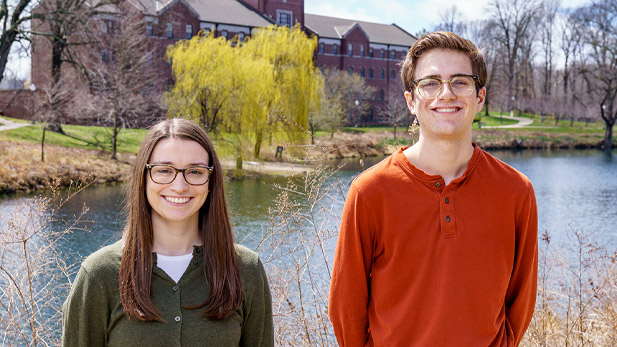 Significant contributions in national research projects have earned sophomores Nathan Hurtig and Hannah Snider recognition as Goldwater Scholars, the preeminent honor for undergraduate students pursing degrees in the natural science, engineering and mathematics. They have received substantial scholarships from the Barry Goldwater Scholarship and Excellence in Education Foundation to support their career goals of earning doctorate degrees in their career fields. 
This marks the second consecutive year that a Rose-Hulman student has been named a Goldwater Scholar, and the institute has now had 14 students earn this distinction since 2004, with several more honorable mention selections as well. However, this is the first time that Rose-Hulman sophomores have been recognized with this award, according to associate professor of biology and biomedical engineering Bill Weiner, PhD, Rose-Hulman's Goldwater Scholars coordinator.
Weiner said, "For Rose-Hulman to have one sophomore earning Goldwater Scholar recognition is quite an accomplishment, but to have two honorees is simply outstanding and a real testament to the outstanding scholarly work Nathan and Hannah have accomplished during the past two years. They are on the pathway to a successful future in their fields."
Hurtig is pursuing bachelor's degrees in computer science and mathematics, with a minor in cognitive science, while Snider is a chemical engineering and chemistry double major. They already have a lengthy list of research, classroom, and laboratory scholarly experiences – with more planned for this summer. They also are members of the Noblitt Scholars' inaugural Class of 2024. The program, provided by a generous donation from alumnus and Board of Trustees Chair Niles Noblitt and his wife Nancy, is encouraging outstanding students to attend the nation's top-ranked undergraduate college for science, engineering and mathematics.
"My research projects have drawn on a wide range of classes at Rose-Hulman and I'm grateful to all the faculty that have supported me along the way," said Hurtig, from Ada, Ohio. "Pursuing research in any way at the undergraduate level, much less applying for something like the Goldwater Scholarship, couldn't have happened for me without the encouragement of the inspiring people around me. Even more valuable than the award itself is the reputation it brings, being among the ranks of Goldwater Scholars will unlock many opportunities to do great things in the future." 
Snider, from Plainfield, Indiana, added, "Receiving the Goldwater Scholarship confirms that I'm on the right track, and that someone on the national level believes in what I can do, the research I can conduct and the impact I can make."
A personal struggle with Crohn's Disease, an autoimmune disorder, has inspired Snider to use her interests in chemistry to impact the lives of others. In her first year at Rose-Hulman, she worked with chemistry and biochemistry professor Mark Brandt, PhD, on a protein characterization project. This past year Snider joined chemistry and biochemistry professor Rebecca DeVasher, PhD, on groundbreaking research project working to optimize the synthesis a terephthalate derivative, a process the two of them developed through an initial investigation of a Claisen Condensation reaction. DeVasher and Snider recently presented their research at the University of Kentucky's Undergraduate Regional Poster Competition, winning first place, and plan to attend the American Chemical Society conference in Chicago this fall.
Off campus, Snider participated in a Research Experience for Undergraduates (REU) last summer at Purdue University, developing catalysts for shale conversion. Her research attention will turn toward examining the characterization of membranes and nanomaterials this summer in an REU program at Stanford University. 
Meanwhile, Hurtig's introduction to research came with computer science and software engineering professor Joe Hollingsworth, PhD, on a National Science Foundation-sponsored Thought Network project to help educators better understand what students are thinking when answering questions on online learning platforms. Hurtig earned second-place honors for a presentation about his project work at the Association for Computing Machinery's Special Interest Group on Computer Science Education conference earlier this spring in Providence, Rhode Island. His work on the Thought Network has been featured in an online conference and he will be making a presentation at another meeting of computing professionals this summer in Dublin, Ireland.
Last summer, Hurtig participated in an REU at Florida Atlantic University, helping a student from Brigham Young University build a robot to simulate pedestrian traffic to test cell phone signal power in an area of West Palm Beach, Florida. The study's data showed city planners how busy intersections were and whether there was a need for crosswalks and traffic light time changes. Hurtig is planning to co-present a research paper about this project at the Association for Computing Machinery's southeast conference later this spring.
Hurtig is now preparing for an REU opportunity in mathematics this summer at University of Maryland.
"Without me getting to know Professor Hollingsworth and him reaching out to me, I would not have any of these opportunities … and they keep coming," said Hurtig. "It's all a result of that relationship with my professor." 
Hurtig hopes to eventually earn a PhD in computer science, teach at the university level, and analyze game theory algorithms.
Snider would like to pursue a PhD in chemical engineering and then conduct research in a college laboratory regarding the synthesis and characterization of environmentally beneficial catalysts or materials. 
Weiner points out that past Rose-Hulman Goldwater Scholars have become physicians, researchers at world-respected medical research clinics, experts in industry, and students pursuing PhDs at leading universities across the country.