Hannah Snider Named 2022 Goldwater Scholar for her Undergraduate Chemical Research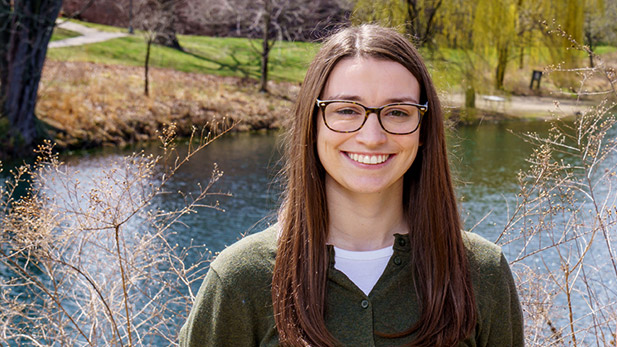 Multiple undergraduate research and academic experiences have contributed to Hannah Snider, a sophomore majoring in chemical engineering and chemistry, realizing her dream of developing environmentally beneficial catalysts and materials. Whether it's investigating a molecule's identity or synthesizing new products, Snider loves how lessons learned in the classroom or the laboratory can integrate into our everyday lives. 
"You can look at just about anything in the world and connect it to a chemical concept," Snider says. "There are so many different and niche things that are happening in chemistry. Your results may be unexpected, but there is always something new to learn." 
Snider's research endeavors have not gone unnoticed. She was named a 2022 Barry Goldwater Scholar, an award very rarely given to sophomore students. She feels honored to be recognized on a national level for her research and for the impact she wants to make going forward.
Growing up, the Plainfield, Indiana, native always loved math and science. During her junior year of high school, she took an Advanced Placement chemistry class and fell in love with the field. That, coupled with her own struggle with an autoimmune disorder, illustrated to Snider how chemistry can have an impact on so many different levels, from disease treatment to supporting sustainability and the environment.
"After a six-year long medical journey, I was diagnosed with Crohn's Disease during my sophomore year of high school," Snider says. "Receiving infusion treatments greatly improved my quality of life. The years waiting for my diagnosis instilled skills in patience and determination, both of which are transferable to my work as a student and a researcher. "
A year after her initial treatment, Snider reached out to the creator of the medication she receives, scientist Dr. Jan Vilcek, with her thanks for improving her condition and inspiring her pursuit of a career where she can make a difference. While Snider does not plan to work in pharmaceuticals, she hopes that her work in green chemistry and catalysis can someday make as big of an impact as infusions do for the autoimmune community. 
Snider chose Rose-Hulman because of its high rankings, including its No. 1 ranking as an undergraduate engineering school, and supportive community. Working towards chemical engineering and chemistry majors is allowing her to participate in various research endeavors on campus.   
"I really want to learn about how to optimize laboratory processes and then scale-up everything up," she says. "It's fantastic to be able to go in and do something on the benchtop, but to be able to understand a product's industrial relevance and communicate my findings to others is exciting to me." 
Snider dove into research during her first year at Rose when she worked with Mark Brandt, PhD, on a protein characterization project. While she enjoyed the research aspect, Snider found her interest lies more in the field of organic chemistry. Over the course of her second year, she began working with Rebecca DeVasher, PhD, on a research project optimizing the synthesis of a terephthalate derivative, a process the two of them developed through an initial investigation of a Claisen Condensation reaction. 
"There are no previously reported methods that follow our process to synthesize the terephthalate derivative. Optimizing a new procedure is extremely exciting," Snider says.
DeVasher and Snider presented their research at the University of Kentucky's Chemistry Regional Poster Competition this spring, resulting in their work receiving first place. They also plan to share their research at the American Chemical Society conference in Chicago this fall. 
Last summer, Snider participated in a research experience for undergraduates (REU) with Purdue University's Chemical Engineering Department under the direction of Dr. Rajamani Gounder. Her project involved synthesizing catalysts commonly used for shale conversion. As the United States makes the shift from traditional fossil fuels to renewable energy, a readily available fuel is needed to bridge the estimated 50-year transition. When considering abundant resources within the U.S., a potential bridge fuel can be found in shale. This motivates further research into catalysts commonly used for converting shale into usable energy, such as the zeolite crystals investigated in Snider's project.
"My project attempted to improve three different types of zeolite," Snider says. "I learned a lot about characterization and inorganic synthesis."
She presented her research, and placed eighth, at the Purdue SURF symposium. Additionally, Snider has maintained contact with the Gounder Group in order to help contribute to potential publication of this research. Snider plans to continue learning about material synthesis and characterization during a REU with Stanford University's Materials Science and Engineering Department this summer. Her work will involve the characterization of membranes and nanomaterials. 
Snider is also a Noblitt Scholar and credits the program for supporting her research endeavors. The Noblitt program will fund her two research trips this year, to University of Kentucky and the American Chemical Society conference in Chicago. She also serves as a mentor to first year Noblitt Scholars, talking with them about research and securing REU opportunities.
After graduating from Rose, Snider plans to pursue a doctorate in chemical engineering and conduct research at the university level regarding the synthesis and characterization of environmentally beneficial catalysis and materials. Her goal is to contribute to environmentalism, sustainability and green chemistry. She is grateful to Rose for providing her the opportunities to conduct undergraduate research in her chosen fields.  
"Thinking about larger universities, you have a huge number of chemical engineering students and it's often only upperclassmen at the top of their class that have the opportunity to conduct research," says Snider. "At Rose, I've had professors who took a chance on me as a first-year student. The professors here help you learn and grow. It's that initial chance that gets you started, and Rose provides that."