Beach Rides Research, Internship Waves to Prestigious Goldwater Scholar Award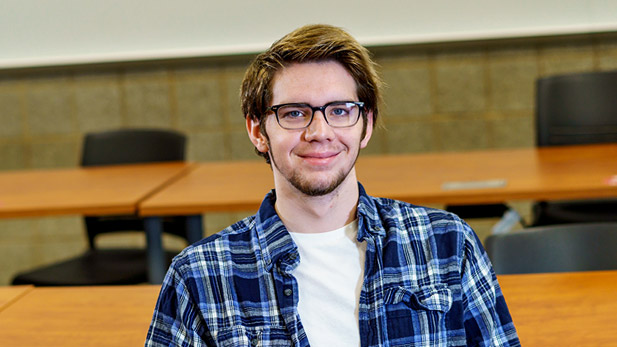 A variety of undergraduate research and internship experiences has junior biochemistry student Colin Beach closer to realizing his dream of developing innovative and revolutionary biotechnologies to treat cancer and other genetic diseases.

And, it also has provided a pathway to his recognition as a 2021 Goldwater Scholar, an honor bestowed upon the nation's top science, technology, engineering, and mathematics (STEM) college students.

The annual scholarship program is considered the premier award for undergraduate STEM collegiate scholars, supporting their interests in pursuing a research-focused career and doctoral degree. Past Goldwater Scholars have been admitted to top graduate and doctorate programs, and later becoming STEM professionals, including researchers, physicians, and college professors.

Beach is the 12th Rose-Hulman student to be named a Goldwater Scholar in the past 16 years.

"First and foremost, the Goldwater Scholar award shows that my efforts in research, both in and out of school, have been worthwhile, and it will definitely motivate me to continue pursuing my dream career in biomedical research," says Beach, who maintains a perfect 4.0-grade point average.

Five research and internship opportunities over the past three years have accentuated valuable classroom and laboratory experiences at Rose-Hulman in biochemistry, medical physics, and nanomedicine. For Beach, they have provided a foundation for creating and applying modern treatments to diseases.

As a research assistant last summer with Indianapolis-based Health & Science Innovations, Beach contributed to group research on the COVID-19 pandemic, with the goals of effectively educating the community, as well as proposing an inhalable medication combination to improve treatments for infected patients. He contributed to the team's understanding of the virus and its molecular biology, means of infection, and resultant illness – valuable knowledge that improved the predictions about drug treatments.
Luis Palacio, Health & Science Innovations' executive director and chief executive officer, stated about Beach's contributions: "When students in our programs demonstrate a convergence of findings, ideas and solutions to those later proposed or demonstrated by the industry, I know that those students will go on to make a significant difference and an impact in the world."

Beach is currently working on two research projects at Rose-Hulman. In his main undergraduate research, using computational protein modeling, he has developed a consistent method of predicting inhibition of the DDAH enzyme with targeted chemical structures. In another lab, he's helping examine protein behavior of the estrogen receptor, a predicting characteristic of certain cancers.

"Colin clearly has the intellectual ability, creativity, insight, time management skills, and high level of motivation to become an excellent scientist," said one of Beach's Rose-Hulman research faculty advisors, Mark Brandt, professor of chemistry and biochemistry.

This summer, Beach will be assisting on projects involving biostatistics or analyzing clinical data as part of a public health research team at Eskenazi Health's research office in Indianapolis, working with Chief Research and Development Officer Chris Callahan.

"I have been driven toward a career in biomedical research partly because of my natural love for math, science and hands-on work. Together, my educational and work experiences have provided a unique insight to the dedication that is required of research," said Beach. "I hope to continue this focus in biomedical research for many years and develop innovative ideas, in both treatment and education, that can help in the betterment of human health."

This mission is personal to Beach. At six months old, he was diagnosed with bilateral retinoblastoma, a cancer that causes tumors in both eyes. He spent much of his youth in hospitals undergoing chemotherapy and surgeries. This has left him blind in one eye.

"Being a childhood cancer survivor is something I live with every day, but it has given me the unique experience of seeing the patient's perspective," Beach said. "From a young age, I wanted to design a better needle that does not hurt when injected for procedures like IVs and blood draws. I have consistently explored methods for improving the patient experience and allowing for better recovery, and as I became older, I realized that this passion could be achieved through a combination of research and healthcare work."
He has been a volunteer childhood ambassador for Dayton Children's Hospital since 2010, raising awareness in his hometown for children's health and safety challenges through advocacy, public speaking, and fundraising.

Pediatric neurosurgeon Robert Lober of Dayton Children's Hospital states, "Colin is a courageous and brilliant student fully focused on a career in cancer research, with a deeply personal motivation driving him … He wanted to participate in the process of cancer research and empower everyone around him to be successful in what he felt was important work."

Outside of the science lab, Beach is a member of Rose-Hulman's varsity swim team, news editor for the school's newspaper, and health and safety officer of the Alpha Chi Sigma professional chemistry fraternity.

"Colin is as bright and as talented a student as Rose-Hulman ever has nominated for the Goldwater scholarship," said Goldwater Scholar program campus representative Bill Weiner, associate professor of biology and biomedical engineering. "In my 20 years as a professor at Rose-Hulman, he is one of the most intelligent and capable students whom I ever have met. He is destined to have a significant impact in whichever field he chooses to pursue."