Sawmill Society Encouraging Growing Entrepreneurial Spirit on Campus
Wednesday, April 26, 2023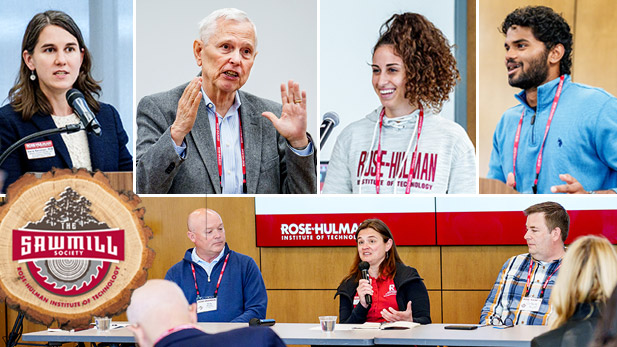 Entrepreneurial thinking is alive and flourishing among Rose-Hulman alumni, students, faculty, and staff. That mindset was readily apparent after a Sawmill Society Weekend full of shared insight from successful enterprises. There also were networking opportunities, information about the institute's future aspirations, and encouragement for the next generation of entrepreneurs and innovations.
The second gathering of the college's Sawmill Society network featured discussions on Rose-Hulman entrepreneurship and innovation, presentations about innovative projects by students and faculty, and a session on sustainability enterprises. The "Path to CEO" keynote address was presented by Society member Erica Buxton, a 2002 chemical engineering alumna who is president of Hello Bello, a brand that's making premium and affordable baby products available to all parents, regardless of their family budgets.
"I'm happy to report that entrepreneurship is alive and well at Rose-Hulman," said President Robert A. Coons while addressing the group of more than 60 people at the campus event. "We have several initiatives coming together across campus because our students want to take their STEM educations and make a difference in the world."
The Sawmill Society is a group of more than 90 innovative and forward-thinking alumni and friends of Rose-Hulman who know what it takes to be a successful entrepreneur. The organization's mentor, ventureship and angel networks are encouraging the next generation of entrepreneurs and innovators in a variety of STEM areas.
Also, for more than 20 years Rose-Hulman Ventures has turned innovative ideas into game-changing technology that gives students – tomorrow's STEM leaders – hands-on experience with real-world clients to develop life-saving medical devices, improve operational efficiencies, introduce new products, and break new marketplaces for companies. The enterprise, located on Rose-Hulman's South Campus, has helped ignite the entrepreneurial pathways of alumni, like 2001 computer engineering alumnus Dustin Sapp, the first recipient of the Indiana Chamber of Commerce's Indiana Vision Dynamic Leader of the Year after leading such successful enterprises as Formstack, Octiv/TinderBox, Vontoo, and NoInk Communications. He was Ventures' first entrepreneurial fellow.
"It's nice to see the entrepreneurial spirit that first caught my attention many years ago is still vibrant and growing on campus," said Sapp, who now lives near Colorado Springs, Colorado. "Rose teaches students to come up with creative solutions to challenging problems … When you're pushing the limits on technological innovations, the learning process carries Rose-Hulman graduates to new levels. That's what you see in the Sawmill Society, a group of people with the know-how to get things done. Those skills are in high demand in every corner of today's society."
Coming from the Netherlands to gain insight from fellow Society members was Oro Muscles BV Chief Executive Officer/Founder Tanya Colonna, an engineering management, biomedical engineering and biochemistry and molecular biology alumna.
"I'm always looking to get a fresh perspective on how to do things better and what better place than a gathering of Rose-Hulman alumni that are in the entrepreneurship workspace," she said. "I came to Rose-Hulman to get a strong STEM education and was grateful to add aspects of entrepreneurship along the way. It's interesting to learn that the entrepreneurship mindset is still a big part of the Rose education. It certainly became that for me."
Alumni participating in Sawmill Society Weekend sessions were Brian Dougherty, senior director of Rose-Hulman Ventures; Corbet Kull, chief executive officer with CamoAg (formerly Tillable); and Marty Wessler, CEO with Wessler Engineering. Faculty presenters were Miles Canino, PhD, assistant professor of mechanical engineering; Jenny Mueller, PhD, associate professor of civil and environmental engineering; and Nicole Pfiester, PhD, assistant professor of physics and optical engineering.
 
Clay Fette Receives Inaugural Tom Mason Innovation Award
A special part of this year's Sawmill Society Weekend was StemSys Chief Executive Officer Clay Fette being the inaugural recipient of the Tom Mason Innovation Award. Rose-Hulman and the Sawmill Society are planning to present the honor annually to an alumnus, faculty, staff, or student who has founded a startup and remains a member of the enterprise's senior management team.
Fette earned bachelor's (1999) and master's (2004) in chemical engineering before working with such biomedical companies as Cook Biotech, Biomet 3i and ACell Inc. He then founded StemSys in 2015 to advance healing technologies and tissue regeneration to address needs in current medical technology and regenerative medicine. He is working with Rose-Hulman Ventures and Rose-Hulman's Department of Chemical Engineering faculty and students on possible forthcoming innovative products.
"I took the first tissue engineering class ever offered at Rose and I'm still using those lessons today as we continue striving for innovative product development," he said. "Tom Mason and other Rose educators were very instrumental in my career success. I'm honored to be associated with an award from with an institution that means so much to me."
Many Sawmill Society members and other Rose-Hulman alumni credit Mason with encouraging their entrepreneurial interests.
Mason was a member of the Rose-Hulman faculty and administration for 38 years (1972-2010) as a professor of economics and engineering management, vice president of business and finance, and co-founder of Rose-Hulman Ventures. During his tenure as an educator, he helped introduce the master's degree program in engineering management and became the founding head of that academic department. Mason received the TechPoint 2010 Mira Award for Education Contributions by an Individual. His involvement with the institute continued for several years in an emeriti role.