Rocketry Team Set to Blast Off in NASA Student Launch Challenge
Wednesday, March 22, 2023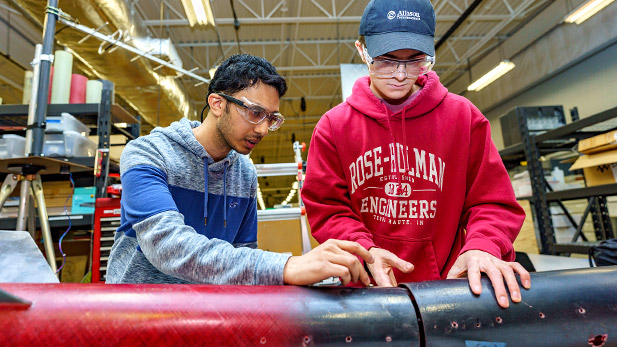 The countdown is on for a group of enterprising students preparing to launch their astronomical horizons in this year's NASA Student Launch Challenge. This competition mirrors America's efforts to send rockets, astronauts and scientific experiments to the moon and beyond.
Members of the Rose Rocketry Team have spent this school year designing, building and test flying a high-powered amateur rocket that carries a scientific payload to an altitude between 4,000 and 6,000 feet.
The eventual blast-off event is April 13-15 when 60 college and high school teams from throughout the country and Puerto Rico have on-site launches at NASA's Marshall Space Flight Center near Huntsville, Alabama.
"This is as close to real-world engineering as you can get in a student project," says team leader Sam Betts, a third-year mechanical engineering student. "With a project this complex, there's several mechanical parts and electrical systems that need to work together in a cohesive unit – and fit within tight constraints inside the rocket (8½ feet long and 4 inches in diameter). Getting a rocket to the launching pad is just the first of many achievements in this complicated project." 
Then she added, "Yes, it's a lot of hard work, but we're loving every minute of it."
Inside the Branam Innovation Center (BIC), 15 team members have been separated by skill levels and interests into units that have designed all the project's subsystems – from a propulsion system to the deployment of parachutes that return the rocket to the ground to a payload that autonomously receives commands via radio frequency and, finally, the completion of a series of tasks with an on-board camera.
There have been several successful rocket launches so far this school year, but other parts of the project are still unproven. 
"We're cautiously optimistic. This is our second year (in the NASA Student Launch) and we learned a lot from last year," said Betts. "We decreased the size of our vehicle, from 13 to 8.5 feet, to make things a lot easier. NASA has very specific kinetic energy requirements, so that will be a lot easier with a smaller rocket."
Most of the team members are relatively inexperienced with this type of technical challenge. First-year mechanical engineering student David Meisinger is the vice president for systems engineering. He readily admits to having had little experience in building rockets before joining the team last fall. Another first-year mechanical engineering student, Peter Tselekis, has led the design of the recovery subsystem that will deploy two parachutes at different stages along the rocket's descent to the ground. 
Sophomore computer engineering student Jake Armstrong is leading a group designing the project's electrical systems while sophomore mechanical engineering major Everest Zang is helping fabricate the intricate system that stabilizes the cylindrical rocket once it lands on the ground. At that point the payload's camera will be extended to capture images of an assigned task from NASA's Mission Control (competition officials).  
"It's satisfying to see all of your hard work coming together with the payoff being a successful launch," said Meisinger. "As a first-year student, getting an opportunity to do something like this is why I came here (to Rose-Hulman). I'm getting to help design something completely from scratch that's going to compete in a national competition."
At this point, Tselekis added, "Everything about this project is pretty neat. I don't know many first-year students at other colleges who are getting to come down here (to the BIC) and work on cool stuff like this."
And having the Rose Rocketry experience on a resume can open doors for future endeavors. Betts is spending this spring in a co-op work experience at Massachusetts Institute of Technology's Lincoln Laboratories. She then will have an internship this summer with Ball Aerospace & Technologies in Boulder, Colorado.
Meanwhile, second-year physics and computational science student Ishaan Mishra has combined his Rose Rocketry Team experiences along with a deep-rooted passion for space propulsion and aerospace engineering into several independent, group and Research Experiences for Undergraduates projects. He founded a student-led Rose-Hulman Electric Propulsion Research Group that's developed ways to test propulsion systems on campus. 
NASA Student Launch Activity Lead Fred Kepner stated in a press release, "This competition has the potential to transform students into well-qualified professionals for the modern-day workplace."