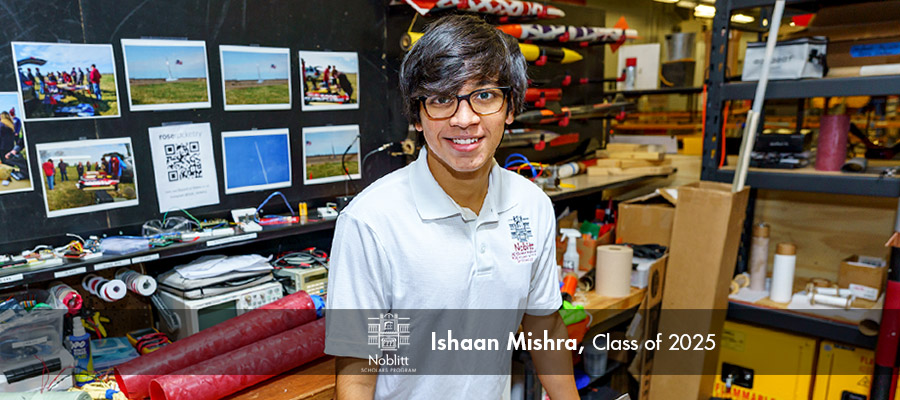 Ishaan Mishra, a first-year student majoring in physics, feels like he has the best of two worlds as a student at Rose-Hulman Institute of Technology. Mishra is passionate about the study of space propulsion, a field at the intersection of physics and aerospace engineering. He is thrilled to study physics while also gaining exposure to engineering through the myriad classes Rose-Hulman offers.
"Physics is about the generation of knowledge and engineering is the application of that knowledge," Mishra says. "Being a physics major at an engineering school, I get to study both those subjects and also obtain the skills that engineers have, which will greatly benefit my future endeavors."
Raised in Bangalore, India, Mishra looked at several U.S. colleges when searching for the right place to obtain his undergraduate degree. He was seeking a college that offered smaller class sizes, where professors are accessible and open to building productive relationships with students. Rose-Hulman offered all those elements; and while Mishra has only been in school for a quarter, he is extremely pleased with his experience at Rose, including the opportunity to participate in four laboratory experiences.
"The Physics Department is excellent," says Mishra. "The professors are extremely approachable and will support you in your goals. I've talked quite a bit with my adviser and professor, as well has had some excellent conversations with senior professors who give me direction on courses and what to pursue."
He is deeply invested in the study of space exploration and sees limited technology and propulsion as the biggest hindrances to going further into deep space exploration. As such, Mishra's chosen to focus on space propulsion as a field of study as an undergraduate and feels his coursework and research projects at Rose will lay a strong foundation for post-graduate work. His career goals include working in the field of aerospace, either at an existing organization or starting a company of his own.
Mishra is proud to have been selected as a Noblitt Scholar. The Noblitt Scholars program guides and supports highly motivated, self-directed learners as they identify an area of interest to them, develop expertise in that area, and turn their passion and knowledge into action. Part of the program involves service and community work. Mishra and his fellow Noblitt Scholars recently spent two weekends painting and beautifying the Spencer Ballpark's shelter.
When he's not concentrating on his academics, Mishra is deeply invested in the Rocketry Club, which compliments his passion for space propulsion and aerospace engineering. This year, the Rocketry Club is participating in the NASA Undergraduate Student Launch Initiative, a five-month competition in which students build a rocket and submit documentation on an ongoing basis, in the same manner as professional engineers do within NASA's framework. In April, Mishra and his Rose-Hulman teammates will travel to Alabama to launch the rockets with NASA personnel and teams from across the United States.