Interdisciplinary Course Bridges Data Science and Storytelling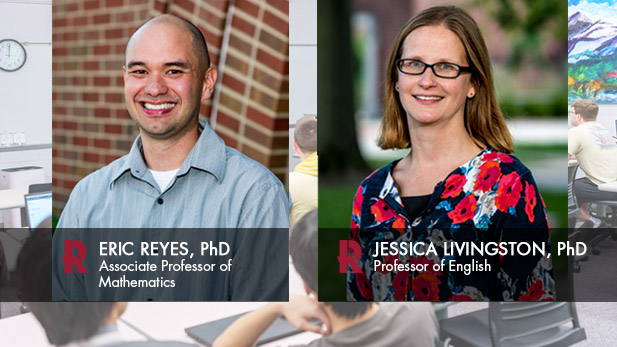 It's often said that statistics are only as powerful as the people and stories they represent. While the narrative helps humans learn, coupled with data, the two can become pillars of power and influence. That idea was the impetus behind the interdisciplinary course, Social Justice and Statistical Concepts, offered last winter through Rose-Hulman's Humanities, Social Sciences and Arts (HSSA) department in cooperation with the Mathematics department. HSSA courses give students the tools to think critically and creatively about culture and society.
The Social Justice and Statistical Concepts course was the brainchild of Associate Professor of Mathematics Eric Reyes, PhD, and Professor of English Jessica Livingston, PhD. The two saw a natural overlap with respect to data's social implications and technology. The idea behind the course was how data can be used to advance social justice issues and reduce disparities.
The idea of data and storytelling took root for Reyes in summer 2020 when he found himself facing the reality of where the United States was on the political and societal spectrum.
"I was doing a lot of reading and the arguments I found most compelling didn't focus only on data or a personal story, but combined the two," said Reyes. "I loved this combination of a personal narrative that I could relate to, paired with statistical data that showed how it was a much larger-scale problem than I may have realized. That combination was very compelling, and I wanted to bring that to students at Rose."
Reyes recognized this type of statistical analysis is a bit more complex than the traditional statistical methodologies that are taught in an introduction to statistics class. An example of this is the concept of intersectionality, which is an analytical framework to understand how one's social and political identities are combined to create modes of discrimination and privilege. If a student wanted to demonstrate intersectionality is an important factor in something they're observing with data, they would need a more sophisticated class to do so. Hence, Social Justice and Statistical Concepts was created.
"We really wanted — as a goal for the course — for the students to put into practice the idea of storytelling and data," said Livingston. "We wanted them to feel they could make an impact and do something related to the Rose community." 
Over the course of the quarter, students learned techniques for studying statistics and the narratives behind data. For the capstone project, students chose to examine Rose-Hulman faculty course evaluations and if they reflect bias in how students assessed professors.
Reyes and Livingston worked with students to design a survey that was sent to all faculty. Students also conducted a faculty focus group in class and were able to ask questions of professors and hear their stories.
"It was really powerful for students to hear faculty have conversations and share commonalities," said Livingston. "Many students did not know the evaluations are considered as part of the tenure and promotion process or that anyone even reviews them." 
Nearly every student focused on inequity across genders with respect to the frequency of comments faculty received. They looked at what fraction of faculty received certain comments and whether the comments are relative or appropriate (e.g., how many comments addressed a professor's appearance).
Students analyzed the data and context, which was used as the basis for writing their final reports. They wanted their work to have an impact on campus, so Livingston and Reyes sent the final reports to Rose's Quality of Education Committee, which is considering alternatives to traditional course evaluations. The students all agreed the capstone project was an integral part of the learning experience and defined the course for them, said Livingston.
This was the case for Jayden Foshee, a senior majoring in mathematics and data science.
"The class helped me think about statistics in a different way because we focused on biases of the data," said Foshee, who took the class as an elective because she knew it would help deepen her understanding of data analysis. "This was a different learning experience because we focused on the people behind the data and demonstrated how data was created and the impact it can have in the world." 
"We had one student who said she had written many technical reports before and completed storytelling reports in other HSSA classes; but this was the first time she combined both," said Reyes. "Another student said this was the hardest report he'd ever written because it differed in structure so much from many of the lab reports he was used to writing, yet it was the most memorable part of the course."
Students commented on how powerful the storytelling portion of the work was in terms of learning the concepts. For example, the focus group was a unique opportunity to engage with faculty, ask questions and then have that drive the survey constructed — a very different experience from other classes.
Neha Vinesh, a junior majoring in computer engineering with a minor in mathematics and data science, believes the capstone project was a very memorable part of the course and helped put some of her personal experiences into perspective.
"My parents are minorities; so growing up, I heard about some of their experiences in their corporate work settings and I was interested to see if the things they experienced are what the minority professors at Rose experience," said Vinesh. "And I did find consistent overlap." 
Livingston and Reyes see tremendous value in an interdisciplinary course like this one, especially at a STEM-based college such as Rose-Hulman.
"Students said it was critical to have us both there and they felt it was an eye-opening learning experience," said Livingston.
"Rose is great about not having barriers between departments, but it's easy for students to live in their silos," said Reyes. "Every part of work and life is an interdisciplinary collaborative space. And in this class, students saw that interdisciplinary effort modeled between me and (Professor Livingston). We learned from each other, asked questions of each other, and the students saw that collaborative process in real time."
Vinesh shares Reyes and Livingston's assessments of the value of this interdisciplinary course.
"This course was one of the most rewarding classes I could have taken in HSSA," she said. "I really learned a lot more about statistics and the application of statistics. You can perform so much analysis on a set of data, but I learned the way you present it is just as important so others can understand your work."