Entrepreneurial Spirit Sprinkled Across 'Rose Show' Projects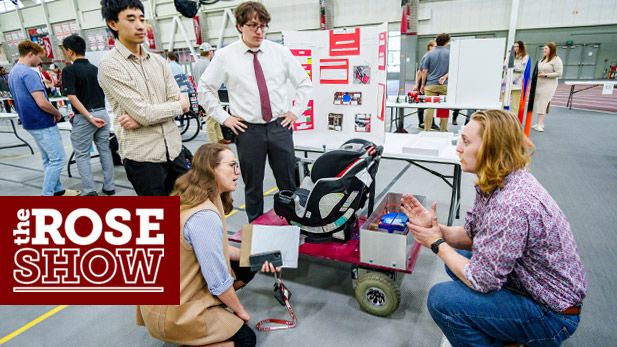 Innovative projects that went from inspiration to aspiration, sprinkled with entrepreneurial spirit and ingenuity, were featured among nearly 100 student projects from nearly all academic areas at this spring's Rose Show, the college's version of the World's Fair. 
An idea from last summer brought forth a Good Vibes project that could enhance the music-listening experience. It was developed by engineering design seniors Nathan Atkinson, Sophie Baer, Jackson Costa, and Sage Dooley, along with computer engineering junior Josiah McGee. They placed haptic devices throughout jacket to turn music listening into a full-body experience. This technology could also enable music to be more assessable to those with auditory impairments.
"In a campus that's full of people with great ideas, we came up with what we think is a really neat project," said Atkinson, who came up with the original project idea and may now turn it into a marketable project. "We turned drawings into the project prototype, but that's what we do in the engineering design program."
The team's booth had a steady stream of students and visitors testing the jacket prototype throughout the two-hour event that filled the Sports and Recreation Center's fieldhouse with classmates, faculty, staff, and community visitors. The project was also one of several Red Ribbon award winners for creativity, skill and meeting a client's needs. Contest judges included alumni and STEM career professionals.
A team of first-year engineering design students Calvin Jorgensen, Connor Luce, Randyn Tarnoff, and Michael Wilson developed an element offroad axle disconnect system that was co-winner of the show's top prize, the William A. Kline Innovation Award (honoring the legacy of the college's former dean of innovation). Judges were impressed by a novel design concept that featured a universal, modular and disconnecting axle shaft which decreases tire wear. It also allows for future developments in turning brakes and four-wheel steering for side-by-side applications.
"The judges were impressed by the quality of work done by a group of first-year students. This project was ready for the marketplace," said Rose Show Judging Coordinator Mario Simoni, PhD, head of the Department of Electrical and Computer Engineering.
Sustainability and resourcefulness were key elements of the other Kline Award winning project: a low-cost automated injection molder designed and created by mechanical engineering seniors Emily Bartling, Annalise Gant, Bryson Halsey, and Tommy Welch. The device uses recycled PLA plastic from campus 3D printers to create novelty tokens for visitors to Rose-Hulman's two innovation centers. Along the way, the project makes 3D printing operations more sustainable.
Other creative projects had teams designing a safe, lightweight and cost-effective motorized wheelchair to assist two boys with Pelizaeus-Merzbacher Disease; a cross-platform mobile application that allows Terre Haute's Union Hospital medical services staff to monitor remote patients during rehabilitation and extended care; and a non-electric refrigerator will keep produce from local community gardens fresh and readily available to neighborhood residents throughout the summer.
Also, biometric responsive jewelry was created to assist individuals in monitoring their heartbeat; civil and environmental students designed a variety of community trail projects; a mechanism was designed to land a spacecraft on the metallic Psyche asteroid; and a mathematical model examined the effect of fake online reviews on product ratings.
Here are descriptions of this year's award-winning projects: 
William A. Kline Innovation Award
Element Offroad Axle Disconnect System
Engineering Design
Presenters: Calvin Jorgensen, Connor Luce, Randyn Tarnoff, and Michael Wilson
The project's aim is to take side-by-side vehicles to the next level of performance by creating a universal, modular and disconnecting axle shaft, which decreases tire wear and will allow for future developments in turning brakes and four-wheel steering for side-by-side applications.
--------
RECLAIM: RECycling Low-cost Automated Injection Molder
Mechanical Engineering
Presenters: Emily Bartling, Annalise Gant, Bryson Halsey, and Tommy Welch
An interactive injection molding machine was created to mold recycled PLA plastic from campus 3D printers into a final product to give to visitors of Rose-Hulman's two innovation centers. Printers in the Kremer Innovation Center (KIC) produce over 100 pounds of waste PLA each academic quarter. This waste can now be recycled and used in the injection molding machine, making the KIC's 3D printing operations more sustainable.
--------
Honorable Mention
Engineering a Community for Homeless Opportunity
Mechanical Engineering
Presenters: Therese Jaeger, Garrett Janning, Pat Kelly, and Lane Lawrence
This team is focused on aiding the homeless population in Vigo County by providing a safe, secure and comfortable living environment through an affordable bicycle trailer. Students have worked closely with client Garri Knezevich, who aims to expand this project to other communities around the country.
Red Ribbon Awards
Lake Center Biofeedback Stirrup
Biology & Biomedical Engineering
Presenters: Connor Stapleton and Ed Whetter
A biofeedback stirrup was created to measure the force a horse rider places on each stirrup over time, while visualizing the difference between the two stirrups to validate the results of hippotherapy sessions at The Lake Center. There are load cells within the stirrups to collect the data and an electrical housing is strapped to the bottom of the stirrup to house the electronics.
 
Bluffton Greenway Trail Extension
Civil & Environmental Engineering
Presenters: Brendan Downey, Julia McGuire and Kenton Pardue
This trail extension connects the River Greenway Trail and the Interurban Trail and extends northwest along the Wabash River to the Old Bluffton Cemetery in Bluffton, Indiana. The design includes two observation platforms along the river and a pavilion, parking lot and kayak launch point at the cemetery trailhead, located just south of the Old Bluffton Cemetery. Upon completion, the Bluffton Greenway Trail Extension will serve as a vital link in the Indiana Visionary Trails project.
  
Silver Cricket Farm
Civil & Environmental Engineering
Presenters: Alexis Juarez, Daniel Houng and Lily Byrne
Plans to renovate a historical barn and dam on the Silver Cricket Farm, while respecting local and state historical preservation policies. The farm is a 21-acre plot, with a two-acre pond and stream, that's located close to the Appalachian Trail. The historical barn has two levels and needs repairs to the superstructure.
 
Wabash Valley Railroad Museum Design Project
Civil & Environmental Engineering
Presenters: Emily Peterson, Charley Bernth and Rachel Becker
  
SimSE Redesign Project
Computer Science & Software Engineering
Presenter: Isaac Friedman, Lucas Pickens, Kati Jurgens, and Michael Webb
This tool will be used in classrooms and workplaces to teach project management styles. The current game is confusing to learn, difficult to use, and overall feels outdated in a modern learning environment. To make the game continually viable for use in a classroom or workplace, the team updated both the visual and interactive elements of the system, as well as the backend frameworks, to fit a modern standard. Current models will be able to be implemented through the system as it moves forward to the open-source community.
   
IRPA Chatbot
Presenters: Yiqi Zhao, Bowen Ding, Justin Kim, and Travis Zheng
Computer Science & Software Engineering
Rose-Hulman's Office of Institutional Research, Planning and Assessment (IRPA) sought interactive and self-service ways for individuals to access information from the college's Common Data Sets report. This would save time for both users and IRPA office staff, while also allowing the office to track frequently asked questions and potentially uncover any unanswered questions that the chatbot system could be updated to address. Overall, implementing a self-service chatbot would improve the efficiency and effectiveness of the IRPA office's information-sharing processes.
   
C Automated Testing System
Computer Science & Software Engineering
Presenters: Jordan Ansari, Jessica Xiang, Cade Parkhurst, and Emily Hart
The team's client, Vertex, wanted to overhaul a legacy testing system used to interface with a specific in-development MIL-STD 1553 device. This new system allows users to send and receive data from the hardware-under-test, while also giving them the option to modify the data being sent. The application seeks to accomplish the same tasks the legacy system performed. At the same time, it was developed with flexibility to interface with more MIL-STD 1553 devices, thus allowing the Vertex team to validate the expected behavior of more products.
   
Digitally Controlled, High Frequency/Power Density, GaN DC-DC Converter
Electrical & Computer Engineering
Presenters: Clay Scheurer, Raymond Zhao, Zach Buvalic, and William Chong
  
M18 Battery Combiner
Electrical & Computer Engineering
Presenters: Sophia Harrison, Abel Keeley, Advait Pandharkar, and Michael Earl
     
Board Game Database
Engineering Design
Presenters: Austin Clarke and Isaac Johanningsmeier
This java-based program allows users to virtually organize their board game collection. Users can add games to the database and provide such information as the number of players that can play, how long it takes to play, and what type of game it is. The program was localized to interface with German culture as part of cross-cultural design requirements.
    
Scientific Illustration – Skull
Humanities, Social Sciences and the Arts
Artist: David Peacock
   
Scientific Illustration – Shell
Humanities, Social Sciences and the Arts
Artist: David Kovar
  
What Effect Do Fake Reviews Have on Product Ratings?
Mathematics
Presenter: Jayden Foshee
As the e-commerce market has become a multi-billion dollar industry, the impact fake reviews can have on consumer decisions is important knowledge. Advancements in artificial intelligence technology and the intent for human deception make fake review identification complex. Due to identification difficulties, minimal labeled datasets for fake review detection are accessible on online data platforms. Thus, a set of seven self-defined labeling rules were used to hand label 2,011 reviews to generate a unique and valuable dataset. Utilizing Naive Bayes, LSA, Logistic Regression and PCA, the project labeled prediction accuracies close to the baseline and no significant disparities in the product rating were observed.
   
Diesel-Powered Porta-John Parade Vehicle
Mechanical Engineering
Presenters: J.D. Spiceland, David Kovar, Evan Cruse, Jack Kovacs, Zach Junker, and Lukas Jones
This project for Terre Haute's Zorah Shrine organization provides a diesel-powered vehicle disguised as a painted Porta-John to grab the attention of local parade spectators.
    
Long Ball Labs
Mechanical Engineering
Presenters: Katrina Agustin, Thomas Butler, Winston Amankwah, Jerritt Gutierrez, Gage Smith, and Brendan Labensky
    
Color Meter Traversing Mechanism
Multi-Disciplinary Program
Presenters: Grace Allman, Ahmed Balubaid, Payton Gryniewicz, Edward Huang, Renee Momot, T.J. Rutan, Caleb Yankey, and Aria Ziegler
A traversing mechanism was built for Steel Dynamics Inc. to allow a color meter to scan the full width of a steel sheet and to move off the line for calibration and maintenance. The system moves at two inches per second, achieving the desired number of samples while moving off the line quickly enough to meet the client's constraints.
   
Psyche Landing System
Mechanical Engineering
Presenters: John Blessinger, Caige Comstock, George Smiljanich, and Bryon Williamson
A landing mechanism was designed to land a spacecraft on the metallic asteroid Psyche. The proposed landing gear is designed to absorb the shock of landing on the asteroid and to support the craft in a variety of different surface conditions and landing scenarios.
   
Milwaukee Tool New Product Design
Mechanical Engineering
Presenters: Jeremy Grubb, Erin McClain, Trevor Maynard, and Nathan Smith 


Machine Garden
Multi-Disciplinary Program
Presenters: Caleb Boutell, Kieya McClung and Desirae Webster
This project remembers former student Erin Canning through a social space proposed for the new Myers Hall courtyard. The Machine Garden is filled with benches, which represent the shapes in a machine shop, to provide a familiar STEM environment with a comfortable student social space. The garden also tells the story of creating a spinning top, a project which Erin and all engineering design students have completed, to familiarize themselves with the campus machine shop. The center of the garden highlights women on campus, an abstract representation of Erin and speaks to the college's diversity and student spirit. 
 
Good Vibes
Multi-Disciplinary Program
Presenters: Nathan Atkinson, Sophie Baer, Jackson Costa, and Sage Dooley
This product enhances the music-listening experience by allowing users to "feel" the music through strategically placed haptic feedback and other systems within a lightweight jacket, turning audio into a full-body experience. It also creates better immersion and enables music to be more assessable to those with auditory impairments.