Data Scientist Luke Zhang a Rising Star in Indy's Growing Tech Scene
Tuesday, February 28, 2023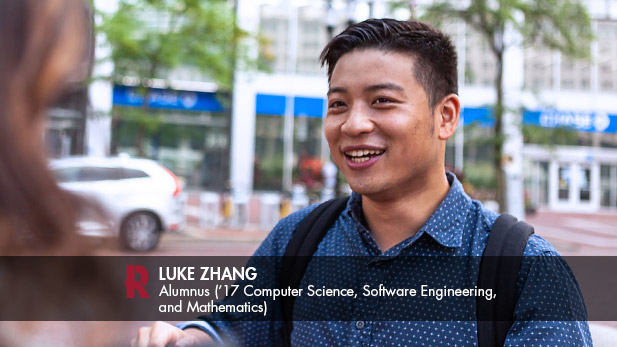 With decorated degrees in computer science, software engineering and mathematics from one of America's top science, technology, engineering, and mathematics colleges, Luke Zhang could have followed other young high-tech professionals to California's Silicon Valley, the Great Northwest or New England/New York City areas.
Instead, the 2017 Rose-Hulman alumnus has become a rising star in Indianapolis' growing tech community as a senior data scientist with Resultant, a modern consultancy that's in the heart of the Circle City.
That's among the many reasons Zhang is a finalist for Indianapolis' 2023 Elevate Emerging Leader of the Year Award, was the 2022 Indy's Best and Brightest Award's Technology Category winner, and recipient of the Indianapolis Business Journal's 20 in their Twenties Award in 2021 and TechPoint's Tech 25 Award in 2019. He also has been named a Rising Star by the Indy Hackers organization and a nominee for TechPoint's Mira Award for community impact and Women & Hi Tech's Leading Light Award.
"Rose-Hulman pushes you to the next level and that's what I'm still doing today," he remarked in a recent interview. "I had phenomenal professors (on campus) who were always there to help me. I got the best education, met the best people, and was born into a culture that allowed me to grow personally and professionally. I was in a fraternity (Delta Sigma Phi), was a (residence life) Sophomore Advisor and spent weekends at hackathons with my classmates. Rose-Hulman was the right place at the right time for me and provided a solid foundation for whatever I want to do in the future." 
Zhang has a demonstrated history of making worthwhile contributions in the data science, machine learning and software industry. His ProtoType team is revolutionizing the consulting industry by providing a free six-week trial of building proof-of-concept services with design thinking methodology.
He also contributed to the Indiana Governor's office and Indiana Department of Health, providing important financial and medical assistance that helped the state address COVID-19 pandemic health issues. Zhang's other projects have included development of data frameworks that's optimizing Indiana Arts Commission's statewide grant review process, assisting in the detection of potential unemployment benefit fraud cases for the Indiana Department of Workforce Development, and automating a pilot hiring plan for Indianapolis-based Republic Airways. 
"A data scientist is a person with a little bit of business knowledge, quite a bit of math know-how, and the necessary coding skills to develop a technical process that quantifies complex problems," Zhang added.
That's why he believes the career is moving more in the direction of being a "decision" scientist than one that puts data in a form that helps others make decisions. 
"I like looking at the science," he stated. "Today, we're creating data from mathematical algorithms at such experientially exploding rates and time frames. We need to make sense of all the data that's being collected. That's where I and others come in – to help paint the picture and contribute to the decision-making process."
Rose-Hulman offers data science as a second major jointly through the mathematics and computer science and software engineering departments.  
Zhang has always had the ability to solve problems. At the central Florida's Montverde Academy, he was a three-time champion of the American Invitational Mathematics Exam, a contest featuring many of the nation's top high school math students. At Rose-Hulman, he helped a team of computer science and software engineering classmates earn honors in national and international Association for Computing Machinery (ACM) programming contests. 
"I like testing myself and my abilities," he remarked.
Professor of Computer Science and Software Engineering Shawn Bohner, PhD, faculty mentor for Zhang's ACM programming team, noted that, "Luke differs in that he enjoys solving problems with other people and enjoys putting people in a position to succeed. He's a leader who can take people who are all very talented but don't work together and get them to work as a cohesive unit." 
Originally from China, Zhang maximized his college experience, including having internships with Groupon, Direct Supply and Rose-Hulman Ventures. He was also a member of TechPoint's initial class of Xterns, a program providing valuable work opportunities within Indianapolis' tech firms. As a data science intern with Resultant, Zhang created an interactive map to visualize trends in Northwest Indiana hospital trauma centers.
Following graduation, he spent three years working at DemandJump leading a research team applying cutting-edge data science techniques to solve e-commerce problems before returning to Resultant. As an Indy Tech Fellow, Zhang developed personal and professional networks with  chief technical officers, community leaders and passionate members of Indianapolis' tech sector.
Throughout his experiences, Zhang has had opportunities to be lured to work with some of the nation's largest technology companies. But he remained loyal to his "new home" in Indiana.
"I wanted to have an impact," he stated. "A lot of my friends have chosen to work with 'big tech' on the east or west coasts. However, they are only working on a really small piece of a gigantic machine. They're not getting the chance to see the whole picture and aren't standing out in the crowd. In Indiana, right now everything is booming in the tech area. I also like a small, flexible team that works closely, hacks together, and does incredible things together. I like knowing that I'm contributing to something big and have an active role in my company's success." 
Those growing responsibilities with Resultant, whose offices are part of downtown Indianapolis' famed Monument Circle, have allowed Zhang to work with Indiana Governor Eric Holcomb and other high-ranked state leaders on projects that's helped improve the health, mental wellness and cultural landscape of Indiana communities and their residents. He's halfway through a two-year appointment as a Mitch Daniels Leadership Fellow (named for the former Indiana Governor and college president), was a member of Central Indiana's Stanley K. Lacy Executive Leadership Program and is an ambassador for the Indianapolis Chamber of Commerce and Indy Hub Program.
Zhang also is active in the United Way of Central Indiana, Young Professionals of Central Indiana, TechPoint Indiana, Indianapolis Children's Museum, and Indiana VEX Robotics State Championship while having time to help coach a youth basketball team and earning a master's degree in computer science, with a specialization in machine learning, from Georgia Institute of Technology.