Programming Team Putting Skills on World Stage
Wednesday, January 31, 2018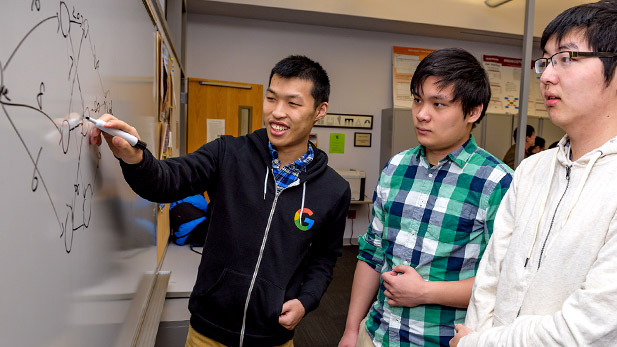 Competence in dynamic programming, graph theory, data searches and algorithms coupled with teamwork and computing experience will have a trio of computer science, software engineering and computer engineering students challenging the world's best collegiate computer programmers this spring.
A team featuring Yilun Wu, Xingfang "Tony" Yuan and Qinmao "Fred" Zhang will compete in the International Collegiate Programming Contest's world finals April 15-20 in Beijing, China—based on their outstanding performance at the Mid-Central Regional Programming Contest.
This will be the second time in the past four years that a Rose-Hulman team has qualified for the world championships, organized by the Association for Computing Machinery.
"This is a great accomplishment for these fine students and demonstrates their mastery of the sound programming foundations established through the Department of Computer Science and Software Engineering," says Shawn Bohner, professor and director of software engineering at Rose-Hulman. "Now the hard work starts in preparation for this next challenge in Beijing. However, I'm confident that they'll be ready."
Before taking the world stage, the student trio will compete in the North American Invitational Programming Contest March 24 in Chicago. They will be joined by other Rose-Hulman teams consisting of students interested in programming.
These programming competitions require students to solve a set of complex problems that require a mastery of sound mathematics and computing principles. They implement complex algorithms and execute problem-solving strategies learned in their college classes, along with work experiences, to develop creative solutions over the course of five hours of competition. The competition is filled with many challenges, even for the most prepared competitors, according to Bohner.
At the Mid-Central Regional, Rose-Hulman's team successfully developed eight of nine programs over the course of five hours, matching the performance of teams from the University of Illinois and St. Louis' Washington University.
"We really like programming, work well together and are committed to doing our best in everything we do," says Yuan, a three-year veteran of the regional contest. He estimates that the team, along with other students, practice as much as five hours weekly on developing programs from scratch.
All three of the Chinese-native students have careers waiting for them in the computing industry–Yuan with Facebook and Zhang with Google (among six job offers) after graduating later the spring, while Wu, a junior, will have an internship at Facebook this summer (after working last year at Google). Each of the students has experience in computing through internships with Groupon and other companies.
"These students are bright and devoted programmers who take their work very seriously," states Bohner, who helped coach the team, along with faculty colleagues Mark Hays and Nate Chenette.
Two other Rose-Hulman teams solved six of the problems at the Mid-Central contest. These teams included Austin Derrow-Pinion, Yang "Winston" Gao, Zhuochen Liu, Matt Moon, Wyatt Smith and Hao Yang. Meanwhile, students competing on two other teams that completed four problems were Luke Brady, Junhao "Arthur" Chen, Ming "Leo" Lyu, Aaron Michael, Yuankai "Kevin" Wang and Alex Wong.
"Our computer science and software engineering program has established a strong national reputation for producing top-notch programmers and computing problem solvers. Now, those skills are being recognized internationally as well," remarks Bohner. "Our students really like showcasing their skills in a competitive environment."