Sonia Math Day Inspires High School Girls through Puzzles, Games
Monday, February 21, 2022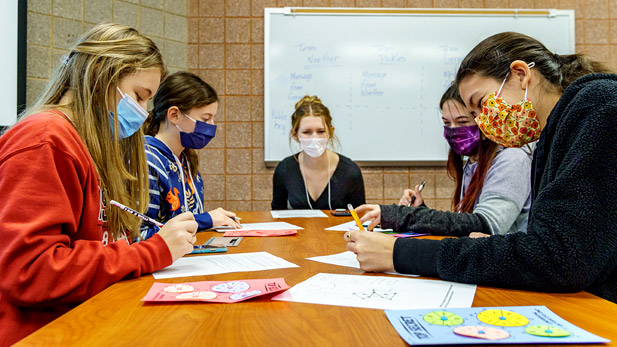 High school girls ruled the mathematical universe on February 19, with a group gathering on campus to follow their interests in problem solving to change the face of science, technology, engineering, arts, and math (STEAM).
And have fun along the way.
The teenagers learned how to use math principles to uncover the mysteries of puzzles and games in a Sonia Kovalevsky Math Day for Girls event organized by Rose-Hulman Department of Mathematics' professors and student members of the institute's Association for Women in Mathematics. These mentors know firsthand the struggles and barriers for girls in mathematics.
After all, studies reveal that girls make up 41% of math majors at undergraduate colleges and universities and 19% of full-time faculty in doctoral math departments.
"The more women there are in STEAM, the more encouraging it is for others to follow," said Assistant Mathematics Professor Tracy Weyand, PhD, who supervised the event's activities. "Many girls are, at some point, interested in STEAM. Getting them interested isn't the problem. Keeping them interested is the challenge. That natural curiosity and interest seems to get squashed for some girls around middle or high school." 
Professor of Mathematics Manda Riehl, PhD, added that by bringing together high school- and college-aged girls reveals they aren't alone in having an interest in math. She remembers being the only woman student in a college math class.
Fortunately, those demographics are changing, especially at Rose-Hulman with a growing number of students studying math as a primary or secondary major.
"Being a girl in a room full of boys can seem daunting," said third-year math and data science major Jayden Foshee, who was one of the mentors matched with the visiting high school students. "Events like Sonia Math Day for Girls give girls the chance to experience STEM in a female environment and to find girls who share their interests, a rare occasion in a male prominent field. Girls can see what a STEM career could look like with the blinders of feeling alone disappearing, offering a new perspective." 
Attending a similar Sonia Math Day event in high school encouraged Rose-Hulman math senior Lee Trent to become interested in combinatorics and number theory. She organized the institute's inaugural outreach event in 2018.
"This is an especially important time to be carving out spaces for women and other marginalized people in STEM and all fields," she said. "I hope that (the high school students) learned that there are more kinds of math opportunities than algebra and calculus, and that math is about more than calculating things. I hope they got to see themselves in some of the professors and Rose-Hulman students, and they see allies in other professors and students. I hope it helps them see more options for potential paths after high school."
Second-year math student Ashka Dalal added, "I hope the students got an idea of how fun math can be, how fun the math community is, and make friends and connections while being inspired to pursue math in the future."
Associate Professor Leanne Holder, PhD, one of five Rose-Hulman faculty making Sonia Math Day presentations, also has involved Rose-Hulman students in working with youths in Girls Adventures in Math activities and MATHCOUNTS competitions.
"These types of opportunities help girls gain confidence in their STEM skills and abilities. I think it is important that we get girls engaged now so that we can narrow the STEM gender gap in the future," she said.
Senior biomathematics student Lizzie Rhoads agreed, stating that outreach events for girls reveals "that there is a community of people like them who share a common interest and that at Rose-Hulman, there is always a place for them."
Other Rose-Hulman faculty making presentations were Endowed Chair for Innovation in Science, Engineering & Math Education and Professor of Mathematics Joshua Holden, PhD, and Associate Professor Timothy All, PhD. This year's event also included discussions on possible math careers, and campus tours.
Sonia Math Day for Girls helped the Department of Mathematics earn the American Mathematical Society's 2021 Award for an Exemplary Program or Achievement in a Mathematics Department.
Find out information about future Sonia Math Day for Girls events at www.rose-hulman.edu/SoniaMath.