Faculty Part of National Effort Emphasizing Entrepreneurial Focus in Undergraduate Engineering Research
Wednesday, April 20, 2022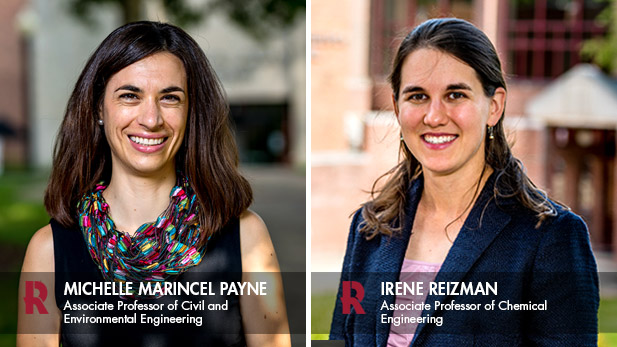 Rose-Hulman faculty will help educators from the Kern Entrepreneurial Engineering Network integrate entrepreneurial mindset into undergraduate engineering research by emphasizing elements of curiosity, connections and value creation.
As part of a three-year grant from the Wisconsin-based Kern Family Foundation, civil and environmental engineering associate professor Michelle Marincel Payne, PhD, and chemical engineering associate professor Irene Reizman, PhD, have been awarded $142,200 to develop materials, workshops and other educational tools that will be shared with faculty colleagues around the country to equip students with the skills and mindset necessary to translate research breakthroughs into high-impact innovations.
The Kern Entrepreneurial Engineering Network (KEEN) Entrepreneurial Mindset-Driven Framework for Undergraduate Research initiative strives to introduce more than 2,000 engineering undergraduate students across the U.S. to the benefits of research and connect how mindset is important to their work. This initiative will create a training system to make it easier and more efficient for faculty to engage students in research activities.  
Joining Rose-Hulman in the project are other KEEN Partners Baylor University, Georgia Institute of Technology, Lawrence Technological University (grant administrator), Oregon Institute of Technology, and the University of Illinois at Urbana-Champaign.
Reizman states, "Traditional academic research has students focused on proficiency in the specific skills needed to execute the research, which can result in a failure to connect their work to a larger context, and missed opportunities for collaboration, innovation, and value creation. This KEEN-sponsored project also aims to prepare faculty to be entrepreneurially minded research mentors."
Marincel Payne remarks the project builds upon the undergraduate research community that she and Reizman developed in 2017 when they identified a need for support of summer research students and their faculty mentors. She said, "We want to create a sustainable training system for both students and faculty to embed this mindset into the research experience and add value for everyone involved."
The professors' efforts will include making students aware that they can participate in research projects sooner, with opportunities beginning after the completion of their first year. There will be training materials to help students already involved in research gain the most value from their experiences. The program will also help establish collaboration between small institutions focused on undergraduate education (Rose-Hulman, Lawrence Tech and Oregon Tech) and larger research-oriented universities (Georgia Tech and University of Illinois). 
This work is part of a broader initiative to demonstrate and amplify how the university research enterprise can be a vehicle for engaging and developing the entrepreneurial mindsets of undergraduate engineering students. KEEN, a network of 50 colleges and universities across the United States, is committed to instilling the entrepreneurial mindset in undergraduate engineering students so they can create personal, economic and society value through a lifetime of meaningful work. Rose-Hulman has been a KEEN Partner since 2014.