Engineers for a Sustainable World Helps Grow Campus Community Garden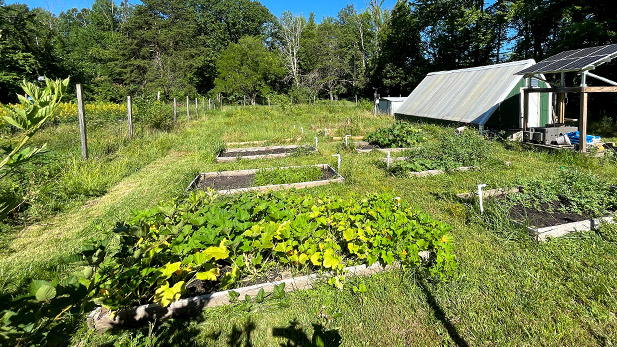 Nestled on the far east side of campus is Rose-Hulman's own secret garden. This outdoor oasis is the campus community garden, which is maintained by Engineers for a Sustainable World (ESW). This diverse student group is fueled by passion for environmentalism and driven to make the world, and campus, a more sustainable place.
Engineers for a Sustainable World is comprised of students from every collegiate level and majors ranging from civil and chemical engineering to chemistry, and electrical and mechanical engineering. The group works on several campus projects, but their main goal is developing a sustainability marketplace through the care of the campus community garden. The garden area includes a biosand filtration system, outdoor classroom, native wetland plants, a butterfly garden, raised beds, solar panels and a greenhouse.
The garden is a living laboratory for classes, projects and faculty and student research opportunities. Vegetables and herbs that were previously grown in the garden were used as part of Rose's farm-to-table food service operations. Students use the space to experiment with soil chemistry and study plant biology, as well as design rainwater collection and treatment systems.
While the garden has been in existence for several years, its oversight was a joint venture among ESW, Gardening Club and the HERE program. ESW took full ownership of it a few years ago. Since then, the student group, along with civil and environmental engineering associate professor Jenny Mueller, PhD, have been working to re-establish the garden and its data collection system. This involves making it a "smart" garden that will allow it to be self-sustaining. 
Abbey Schmitz, chemical engineering major and ESW president who just completed her junior year, spent last summer working in the garden and doing research to restore it to functionality.
"The greenhouse is designed to be fully automated," says Schmitz. "There is a weather tower that can detect weather changes so if it rains one day, a person doesn't have to go there and water. And likewise, if it does not rain, we can connect an irrigation system so it knows that if it doesn't rain for a few days, the irrigation system will turn itself on. There will also be an automatic shade that lifts up and down to regulate temperature and the amount of light the seedlings get. 
Those systems are not yet fully functioning. However, when the greenhouse is working at capacity, it will be able to regulate its temperature and create a habitable environment for plants throughout all the seasons.
Schmitz has been passionate about sustainability and the environment since a young age. She was driven to pursue environmentalism after seeing the destruction caused by the 2010 British Petroleum oil spill in the Gulf of Mexico. She knew as an incoming Rose-Hulman student she wanted to find an environmental organization to join and has been an active member throughout her three years on campus.
ESW students are currently working on cleaning the garden space and getting it ready to plant for the upcoming seasons. Schmitz also plans to establish a composting system, a project she began last summer, but requires more designated space to be fully functional.
Other than maintaining the campus community garden, ESW members are active in other sustainability projects. One member is working on building a bridge to connect the outskirts of a pond to the garden's island outcropping. Another individual will install paver stones in the outdoor classroom. A committee is designated for the creation and upkeep of trails on the Hulman Farm property. On the main campus, ESW wants to develop more recycling projects and plans to organize glass and e-waste recycling drives.