Students' Projects Help Community Garden Grow
Thursday, August 19, 2021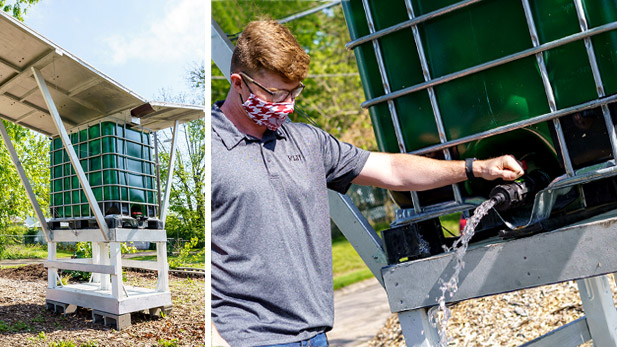 Residents of Terre Haute's Ryves neighborhood have reaped a bountiful harvest of fresh vegetables this summer through a community garden enhanced by two projects created during the 2020-21 school year by teams of senior-year mechanical engineering students.
A rainwater collection system and an Uberfrigerator were provided to help a group of local volunteers create a healthier and more sustainable Wabash Valley. The non-profit reTHink organization sought to tap into Rose-Hulman students' creativity and problem-solving skills to develop ways to promote sustainable living, celebrate diversity, and community development.
Andrew Hesse, Logan Kabrich and Luke Kluemper utilized repurposed yard signs on the roof of a shed that funnels rainwater inside to a recycled plastic 300-gallon tote. The collected water was used throughout the summer to help a garden grow and eventually produce such items as tomatoes, carrots, zucchini, cucumbers, pumpkins, and variety of herbs. Those garden items were picked free to become healthy ingredients in meals prepared by nearby residents.
Keeping fresh-picked vegetables readily accessible was the basis of the Uberfrigerator project. Residents could come by at any time of the day to take items from the donated refrigerator inside a small shed that was constructed from spare lumber and other donated parts.
"The only things we needed to purchase were a handle for the door, a vent on top of the shed, and screws to hold everything together," says project team member Mike Gassen. Assisting in the design and construction were classmates Elizabeth Foesch, Skyler Ferguson, Aaron Kirklin, and Austin Strozier.
"It all kind of came together," adds Kirklin. "This this is going to be something we can come back and see for years. It's going to have a lasting impact on the community."
Hesse agreed, stating, "Of all the projects we could have chosen (for mechanical engineering's capstone project program), this was one that could give back to the community and had an immediate impact on others. That was important for all of us."
Shikha Bhattacharyya, reTHink's executive director, likes seeing the students join in the organization's commitment to sustainability and community development. She says, "What the student teams did was ideal for us, just what we needed to make our community garden flourish and help bring the Ryves community together through fresh-grown food. We knew engineering students could come up with projects that will help us and the community."
Another project had Sarozjani Hunter, Shaine Mitchell, Margaret Sheerin, and Mary-Helen Shomba manufacturing tools to aid reTHink volunteers to repurpose used plastic water and soft drink bottles. The devices take long strains of plastic to create twisted rope that can be used for a variety of useful products, like jump ropes and basketball nets. In the spirit of ReTHink, the rope-making devices repurpose the plastic bottles in a safe, timely and cost-effective manner.
More projects for reTHink could be in the future. Rebecca Bercich, assistant professor of mechanical engineering, is the current president of reTHink's board of directors.
"Our students can see how their engineering skills can directly impact others. It's service learning to the highest degree," Bercich says.