Carlson Keeps Making Educational Impact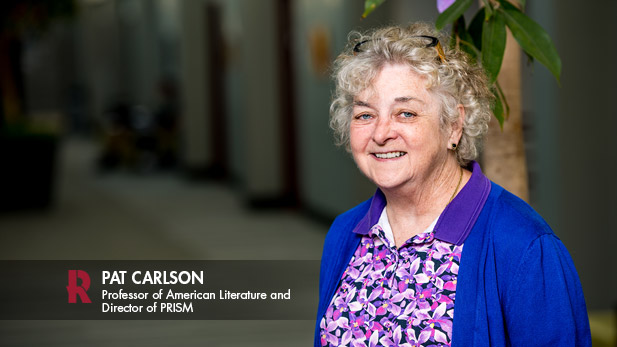 After coming to campus in the fall of 1975 to teach English to future scientists, engineers and mathematicians, Pat Carlson, PhD, left after completing just one academic quarter for the opportunity to spend a year as a Fulbright Faculty Scholar at the University of Iceland.
"I'm sure there were people who thought I had enough of teaching here after just one quarter – that I wasn't cut out for this," said Carlson, chuckling during the moment of reflection. 
That was 46 years ago and she's still here teaching a variety of courses involving genres of American literature, especially science fiction.
"I knew this was a place that had a lot of potential. It was ready to bloom," she stated. 
Carlson was ready to bloom as well.
She became the first woman faculty member to earn full professor ranking and the Board of Trustees Outstanding Scholar Award (1989). She has published two books, authored several other distinguished scholarly papers, and participated in 10 American Society of Engineering Education summer fellowships with NASA and various branches of the military.    
Carlson also has been a National Research Council senior associate with the Air Force's Human Resources Laboratory's Intelligent Systems Branch in San Antonio, Texas. Her groundbreaking research examined how artificial intelligence and new media could assist with organizational change, risk communication and ethics, and human communication.
However, Carlson's biggest impact has come in bringing educational resources to Indiana secondary science, math and pre-engineering teachers and students through the Portal Resource for Indiana Science and Mathematics (PRISM) program, which she founded with Lilly Endowment Inc. support in 2003. The program also provides summer STEM teacher workshops and Sustainability Energy Bootcamps, sponsored by the Indiana Department of Education, Duke Energy Foundation and alumni Becky and Frank Levinson.
PRISM has become the sole source provider of educational resources for nine Indiana school districts and the services' website makes 6,000 electronic resources accessible to approximately 12,000 teachers and 120,000 Indiana students. 
"Our service has really become more valuable to teachers and students during the pandemic," Carlson remarked. "We knew we were onto something revolutionary, but never wanted to replace the classroom experience. However, the pandemic made online learning a must. Thankfully, kids have returned to school, where the professional teacher is a key element. We've always been there to accentuate the learning process."
PRISM earned the Outstanding Innovation Award (2010) from the Technological Horizons in Education journal and Rose-Hulman's Excellence in Service Award, and Carlson was a finalist for outstanding education contribution to technology in TechPoint's Mira Award, saluting the best of Indiana's tech sector. 
Carlson came to Rose-Hulman after teaching English classes to cadets at the U.S. Naval Academy. Her familiarity to teaching in an all-male environment made her an ideal candidate to join the faculty of a campus that didn't become coeducational until 1995. She was one of only three women professors – all within the humanities, social sciences, and the arts – on the Rose-Hulman faculty in 1975.
"Our women students set the (academic and campus achievements) bar high and we knew they would," she said. "Coeducation made us much more in tune with society."    
Later, Carlson added, "I have always enjoyed the students and their perspectives. They are hardworking, focused and engaging. They know what they want for their careers, and they're people that are going to be good citizens. Our role as educators is providing the valuable skills that will be useful to our students in the future."
That includes the rhetoric and composition courses she has taught in every academic quarter throughout her tenure on the humanities faculty.
However, a special interest to Carlson has become her popular science fiction course that emphasizes the literary genre's humanistic usefulness in examining human values from an "extra-species, extra-terrestrial" perspective by reading novels with fantasy, gothic, social reform, and, of course, new wave themes. Along the way, students assess the effects of technology on varieties of belief structures and social institutions.
"Students really like it and I like teaching it," she said.
And that means Carlson plans to continue adding years and creative ideas to her Rose-Hulman faculty career.
"I still enjoy the campus environment and the collegiality of my faculty colleagues," she stated. "Rose-Hulman is always looking for new ideas and been supportive of my creative ideas, like PRISM. There's an energy here that's contagious. It motivates the students and faculty to bring their best to the classroom every day. That keeps me coming back for more."
Learn more about Carlson in her faculty profile.