Rose-Hulman STEM Education Partnership Benefitting Vigo County School Corp. Students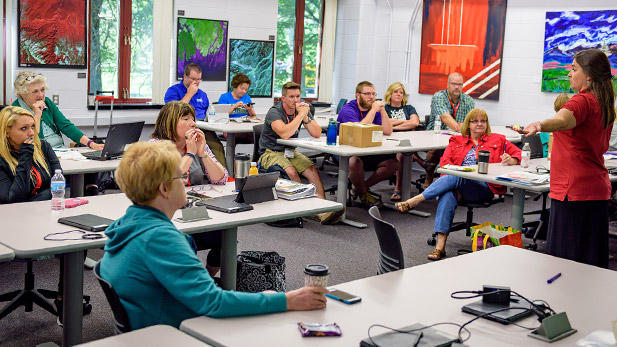 A STEM educational partnership between Rose-Hulman and the Vigo County School Corporation continues to produce benefits that have resulted in improved science skills for the district's elementary and secondary school students.
VCSC Deputy Superintendent Karen Goeller notes that 66.7 percent of the corporation's fourth-grade students achieved a mastery of science standards on the 2018 state test, nine points above the Indiana average. Also, VCSC high school students recently posted a 24 score on the science portion of the ACT college-preparatory test, higher than the 22 statewide Indiana ACT science score. In both cases these results of science achievement were the highest scores among the top 10 school districts by enrollment in the Indiana Urban Schools Association.
The Indiana Department of Education has taken notice with continued support to STEM education workshops for VCSC science, technology and mathematics teachers provided through Rose-Hulman's Portal Resource for Indiana Science and Mathematics (PRISM) program.
The latest $24,500 grant supports three two-week teacher professional development workshops this summer. Designed by PRISM, these opportunities emphasize project-based learning methods, reflect Indiana's focus on career and college readiness, and prepare students for success in technology and engineering, says PRISM Director Patricia Carlson.
"This is the 11th year for our partnership and over time the workshops have been refined to reflect the changing educational landscape," Carlson states. "The upcoming workshops emphasize real-world contexts, curiosity and investigation, visualization of concepts, and systems thinking."
A total of 50 teachers from schools throughout the district will be eligible to participate in three distinct workshops in early June. Each workshop, organized by Rose-Hulman professors and PRISM staff, will address learning standards for their grade level.
Elementary school fourth- and fifth-grade teachers will learn how to use Crime Scene Investigation-style scenarios to enable active learning in science and math. Middle school sixth-, seventh- and eighth-grade science teachers will adapt real-world problems from sustainable and alternative energy studies to provide engaging content for students. Meanwhile, middle school math teachers will learn how to feature visualization to teach critical STEM educational concepts, including models that provide authentic tasks and promote student-driven inquiry in the classroom.
Rose-Hulman's PRISM team consists of Carlson, digital pedagogy and educational liaison Robert Jackson, and Ryan Smith, assistant director and system administrator. Andy Mech, retired mechanical engineering professor, is a consultant with the program.