Alumni Award Winners Recognized for Making a Difference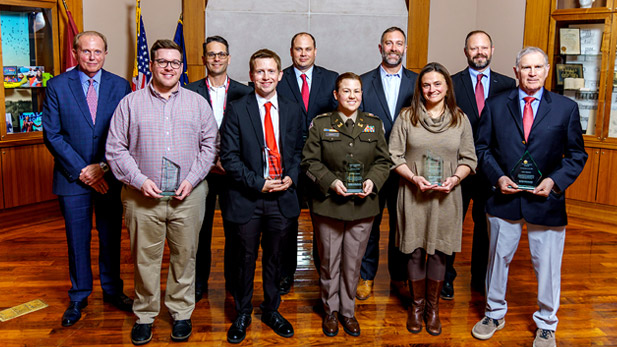 Rose-Hulman and its Alumni Association recognized alumni, faculty, staff, and students for their considerable career achievements, service to their communities, and dedication to the Institute in the 2022 Alumni Awards ceremony Saturday, March 26, at the Hatfield Hall Theater. 
President Robert A. Coons noted that this year's honorees "are an eclectic bunch." They include:
Pioneers working on the cutting edge of space travel
A chemical engineering graduate who went on to start a highly successful legal career where he is recognized as one of Delaware's top attorneys
Innovators in entertainment and home fitness technologies
Advocates for advancing technology development
Military heroes who have and continue to serve our nation
Researchers and engineers exploring solutions to some of the world's most complex medical challenges
 "Some things these award winners have in common are they care about other people, and they want to make a significant difference in the world," said event master of ceremonies Dan Price, a past president of the Alumni Advisory Board. "Rose challenged them beyond their capabilities … how to recover from failure, reach out for help, offer our help to others, and taught us to succeed with each other."
Receiving Honor Alumni Awards, the Alumni Association's highest alumni award in recognition of exceptional achievement in any career field, vocational and service to society, were John Elzufon, a 1968 chemical engineering alumnus and founder/senior litigator/managing director of the Elzufon Austin & Mondell law firm in Wilmington, Delaware; and Justin Smith, a 2003 mechanical engineering graduate, a senior manager with SpaceX.
Career Achievement Award winners for professional achievements bringing distinction to themselves, Rose-Hulman and their communities were Kristen Dahle, a 1999 civil engineering alumna who is a lieutenant colonel in the U.S. Corps of Engineers; Mitch Landess, a 1994 bachelor's and 1996 master's electrical engineering graduate, who is Conexus Indiana's vice president of innovation and digital transformation; and Larry Schiefer, a 1997 computer engineering graduate, who is vice president of software engineering with MIRROR. 
Distinguished Young Alumni Award winners for earning significant accomplishments within their first 10 years after graduation were Derek Archer, a 2012 biomedical engineering alumnus, who is a research assistant professor with Vanderbilt University Medical Center's Department of Neurology, and Tim Balz, a 2017 mechanical engineering graduate, who is founder, chief executive officer and chairman with Kalogon, an investor-backed, high-growth startup, with several other Rose-Hulman alumni and student interns, that's creating life-changing innovative products for people with disabilities.
View this article to learn more about each of the alumni award winners.
Faculty and staff members presented with honorary alumni were Jennifer Mueller, PhD, associate professor of civil and environmental engineering, and Jake Campbell, senior director of safety and security. Chad Weber, director of facilities operations and a 2002 mechanical engineering alumnus, received the Collegian Rose award as a graduate who is contributing to Rose-Hulman's success. Civil engineering junior Sean Childers earned the Rachel M. Romas Association of Future Alumni Award.
Coons stated, "We thank all of our winners for carrying Rose's reputation out into world and representing the institute through their continued excellence. Their success is our success, and we're honored to be able to come together to celebrate their achievements."
Visit this page to watch the 2022 Alumni Awards ceremony.