Summer Programs Shine Light on STEM for High School Students
Wednesday, August 11, 2021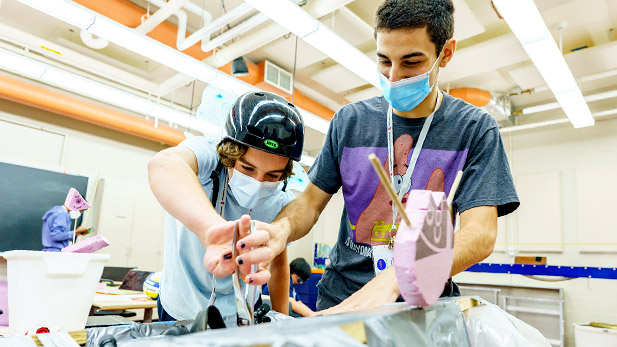 Rose-Hulman's summer programs once again gave high school students unique opportunities to explore and enrich their blossoming interests in science, technology, engineering and mathematics (STEM).
The Operation Catapult program had nearly 300 high school rising seniors and juniors from across the country working in teams during three two-week sessions on campus. They created such projects as a laser maze, a bioreactor to grow oil-producing algae, computer games, and walk-on-water devices. They also examined ways to provide safe drinking water to developing countries, unlocked the sweet science of food production, and studied the math behind the beats within harmonic music.
Also on campus, the week-long Project SELECT camp introduced younger high school students to STEM areas through a series of hands-on projects. Meanwhile, the Creation Crates program gave other students the opportunity to design their own challenging engineering experiments at home.
Yes, it was another fun-filled summer as students prepare for the next step in their educational journeys.
Takia McMorris didn't know what to expect when the rising high school senior from Chesterfield, Missouri, began her Operation Catapult adventure.
"I just knew I wanted to do something different and unusual," she says.
Her team – with colleagues from Burbank and Pasadena in California along with Warren, New Jersey – worked in an optical engineering laboratory to create a projector that produced a laser version of a person's selfie.
"It's pretty cool, huh?" exclaims McMorris as the team demonstrated the device in the final days of this year's final camp session. "We've got some tweaking yet to do, but we're getting pretty close to being satisfied with it."
Nearby, six other students were putting the finishing touches on a laser maze that someday will become an exhibit at the Terre Haute Children's Museum. Kids of all ages will try to navigate through an obstacle course without touching any of the bright green light beams. The project, supported by the international society for optics and photonics, will showcase fun-filled aspects of STEM fields, especially optics.
"This project is like a 'living' project with everything that we're trying to get it to do," states Wes Blalock, from Newburgh, Indiana. "It's amazing that we have been able to something like this in two weeks."
Team member Jonathan Kwok of Saint Joseph, Michigan, adds, "I had no idea about lasers or what they did. That's why I originally wanted to do something else but was told that summer was the time to try something new and different. This was definitely out of my comfort zone and I'm so glad I did it."
Operation Catapult Director John Aidoo, PhD, the Roland E. Hutchins Endowed Chair and professor of civil engineering, has heard similar stories from visiting students throughout the years. He says, "Our program is unique in so many ways, because while faculty are available as a resource, a project's success or failure is completely in the students' hands." 
Many students who attended this summer's sessions appreciated the opportunity to interact with fellow STEM-interested teenagers, have access to state-of-the-art equipment, and gain first-hand experiences on a college that's a national leader in undergraduate STEM education.
"This is the first time that I have been around people since COVID started," remarks Reece Riley, whose school in Des Moines, Iowa, offered online classes throughout the 2020-21 school year. "It has been fun working in a team on a project. We have learned to work things out."
He was part of two teams that created wind-powered vehicles "after lots of trial and error," states Will Lounsberry, from Lake Charles, Louisiana. "Because of our limited wind energy resources, weight reduction was a key element of our design and production. Several parts were made through 3D printing resources on campus. Then, there was plenty of testing to get everything just right. It has been great."
Learn about Rose-Hulman's summer projects here.