Senior Earns Structural Civil Engineering Foundation Award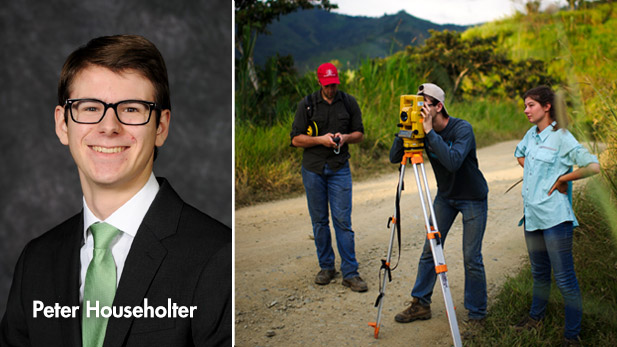 Peter Householter has been recognized as one of the nation's top
civil engineering
students by receiving the Structural Engineers Foundation's 2020 Undergraduate Scholarship. The senior was honored during the Structural Engineers Association of Illinois' virtual awards ceremony this summer.
The scholarship is presented annually to encourage students to pursue careers in structural engineering.
Householter is working on a variety of structural engineering projects this summer during an internship with KPFF Consulting Engineers' office in Louisville, Kentucky. He is using modeling software to generate construction and structural design documents and making calculations for structural design projects. He also is attending site visits with clients, architects, and engineers.
A current project has Householter assisting in a study about how a former industrial warehouse can be renovated into a hotel. He has helped note the building's existing structural conditions, design, and layout, and is analyzing aspects for possible construction cost savings.
"I hope to be able to continue a career in structural engineering and make an impact in people's lives everywhere in the world," he says.
Householter also has had other internship experiences for the Corradino Group in Indianapolis and RWG Engineering in Wheaton, Illinois, his hometown.
At Rose-Hulman, Householter is a former co-engineering manager and travel team leader of the
Engineers Without Borders
student chapter where he has joined other students in providing projects that improve lives through enhanced sustainability. The group is currently studying a project to bring clean water to a community in Ecuador. He also has a campus leadership role as a resident assistant and serves as a math and science tutor for the
AskRose homework helpline
for middle school and high school students.