Global Adventures to Continue at Cambridge for Recent Graduate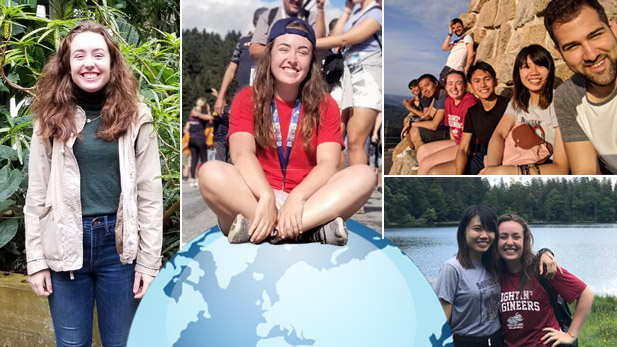 Recent graduate, Gabbie Gilbertson has had such worthwhile international educational and personal experiences that she's ready to begin a yearlong master's degree program at the United Kingdom's prestigious University of Cambridge that combines her interests in mechanical and biomedical engineering.
Besides her graduate school studies, Gilbertson will be among a university research group that's developing mathematical models to study the interaction dynamics of people when driving vehicles, especially in high-performance situations, like motorsports. Precisely, she will use complex mathematical processes to update existing models with more advanced statistical predictions. The validated model will help researchers examine how vehicle design affects stability over a wide range of operating conditions and driver experiences.
"The best part of this experience is its uncertainty. Ultimately, I have the chance to define the kind of engineer I want to be," she says. "Undertaking this research at Cambridge may connect me with exciting job opportunities in the United Kingdom automotive industry, but it could also motivate me to delve further into my studies and obtain a doctorate degree in engineering."
The master's degree program begins in October and Gilbertson is sharpening her mathematical computing skills this summer in preparation for assignments within Cambridge's Driver-Vehicle Dynamics research group.
The native of Honey Brook, Pennsylvania, earned the Department of Mechanical Engineering's Cummins Outstanding Senior Student Award this spring. Gilbertson demonstrated department and campus leadership with involvement on the varsity volleyball team, track and field program, Chi Omega sorority, Greek Intervarsity, AskRose homework helpline, and the Tau Beta Pi and Blue Key national honor societies. She also had internships with Chrysler and Titanium Metals Corporation.
In 2018, Gilbertson spent a half year studying at Germany's Hochschule Esslingen University of Applied Sciences, even though she had no German language experience. She overcame that challenge to join other international students in designing a hydrogen/oxygen fuel cell as a renewable, sustainable power supply for an unmanned aerial vehicle. She also was introduced to sheet metal bending and laser tolerances while working with a German laser manufacturing company on aspects of the project.
Gilbertson says, "I think there's something exciting about learning different cultures and getting to know people from around the world that share common interests, while also being exposed to new perspectives from varying backgrounds. In this way, I've become more interested in keeping up with the social, political, and economic events extending beyond the U.S., and more importantly gained some lifelong friends to discuss it all with."
Associate mechanical engineering professor
Simon Jones
and visiting biology professor
Stephanie Hill
, both Cambridge doctorate graduates, made Gilbertson aware of the graduate school and research opportunities. Founded in 1209 and granted a royal charter by King Henry III in 1231, Cambridge is the second oldest university in the English-speaking world and the world's fourth-oldest surviving university.
"This has been somewhat of a dream come true for me and my career interests," Gilbertson said. "Rose-Hulman has the unique ability to provide a world-class education with a personalized touch to each student. Not only could I push myself to tackle challenging projects in the classroom, but I could also participate in varsity athletics, join a sorority and get involved in other extracurricular activities that enhanced both my overall collegiate experience and my postgraduate application file. Throughout my four years at Rose, I was able to advance my engineering knowledge and gradually develop the confidence I now have to take this next step in my academic career and pursue a once-in-a-lifetime opportunity overseas."