Early Testing, Campus Buy-in, Bring Early Success to Rose-Hulman in Navigating Pandemic
Thursday, October 08, 2020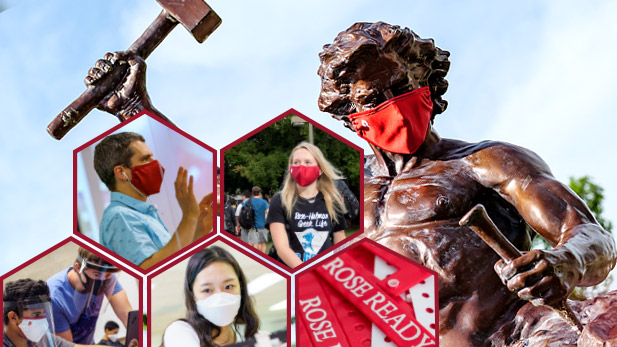 Behind a comprehensive
return to campus plan
– which included pre-return and ongoing COVID-19 surveillance testing of the entire campus population – Rose-Hulman Institute of Technology is successfully navigating the global pandemic, with students six weeks into the fall quarter.
With a student body of nearly 2,100 and more than 12,000 surveillance and pre-return tests conducted, the positivity rate to date has been well under 1 percent – hovering between 0.3 and 0.4 percent – compared to a roughly 5 percent national average. The undergraduate engineering college, which is annually
ranked among the best STEM colleges in the nation
, has required individuals on campus to wear face masks and practice social distancing and has employed an aggressive contact tracing and quarantine strategy to mitigate potential spread of the virus from positive individuals.
"I have a lot of friends who go to other universities. I'll ask how it's going, and most say not very well," said Jonathan Kawauchi, a senior chemical engineering major and world news editor for the campus student newspaper, The Rose Thorn. Kawauchi wrote about the institute's efforts for the paper's first issue of the year.
"At Rose, I've been happy with how we've handled it so far," he added. "I really appreciate the testing. That's probably the biggest thing. Testing everyone who came in was so much more than what other universities are doing and I appreciate the
numbers being released every week
. I feel like Rose has been very upfront about it and has been largely transparent. To me, that's enough to feel safe coming here. I know friends going to other universities that are boycotting and protesting going to classes because the university is not being honest and is not taking those precautions. It feels like Rose is taking it seriously, which makes me feel safer for sure."
The institute has made adjustments to its food service offerings, with more individually prepared meals and plexiglass dividers at dining tables to allow for better distancing and protection against airborne transmission. Additional enhanced cleaning protocols have also been established. Classrooms have been adjusted to allow for more distancing, with smaller laboratory class sizes where participants are required to wear both a mask and face shield. All faculty, staff and students received three Rose-Hulman branded face masks at the start of the 10-week fall academic quarter.
"In our classrooms and throughout the Rose-Hulman community, we have come together in the shadow of this crisis to find new ways to not only sustain, but to strengthen the education we deliver," said Rose-Hulman President Robert A. Coons.
Faculty devised and implemented a new schedule of classes that relied heavily on hybrid courses where a portion of the course engagement occurs in a traditional face-to-face classroom and another portion is online.
"One lesson we learned from the past spring was the need to have classes that could quickly adapt to various delivery modes while meeting quality standards for accessibility, Learning Management System navigation and use, Universal Design for learning, and regular instructor-student and student-student interactions," said Provost and Vice President for Academic Affairs Rick Stamper. "The Learning and Technology office worked this summer with a small team of faculty to develop and deliver a novel sequence of training and work sessions on developing high-quality courses and materials for use across a variety of delivery methods. The faculty did a wonderful job of preparing for the fall courses."
While Kawauchi noted that student life has changed with fewer face-to-face experiences, students are being offered and are finding new and creative ways to connect and preserve as normal a college experience as possible. In addition to virtual club and organization meetings, they are able to engage in esports and intramural activities, like disc-golf, where they can safely distance while still socializing in person. Students have taken their responsibility to protect themselves and the greater community very seriously, said Dean of Students and Vice President for Student Affairs, Erik Hayes.
"When I talk to peers at other schools or students here with friends at other schools, some have had to shut down or go more online," Hayes said. "Our students don't want to do that. I do think more than most places, they're doing everything they can to not be the reason this fails. I'm just so proud and impressed."
With plans to move to a remote learning environment for the first three weeks of the winter quarter (Nov. 30-Dec. 22), and a Jan. 4 return to in-person learning, Kawauchi is convinced students are committed to doing what it takes to see the year through.
"I hope no one slacks and I don't think they will," he said. "I think everyone takes it very seriously."