A Quarter Like No Other
Wednesday, November 04, 2020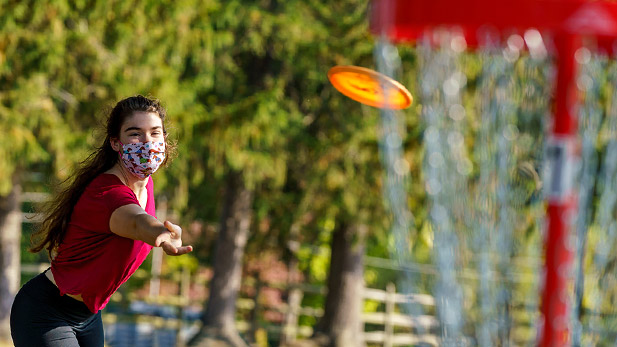 Compliance with mask and social distancing guidelines can be hit and miss in some instances, but things on the Rose-Hulman campus appear to be much different. Even walking alone across campus, students are wearing their institute-provided red and white masks and observing other safety guidelines put in place to prevent the spread of COVID-19.

While other campuses around the country have experienced large outbreaks of the disease, Rose-Hulman has been a model of success. As University Business noted in an October article, "Six weeks into its fall quarter, the Indiana STEM college has conducted more than 12,000 [COVID-19] tests" with a positivity rate of roughly 0.3% compared to a 5% national average.

But, how has all of this affected student life on campus? A place known for its close-knit, family atmosphere is suddenly forced to practice social distancing. While the classroom curriculum remains as challenging and engaging as ever, many courses are taught in hybrid or online formats. And many traditional fall activities have either been canceled or forced into a virtual setting.

"During these strange times, we have all had a big learning curve," says Audrey Walters, a junior electrical engineering major and off-campus event organizer for the Residence Hall Association. "A lot of us have had to learn how to interact with people, plan events, and, in general, have fun again."

But this has not been easy. Activities such as Homecoming, drama club productions, and intramural flag football, have been canceled, postponed, or moved online, leaving student leaders scrambling to organize events that draw interest while remaining safe.

"Our academics are as difficult as ever, combined with a lack of socializing and an overall feeling of loneliness," says Morgan McDonald, a senior civil engineering and biology major and president of the Student Activities Board (SAB). "That's why SAB is trying really hard right now to get students involved in our activities. We want to help build connections between people…and give students a chance to relax."

Some innovative student activities this fall have included socially distanced Nerf Gun wars, a Drive-in Movie Night, pumpkin-carving parties, and Feel Good Fridays in the Mussallem Union, which have included canvas painting, craft events, and ice cream snacks. The most popular event was a paintball tournament, drawing nearly 200 students.

"As a school of engineers, we've been doing what engineers have to do: innovate and adjust," Walters says.
Intramural sports are also providing a healthy and fun diversion for hundreds of students this quarter. More than 550 students are participating in a variety of IM activities, including non-contact Ultimate Frisbee, disc golf, and kickball, says Brady Cole, assistant director of recreational sports and athletic facilities and director of Rose-Hulman intramurals. While some popular fall IM sports, such as flag football and indoor soccer, have been canceled, new activities have taken their place.

"I have been pleasantly surprised with how well our students have taken to the new COVID-related rule changes we have implemented this quarter," Cole says. "I have yet to hear one complaint about having to wear masks while playing, using hand sanitizer and absolutely no contact during play. I am very proud and thankful for the way our students have handled the entire situation."

Social distancing and masking have made it more difficult for students to get to know each other and even recognize each other's faces. But students and student leaders are finding ways to meet the challenge and stay positive, says Jackson Hansel, a senior computer science major and president of the Residence Hall Association.

"This year, you aren't going to find 20 people crammed into a room watching a movie, but you will still experience that same friendliness that we all know and love," he says. Events that used to take place in student rooms, now take place in larger settings, such as lobbies or outdoors. Students are also spending a lot of time competing with each other through interactive video games or taking part in other online events.

While no one loves masking or social distancing, the bottom line is that students want to remain on campus and not be required to return home early, as has happened at many colleges and universities around the country this fall where COVID-19 outbreaks were extensive. For that reason, Rose students are taking the institute's health and safety guidelines very seriously, says Erik Hayes, vice president for student affairs and dean of students.

"No one wants to be the reason we have to go home," Hayes says.

Hansen agrees.

"I often find myself wishing my senior year at Rose were a little more normal," he says. "However, I think it's very important to remember the reasons that things are different this year and stay dedicated to ensuring the health and safety of everyone on campus. I know how amazing the people are on this campus and I trust they'll continue to keep everyone's safety in mind."