Bremmer Stretches Horizons as Economist & Educator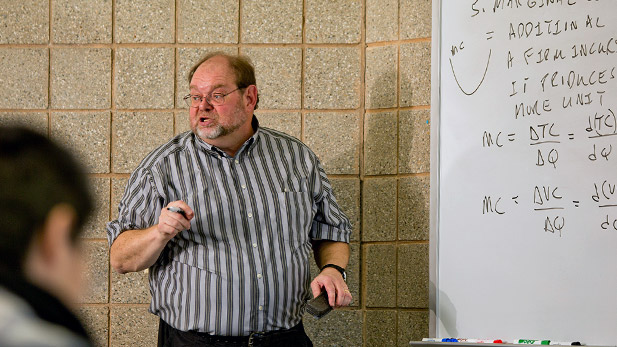 It doesn't take long for veteran economics professor Dale Bremmer to be alerted whenever gasoline prices rise at local stations and convenient stores. The telephone in his campus office starts ringing.
He's the first person Terre Haute media seek to help explain the economic impact of those prices on local motorists.
"My phone rings whenever gas prices go up. They don't call when they go down," he says.
In fact, WTHI-TV reporter/anchor Jon Swaner affectionately refers to Bremmer as "The Gas Man."
"Dale's the guy who can explain, in layman's terms, what's going on about a variety of economy topics," Swaner says. "He's friendly, unassuming and very knowledgeable."
Indeed. In 31 years as a Rose-Hulman faculty member, Bremmer also has helped explain the effect of Daylight Saving Time on Indiana employment, the impact of divorce on female labor force participation, and the ramifications of the retired earnings tax on social security recipients.
That last topic could be important to Bremmer since he's retiring at the end of the school year.
"Rose-Hulman has allowed me to stretch my horizons as an economist and as an economics professor," he says.
For instance, Bremmer developed new courses covering such topics as corporate finance, environment economics, health economics, labor economics, game theory, and economic growth and development. Some of them have become academic staples of the institute's economics curriculum.
"You don't know a subject until you teach it, and I have taught a wide range of areas that were new to me and the students," Bremmer adds.
Those students appreciate his teaching style that mixes economic principles with elements of mathematics and problem solving. He has modified course material for a student body interested in science, engineering and mathematics fields – with a limited number of students who are majoring in economics. Many more earn minors each year in the subject.
"There's more math involved in economics courses here, than other places, because that's what captivates the students. I learned early on that I had to shift gears in my teaching to keep up with my students," says Bremmer.
He has earned the respect of students and faculty colleagues, being a popular choice for the Dean's Outstanding Teacher Award in 2002. He has published articles in peer-reviewed journals, been an advisor for Indiana's Office of the Utility Consumer Counselor, and has served as an expert witness in utility regulation cases.
"I always need to keep learning and hope that continues in retirement. However, while I will miss the students and my faculty colleagues, I'm ready for a change," Bremmer states.
He has seen substantial change in Rose-Hulman throughout the years, including coeducation, and an increase in the student body from 1,300 to nearly 2,200 students.
Bremmer adds, "I was fortunate to find a place where the students, faculty and staff are dedicated to the institution's core mission. At another college I may have just centered on teaching applied econometrics, industrial organization, and money and banking. Here, I was able to do so much more and have so much fun doing it."