Electrical engineering is a very broad field with diverse career potential. Our program will give you a strong foundation in engineering, science, and mathematics combined with electives you can use to expand your horizons or specialize in a specific area. Your core courses will introduce the various
career paths
open to you and your first-year will include a project-based design course in which you'll build your own
Arduino
-based robot. Your senior year culminates in a year-long team project where you'll work with two or three other students to solve a real-world design problem for a client.
126

Required Credits

68

Elective Credits
Computer engineering is the study of the optimization of computing hardware and software working together. Our program will give you a strong foundation in engineering, science, and mathematics combined with electives you can use to expand your horizons or specialize in a specific area. Your core courses will introduce the various
career paths
open to you and your first-year will include a project-based design course in which you'll build your own
Arduino
-based robot. Your senior year culminates in a year-long team project where you'll work with two or three other students to solve a real-world design problem for a client.
130

Required Credits

64

Elective Credits
Minors and Areas of Concentration in Electrical & Computer Engineering
All ECE students are required to take three advanced electives in electrical or computer engineering or computer science. You have four other electives you can use as you wish. If you use your electives to specialize, we offer certificate programs in power systems and communications systems. We also offered advanced electives in computer architecture, cybersecurity, control systems, electromagnetics, embedded systems, internet of things and much more. 
ECE also offers its students a robotics minor, which consists of computer science, software, mechanical, electrical and computer engineering. Learn more about our robotics minor here. If you're not an ECE major, you might consider a minor in electrical or computer engineering. Check it out here. 
Master of Electrical Engineering or Computer Engineering
We offer two options for a master's degree. One is a thesis-based master of science degree in electrical engineering (MSEE) or a course-based master of electrical and computer engineering (MECE). Both consist of 48 credit hours of advanced work, but for the MSEE, 12 hours are for your thesis. When accepted as a graduate student, you're assigned an advisor who will help you plan a personalized curriculum that meets the requirements for your degree. We have several faculty research projects currently underway in which students are involved.
International Dual Degree Program
Through a partnership with Ulm University of Applied Sciences in Germany, we offer a one-year Dual Master Degree in Systems Engineering and Management. Participants in the program earn a master of science degrees from both institutions. In this program, you'll take ECE and engineering management courses during the fall and winter at Rose-Hulman and take courses in systems engineering and modeling at Ulm University during the spring and summer. The degree requires a thesis that can be completed at either school.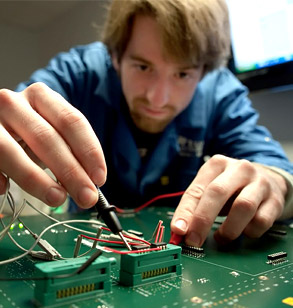 Electrical engineers work in a variety of industries designing and developing electrical equipment for automotive, defense, and communications applications, among others. An electrical engineer may help design the latest safety features for cars or develop wind, solar, or traditional energy systems.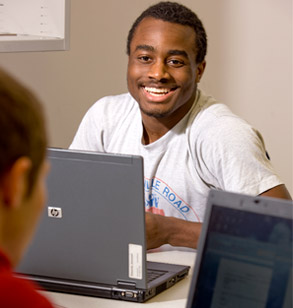 Network architects design and build data communication networks. They may be responsible for smaller networks between offices to a cloud infrastructure that serves multiple customers.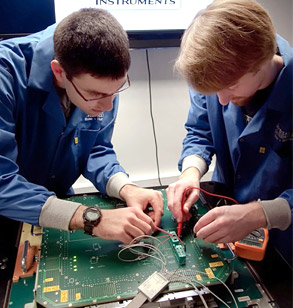 Control System Integration Engineer
Control system integration engineers develop ways of integrating multiple control systems, such as in an automobile, into an overall project. They will work closely with other engineers to develop electrical systems to meet top-level function requirements.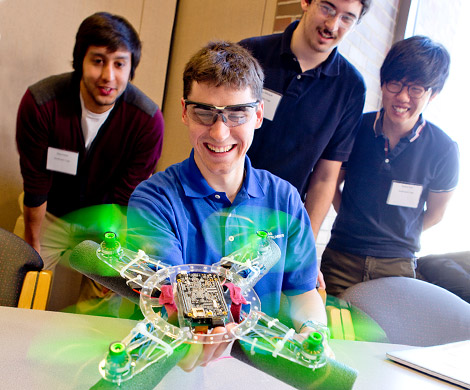 Hands-On Opportunities
Engineering design and teamwork are an integral part of our programs. You'll take engineering design courses beginning your freshman year, and tackle a real-world, industry-sponsored project as part of a senior design project team.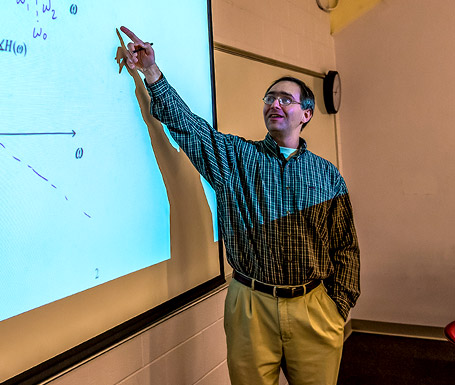 Dr. Mario Simoni
Dr. Mario Simoni, head of the department of electrical and computer engineering, is an innovative educator who stays on the leading edge of technical advances in electronics and electrical systems. He recently developed seven new courses for the department's curriculum, and brought systems engineering concepts into the capstone design experience.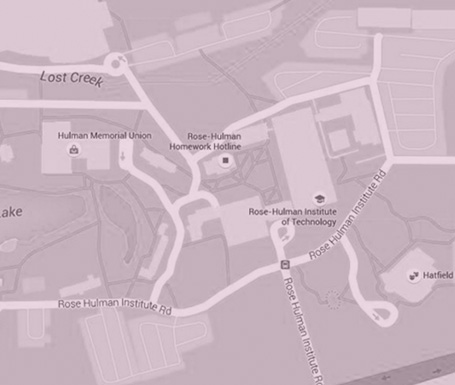 Contact Us
Department of Electrical & Computer Engineering
Moench Hall C207
5500 Wabash Avenue
Terre Haute, IN 47803
812-877-8228
lowe3@rose-hulman.edu