Ryan Realizing Scientific Dreams in Campus Gene Editing Project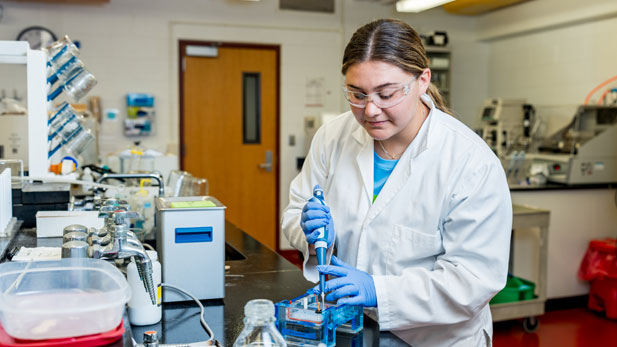 With keen interests in science and math, Cassidy Ryan has long desired a career as a scientist. Those aspirations are becoming possible through undergraduate research and academic enterprises at Rose-Hulman.
The junior chemistry major (with a chemical engineering minor) has spent this summer utilizing gene editing techniques to modify the genes of living organisms in hopes of improving her understanding of gene function. Unlocking this knowledge may also allow scientists to develop ways of possibly treating a variety of genetic or acquired diseases and impacting agriculture and biotechnology.
Inside the Olin Hall's Department of Chemical Engineering Special Projects Laboratory, Ryan has been using the most widely used genome editing system, CRISPR/Cas9, to cut an organism's DNA sequence, enabling the removal of existing DNA and the insertion of replacement DNA.
The multi-step gene editing process starts with the introduction of the Cas9 nuclease enzyme and guide RNA to the cells. The guide RNA binds to a specific DNA sequence, which tells the Cas9 enzyme exactly where to cut the DNA.  At the cut site, the original DNA can be replaced with new DNA during repair, allowing changes in an organism that could help in, for instance, developing more nutritious crops or eradicating infectious diseases.
"It's challenging to create new protocols in this relatively new area of science," acknowledged Associate Professor of Chemical Engineering Irene Reizman, PhD, who is also the Alfred R. Schmidt Endowed Chair for Excellence in Teaching. As Ryan's faculty academic adviser, she thought a summer research project in her laboratory would be a great educational opportunity. The lab has undergraduate students developing whole-cell biosensors for reducing byproduct formulation in industrial fermentations and other applications.
Ryan was ready for the challenge, stating "This is what I love to do, getting my hands into science. When Dr. Reizman told me about this project, I couldn't wait to get started."
It took five tries to get a significant breakthrough when she successfully amplified DNA molecules using polymerase chain reaction and then verified that they were correct by separating them using electric current, a process called electrophoresis.
"Once I got the layup to the research complete, I knew I had something and was on my way," said Ryan, wearing a white laboratory coat and disposable blue gloves while working in the lab on the next stages of the project. "I like working things through, troubleshooting and getting optimal connections for all the different steps. I take things one step at a time, one day at a time. If there's more successes than failures and progress is being made, I'm satisfied."
This gene editing research project is being supported by a chemical engineering research fund provided by 1968 chemical engineering alumnus Cecil Witherbee and his wife, Sherry. The fund supports other chemical engineering students on summer projects. Past students have had research papers published in scholarly journals and featured in undergraduate conferences – providing the groundwork for attending graduate school.
Ryan's interest in science developed early as a high school student in Hoffman Estates, Illinois, a Chicago suburb. By her freshman year she made her first visit to Rose-Hulman after learning about the institute's reputation as a national leader in undergraduate education for science, technology, engineering, and mathematics.
"My dad said that I needed to visit Rose-Hulman since it was held in such high esteem as a STEM college. I was impressed and couldn't wait to take every opportunity to return for a visit," she remarked. "I've always been a science- and math-minded person and knew that Rose-Hulman was a good fit for me."
It also helped that Ryan would have the opportunity to play on the Fightin' Engineers' soccer team, where she has been a two-year varsity letter winner in the outside back position. She's also involved in the Delta Delta Delta sorority and helps supervise managing the Sports and Recreation Center for student activities and intramurals.
"My summer research is another important part of my journey," said Ryan, who plans to continue working on the gene editing project throughout the 2023-24 school year. The project may help her gain future research opportunities, possibly through National Science Foundation-sponsored Research Experiences for Undergraduates, and then joining a research program at graduate school.