Rose-Hulman Students, Faculty and Alumni Make an Impact in Cybersecurity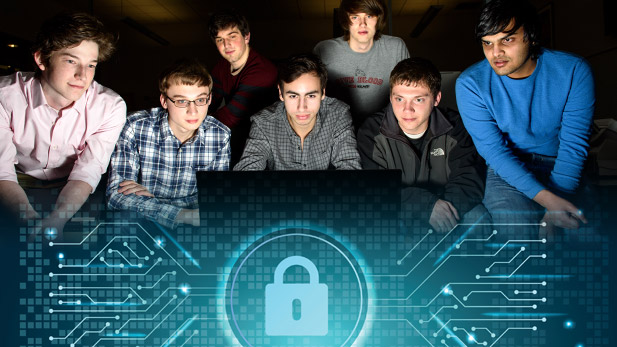 Cybersecurity is an industry that has only grown over time. As technology and the internet have evolved, the need for cybersecurity specialists, computer scientists and engineers continues to rise. According to TechTarget, 76% of company boards in 2022 recommend more employees skilled in cybersecurity. As such, the demand for trained and skilled cybersecurity professionals is at an all-time high. Rose-Hulman is making an impact on the industry — with students, alumni and faculty contributing to various aspects in the field. 
Rose's Computer Science and Software Engineering major is designed to give students a solid foundation in computer science with the ability to customize their coursework to create a cybersecurity emphasis. 
Rose's collaborative learning culture allows students to tackle challenges in a teamwork environment, which makes them well-suited to hit the ground running in the cybersecurity industry. "We get feedback from employers that Rose grads can contribute from day one," said JP Mellor, PhD, department head and professor of computer science and software engineering. "Our learning environment provides the safe space to work in teams, and they can deal with uncertainty and are willing to try something they don't know will succeed." 
This ability to work in ambiguity lends itself well to an evolving industry such as cybersecurity where the landscape changes daily.
"Our students are big picture thinkers," said Associate Professor of Computer Science and Software Engineering Sid Stamm, PhD. "They can think, not only about what they're building, but the implications of their products in society. We have students who can build software and know what it will do for the people who use it, as well as the side effects the software will have and how to build software that is durable and lasts in time." 
Alyssa Pinkston, a senior majoring in computer science, knew she wanted to work in cybersecurity since a high school visit to Bletchley Park, home of the World War II codebreakers. After her first year at Rose, Pinkston interned at ICR, a defense contractor in Cincinnati. She later interned at Northrop Grumman Corporation, which sponsored her security clearance. Most recently, Pinkston worked for Microsoft, which offered her a job working on the Microsoft Offensive Research & Security Engineering (MORSE) Team upon graduation. Pinkston has served as president of the campus cybersecurity club for three years, organizing events such as guest lectures on campus from leaders in the industry.
Rose Alumni Leaving Their Mark in Cybersecurity Industry
Rose alumni have put their cybersecurity knowledge to work at well-known companies such as Microsoft, Meta, Google, Airbnb, Groupon and Salesforce. They also work for government contractors like Northrup Grumman, and government agencies that work directly with the defense industry and companies that provide contracted cybersecurity support. While cybersecurity may be a somewhat more recent area of study with respect to coursework, Rose alumni have been making an impact in the industry for decades.
Cybersecurity was not a focus area when James Graham, an electrical engineering alumnus, graduated in 1972. However, when he started working in the area years later, he benefited from the logical, problem-solving skills he learned as a Rose student. Graham, who is now retired, worked in the computer engineering field for 40 years and cybersecurity for about half that time.
"Prior to my retirement, I was an active researcher [in cybersecurity] as a faculty member at the University of Louisville," said Graham. "I was funded for 10 years by the Department of Justice and the Department of Homeland Security to study cybersecurity of industrial control systems." 
Nathan Jenniges, a 1998 electrical engineering alumnus, is vice president of cybersecurity products for Blackberry. While Blackberry is no longer working in mobile phones, the company has two divisions: automotive/IoT and cybersecurity. Blackberry's software is installed as the security operating system in over 225 million vehicles around the world, ensuring the security of the critical safety and control systems. Additionally, the company provides PC, mobile, server, network and identity security products and managed services to over 15,000 customers around the world.
Jenniges has worked in the cybersecurity field for 11 years, having worked at McAfee for 10 years prior to joining Blackberry. While he did not study cybersecurity at Rose, he credits the college for providing an education that cultivates the abilities to be curious, learn quickly and foster an obsession to solve difficult problems.   
"As an electrical engineering graduate, I would never have imagined my career turning into an executive product leader in cybersecurity," he said. "In the last decade, I have seen a lot of smart people come into cybersecurity for the first time and fail out quickly. … The Rose education certainly helped me as I focused on the problem, learned the technologies in depth, and then started to grow as a leader by connecting dots, finding unique solutions, and delivering products that delighted customers."
Jenniges is thrilled that Rose has expanded its offerings and emphasizes the importance of cybersecurity education. He believes this will continue to make Rose students more competitive in this growing industry.  
"We are at a critical juncture in technology as we approach a rapid evolution of AI, quantum computing and automation that will both greatly improve our world, but also introduce even more sophisticated risks," he said. "One of the biggest challenges we have is that cybersecurity is almost inevitably added on as an afterthought, not designed in the way we design in reliability, performance, scalability, safety, etc. With a Rose education, students will be at the forefront of driving cybersecurity as a core design principle into our future software and services." 
Koushik Subramanian, a 2006 computer engineering alumnus and member of the Board of Trustees, is the Director of Information Security at Kraken Digital Asset Exchange. In addition, he is also the founder of Kopper Labs, which focuses on automation, blockchain and cybersecurity projects for public causes. He has been working in the cybersecurity industry for more than 15 years.
"I remember being at Rose and always being challenged not only by my teachers but my peers as well," he said. "It bred a level of competition and discipline of continuous improvement, and that mindset is what leads me to be so curious about technology and security."
Subramanian recalls when he first started in the industry, cybersecurity was mainly a requirement for certain industries like finance and healthcare. Today, cybersecurity is a requirement at the board level for almost every industry.
Rose Faculty Making an Impact in Cybersecurity
Rose faculty are also making an impact in the industry. Professor of Electrical and Computer Engineering Wayne Padgett, PhD, worked as a consultant for Rolls-Royce in the cybersecurity space, but in a non-traditional aspect of the field.
Padgett was recruited to work in the controls group of Rolls-Royce to assist with starting a cybersecurity group. The controls group builds power systems and turbine engines. Padgett and the Rolls-Royce team looked at what was needed to ensure the turbine engine controllers, which are essentially mature computing devices, were secure against cyberattacks. 
"This is a different space than what most people talk about when they discuss cybersecurity," said Padgett. "Most people will talk about cybersecurity in terms of webpages and servers, and routers and networks. But we're talking about embedded systems that are not really meant to communicate with a lot of other devices." 
The type of cybersecurity work Padgett did has become a high priority for companies such as Rolls-Royce because their government contracts stipulate they will not purchase equipment unless the organization can show what cybersecurity features have been implemented to assure devices are reasonably safe from cyberattacks. 
Whether it's software, smartphone applications or equipment production, cybersecurity touches every aspect of the world. With the pending launch of the cybersecurity minor, along with the students, faculty and alumni working in the space, Rose has an impact in the industry that continues to grow and evolve.