Rose-Hulman Selected to Host ASIANetwork's East Asian Cultural Residency Program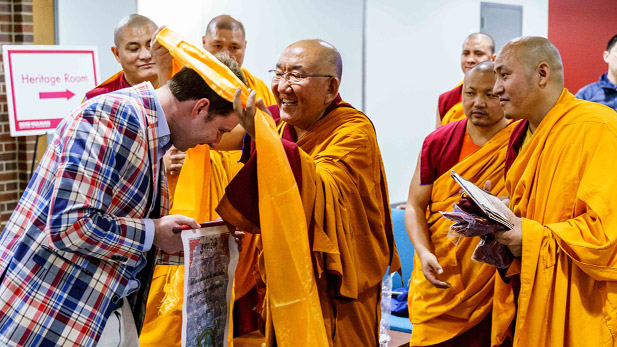 Rose-Hulman students will expand their global horizons this fall when the campus hosts a two-week educational residency program that fosters an appreciation for East Asian culture by examining aspects of Tibetan mindfulness practices.
The activity is being hosted by Associate Professor of China Studies Timothy Grose, PhD, and sponsored for the first time by the ASIANetwork. The consortium of more than 150 North American colleges strives to strengthen the role of Asian Studies within liberal arts education. It hopes that educational programs, like Rose-Hulman's upcoming residency, will help prepare undergraduate science students for a world in which Asian societies play prominent roles in an ever more globally connected world.
The residency program, titled "Tibetan Contemplative Practices: Interfaces of Mindfulness, Culture and Science," will feature visiting monks from the Tibetan Mongolian Buddhist Cultural Center in Bloomington, Indiana, including daily yoga classes and meditation sessions. There also will be a variety of visiting guest lectures and presentations by Associate Professor of Psychology Alan Jern, PhD, and Grose about holistic approaches to Tibetan culture and connecting it to science.
Full details about the program will be announced later this year.
"The opportunity to study the connection between global cultures is important and we're privileged to provide our students such a close engagement with Tibetan culture and the people who experience it," said Grose. "We need to appreciate and learn about other cultures so that we can better understand the world in which we live, work and play. That's especially true of the intersection of science and Tibetan concepts. In many ways they overlap." 
Grose teaches five East Asian Studies-themed classes each school year in the Department of Humanities, Social Sciences and the Arts. These courses cover such topics as Modern China, Islam in China, Ethnicity & the State in China, Pop Culture in China, and Introduction to Islam. Each of these courses has had full student enrollment.  
The ASIANetwork's new Embodied Learning About Asia Program focuses on Asian educational programs that create opportunities for students to learn about Asia through immersive, first-person involvement and opportunities for student self-reflection, dialogue and mentoring that enhance knowledge about Asia.