Fast-Paced Alliance Passing Wisdom to Next STEM Generation
Tuesday, February 14, 2023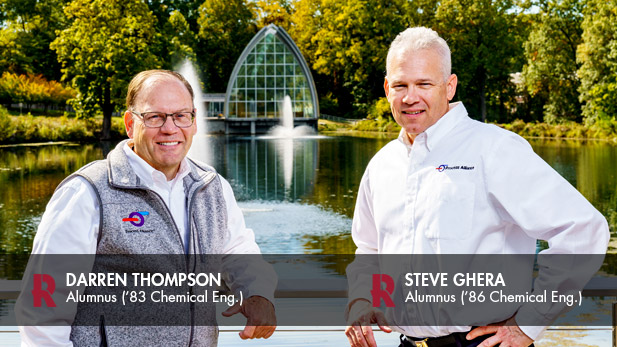 After nearly 30 years of service in rewarding engineering careers, Darren Thompson and Steve Ghera found themselves with a dilemma experienced by many workers in their early to mid-60s – what to do when offered an early retirement package.
In Thompson's case, the 1983 chemical engineering alumnus wasn't ready to quit leadership roles within Eli Lilly and Company when he and Ghera, a 1986 chemical engineering graduate, were offered early retirement opportunities in 2017. Both knew they had something more to contribute to engineering and science and wanted to find a better way to solve the problems that they saw in their career.  
So, Thompson jumped at the opportunity to start Process Alliance, a consulting firm that is designing chemical processes, supervising construction, and solving problems in manufacturing facilities for such pharmaceutical and bio-agricultural clients as Eli Lilly, Catalent, Elanco Animal Health, Lonza, Tolmar, Exelead, Emergent BioSolutions, and Novartis. Along the way it has become one of Indianapolis' fastest-growing companies.
Thompson is the firm's president after leading all functions of Eli Lilly's engineering disciplines at a manufacturing site, including process, project, automation, and maintenance. He brought several fellow retirees with him, including Ghera, who is the Process Alliance's chief operating officer and director of operational excellence.
Rose-Hulman alumni make up one-fourth of the company's growing team of more than 80 full- and part-time employees. That list includes tried-and-true scientists and engineers John Gardner, a 1978 chemistry alumnus, and Tony Shaw, a 2009 engineering management master's graduate. Meanwhile, recent graduates contributing to projects throughout the country are Marcela (Chavez) Boone, Logan Crum, and Megan Hawksworth, all 2020 chemical engineering alumni; Ethan Chupp, a 2021 chemical engineering alum; and Matthew Gehrich, a 2018 mechanical engineering graduate. And more could be on the way as the company interviewed prospective 2023 Rose-Hulman graduates this past fall to join the effort.
"We've been there and done that, so nothing really scares us," said Thompson, a former Eli Lilly project and program manager in pharmaceutical manufacturing. "In our four short years (since early 2018), we've proven that we can get things done."
That's why the company's promotional tagline is "Problems Solved. Solutions Delivered. Superior Value."
Early in the COVID-19 pandemic, a client sought Process Alliance's assistance in building a vaccine manufacturing facility to help address current and future healthcare demands. Due to the nature of the ever-spreading virus, additional capabilities and capacity were needed to get the manufacturing line up and running. A team of six engineers with a diverse range of skills and experiences filled production leadership roles normally led by a client's in-house staff. Production was started on schedule, without major equipment or facilities issues.
In other projects, engineers helped bring a new diabetes drug to market by providing automation and validation services, increased production and new products to an animal health plant and brought innovations to a second-generation transportation project that's bringing COVID therapeutic medication to nursing home patients across the nation. Also, the company has assisted a client with early design of a new facility for a blockbuster new drug substance while another group helped set up several processes for another significant new drug concept. Finally, Rose-Hulman alumni have played a key role in validating the process control systems for a pharmaceutical company and are working on-site to identify potential gaps in production supply, laboratory, and production procedures.    
Along the way, the part-time employees of 50 years or older – making up more than half of the company's workforce – are passing along their knowledge, on-the-job experience, and leadership skills. Process Alliance takes pride in helping its younger full-time associates to work their way up to higher levels of responsibility, oversight, and decision making. Meanwhile, they learn and understand how the equipment and systems are supposed to work and appreciate all the elements involved in the decision-making process. Process Alliance is intentional in its mission to grow and develop the next generation of pharmaceutical engineers and scientists, and some clients hire Process Alliance associates that have once been consulting with them.
"While providing quality service to our clients, we're preparing well-rounded engineers who, if they want to, are ready to work for big pharmaceutical companies. After all, we know what it takes to be successful in that environment," stated Ghera, who spent 31 years as a chemical engineer in manufacturing and aspects of research and development. He also has taught Lean Six Sigma methodologies and coached leadership in process and operational improvement.
Ghera added, "We look for learn-thirsty people as leaders and associates who have personality, temperament, and a willingness to go into chaos and provide stability. Nothing should scare them. Each of our early in career consultants tackles each problem knowing they have seasoned mentors behind them willing and able to help, and we encourage them to use those resources."
Process Alliance was named among Indianapolis Business Journal's Fast 25 for 2022. This came from a startup with deep chemical engineering roots that found success during and after the cautious pandemic economic climate. The company grew when its attention turned to life sciences manufacturing, engineering, and management consulting. Thompson admits that early days of the business were challenging, but things have been consistently strong ever since.
Thompson said, "We believe that talent doesn't have to go to waste when faced with an early retirement option … A lot of Process Alliance clients appreciate that we have some very experienced and talented people on our team."