Chemical Engineering Seniors Learning, Applying Skills in Global Experience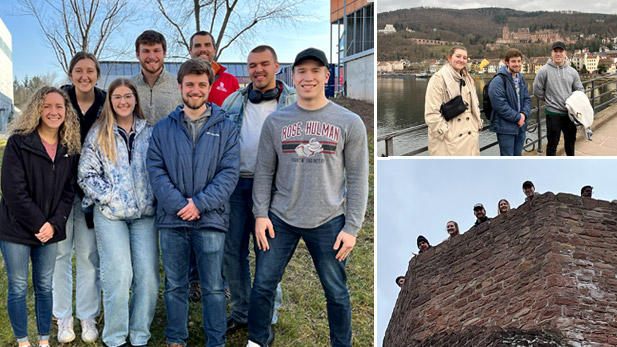 Seven chemical engineering seniors have taken advantage of a unique study abroad opportunity to apply their skills, learn new professional concepts and examine new problem-solving prospectives while designing a chemical production plant. 
Since 2017, Rose-Hulman chemical engineering students have joined Professor Adam Nolte, PhD, or Associate Professor Irene Reizman, PhD, in spending two weeks during each spring academic quarter immersed within an advanced design project. They work in teams throughout each day with mechanical engineering and technical chemistry students from the Technical University of Darmstadt and chemical engineers from Provadis University, both from Germany, and American chemical engineering students from South Dakota School of Mines and Technology. 
The student teams this year are designing a process involving the hydrogenation of raw refinery products to convert them into chemicals useful for applications including refrigeration, cosmetics and insulation production.
Among other skills, the students apply literature research, mass and energy balances, reactor design and kinetics, chemical separations, pump and compressor operations, and heat integration in the design of their plant.
They also apply systematic techniques to estimate the costs of the project and to identify and address particular the process safety considerations and environmental impacts of their designs. Guest lectures give the students advanced tutorials on these topics to aid their designs, and the experience culminates with a presentation and plant trip to an industrial partner in Germany that operates a process similar to the one being studied by the students.
Other chemical engineering seniors are doing similar chemical production capstone design team projects as part of regular coursework during the spring quarter. 
"This is a once in a lifetime opportunity to complete a project with students from different backgrounds," said Brooke Covert before leaving on the global educational adventure. "It will allow me to experience working with individuals who have very different ideas and learn new ways to solve problems. Also, being able to complete the course in two weeks (instead of normal 10-week senior capstone course) allows me to start my next career much sooner, with more experience."
Kahlan Jester added, "I wanted to participate in this capstone design project because I've always wanted to study abroad. However, it is hard for chemical engineering students to take an entire quarter off. This program offers me the chance to study abroad while still taking other courses at Rose-Hulman. Not only will I be challenged in this program, but I will grow as an engineer and have a great experience of real-life project management with a diverse team before I graduate."
Other students participating in the program this year are Daniel Decker, Aidan Morris, Shane Myszka, Reece Lueking, and Sarah Cox. Nolte is the group's faculty mentor this spring and is staying in Germany to later begin a spring-term research sabbatical that will continue into the summer. Reizman also serves as a key adviser and coordinator of the program and has participated in the global capstone design experience in Germany during past years.
Besides working on the group project, this year's Rose-Hulman students are welcoming the opportunity to explore life and culture within Germany and visit other European sites throughout the trip.
"This will be my first time in Europe and I am excited to see the culture and beautiful sights. This is a great educational opportunity that I couldn't miss out on," stated Jester, who is planning to visit Paris for a week after the capstone program before returning to Rose-Hulman to complete the rest of her final academic quarter. She plans to become a refining engineer with Marathon Petroleum after graduation. 
"Going through this experience will make me better prepared for my future career," Jester added. "Through this (global) experience, I will have to work with others in a fast-paced environment, solving problems everyday as they come up. This will prepare me for when something goes not as expected with the unit operation (at Marathon Petroleum). The problem-solving mindset instilled in Rose-Hulman students will be helpful in not only this program, but also my future career."
Covert agreed, stating, "This experience will enhance my future career because I will have experience working with individuals from another country and working to pass any possible cultural boundaries (in a team project). I will learn new methods and be able to bring them back and apply them in my future career."