Chemical Engineering Names Spring Quarter 2022-2023 Noel E. Moore Achievement Award Recipients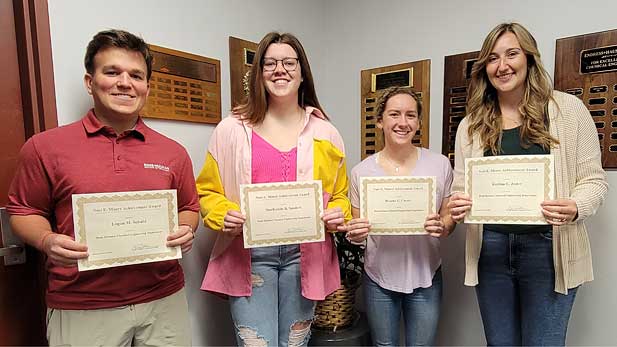 The Department of Chemical Engineering has announced the winners of the Noel E. Moore Achievement Award for the spring quarter of 2022-2023.
The winners are sophomore Logan M. Schuld, junior MacKenzie B. Sanders, and seniors Brooke E. Covert and Kahlan E. Jester.
Each quarter, the department recognizes academic excellence on the part of our students. The awards are named in memory of Professor Noel E. Moore, an outstanding educator and faculty leader on campus for 30 years. Moore served for a decade as head of the Department of Chemical Engineering, was an early leader of Operation Catapult, and was a key advocate for making the institute co-educational. He was named an emeritus faculty member after his retirement in 1998. He passed away in 2018.
SPRING QUARTER 2022-23 NOEL E. MOORE AWARD WINNERS
Logan M. Schuld (Sophomore)
Logan Schuld is recognized for his dedication and positive contributions to the learning process in the classroom. Dr. Kim Henthorn, department head and associated professor, says that professors note that, his questions and answers are posed thoughtfully. "Logan is studious, an attentive and active participant in class, and always willing to help classmates," Henthorn said. Outside of the classroom, Logan is a member of the golf team and active in ATO and other student and professional organizations on campus. Congratulations, Logan!
MacKenzie B. Sanders (Junior)
MacKenzie Sanders is recognized for her dedication to academic pursuits. "MacKenzie is thorough in her analysis and particularly excels in contributing to a productive and engaging classroom environment," Henthorn said. "She goes beyond superficial results and really digs into the fundamentals of the problem at hand." MacKenzie is also very active in campus activities. Great job, MacKenzie!
Brooke E. Covert (Senior)
Brooke Covert is recognized by the faculty for her careful and dedicated approach to her studies, including her commitment to organization and teamwork in approaching new challenges. "Brooke was a participant in the Advanced Design Project course in Germany at TU Darmstadt, where she gained international experience and worked on an interdisciplinary team to design a hydrogenation process," Henthorn noted. Brooke plans to continue her studies next year in the graduate program at Clemson University, where she will be studying novel technologies for wastewater treatment. Congratulations Brooke on your well-deserved Noel Moore Award!
Kahlan E. Jester (Senior)
The CHE faculty would like to recognize Kahlan Jester for her willingness to explore new topics and take on new challenges in her design project and senior electives. "Kahlan completed her senior design project in Germany at TU Darmstadt, where she gained international experience and helped present her team's results to the industry sponsor for the project," Henthorn said. "In her Biochemical Engineering and Bioseparations courses, Kahlan has selected challenging projects that explore modern biomanufacturing techniques, including production of viral vectors for gene therapy and purification of proteins from transgenic plants." Outside of class, Kahlan was a 3-year member of the women's basketball team, and she plans to begin a full-time position at Marathon this summer. Congratulations, Kahlan!