Alumnus Tim Balz's Innovative Startup Redesigning Wheelchair Technology
Monday, February 13, 2023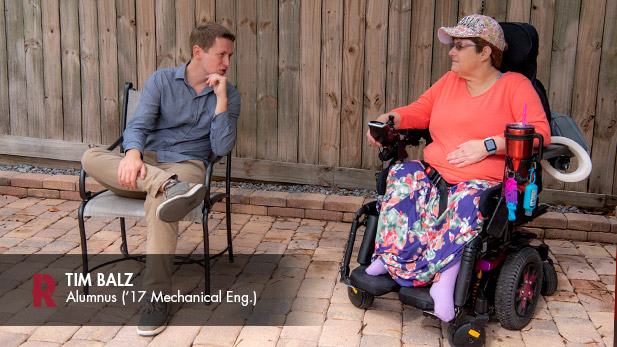 The entrepreneurial spirit fostered at Rose-Hulman has inspired 2017 mechanical engineering alumnus Tim Balz to make a difference in others' lives by revolutionizing the seat cushion industry, thanks to help from his alma mater's students and alumni network. 
After finding success with SpaceX in his first postgraduate job, Balz started Kalogon Inc. with several fellow engineers to invent the world's first smart cushion. The innovative product was recently named the Most Innovative Product in Accessibility at this year's Consumer Electronics Show in Las Vegas while Kalogon has been recognized as one of the Top Startups to Watch in Orlando's competitive business scene by the Orlando Business Journal. Kalogon was also recently announced as one of four finalists for the SXSW Innovation Awards in the Patient Safety Technology category, with winners to be announced in mid-March.
The company raised $3.3 million in seed funding in 2022, including an investment by 19 alumni from the Sawmill Angel Network, and an additional contract from the United States Air Force has allowed for a progressive scale up in operations domestically and internationally, an increase in staff (including hiring several Rose-Hulman student interns), and expansion of production capabilities. 
Kalogon uses patented intelligent pressure sensors within a wheelchair cushion to analyze five pressure points and continuously redistribute weight to adapt to the needs of the user, giving people the ability to sit longer (like fighter pilots on long-distance flights), and pursue activities they were unable to before. Meanwhile, connected app technology enables wheelchair users, caregivers, and clinicians to browse comfort presets or customize and upload their preferred settings to personalize their smart cushion and optimize pain relief. 
"We're on a mission to redesign wheelchair technology to help prevent these injuries and give wheelchair users the freedom to do what they love," said Balz, the company's chief executive officer, after announcing the valuable seed financing. "This is the first step in our journey to revolutionize seating for everyone."
Balz has attributed much of his life to giving individuals with a variety of mobility disabilities access to modern technology to aid in their independence. At age 15, he founded Freedom Chairs, a wheelchair refurbishment charity, and has donated more than 150 chairs to people throughout the world. As a Rose-Hulman student, Balz created the Intel Connected Wheelchair that was named the top Internet of Things Device of 2014 by Intel. He also helped form the Make It Happen group through the Branam and Kremer Innovation Centers' MakerLab to create a therapeutic device for a child in Moldova and contributed to a variety of hands-on projects for Rose-Hulman Ventures' clients. 
"I was determined to go to Rose because I didn't want to be treated like a number. Rose tailored my education to equip me to go out and follow my passions. That's why I created Kalogon, so that I could use my skills to change the world," said Balz while accepting the Rose-Hulman Alumni Association's 2022 Distinguished Young Alumni Award. "Rose cares about what you're going to do with the education you received here. For that I will be forever grateful." 
After leaving SpaceX, Balz sought "the most talented engineers I knew," many of them former Rose-Hulman classmates and friends, and others committed to helping wheelchair users. They started by doing research at a local senior living facility to garner feedback from residents, and to understand the impact of pressure-induced injuries. The team discussed concept designs with local wheelchair users, caretakers, and clinicians; the eventual initial prototype of the smart cushion was the culmination of what Balz called a "week-long, round-the-clock sprint."
"Wheelchairs haven't changed substantially for decades, and we believe that by improving the cushion, we can address the biggest pain points for wheelchair users," said Balz. "Early Kalogon users have already reported significant improvement in overall comfort and wellness, gaining a greater sense of freedom to live more active lives." 
Pressure injuries affect millions of people throughout the world annually and the recent shift to remote work has people pondering whether sitting for too long could be damaging their body in some way or another. Kalogon's solution, in theory, is to reduce the pressure on the various parts of the body that are most affected — essentially the buttocks, thighs and tailbone area.
Kalogon's solution, a cushion called the Orbiter, has five distinct regions, corresponding to the tailbone and left and right thigh and posterior areas generally. By keeping four of the five inflated, the user is supported adequately and a whole area is relieved of pressure. Then a few minutes later it slowly shifts that pressure to the next region.
Balz was recently named one of Orlando Business Journal's 40 Under 40 for his work in co-founding Kalogon with electrical engineer Connor Crenshaw, a 2019 electrical engineering graduate, and Aaron Jones, a 2017 mechanical engineering graduate. Other alumni employees include Billy Davignon, a 2022 engineering design graduate, and Jake Milanowski, 2022 computer science graduate. There have been nearly five student interns with the project during the past two years and Kalogon has been a client of academic capstone projects. A board member is Jeff Ready, a 1996 computer science alumnus, while Sawmill Society members have provided valuable business operation expertise.