Academic Department Chairs Named, Reappointed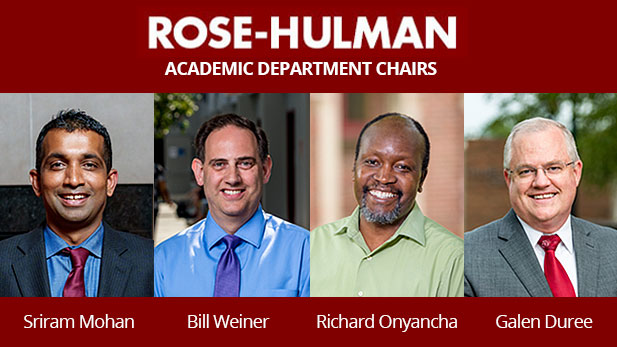 Two academic departments will have new leadership while two other department heads are being reappointed, starting on July 1, 2023. The appointments were announced by Provost and Vice President of Academic Affairs Rick Stamper, PhD.
Sriram Mohan, PhD, professor of computer science and software engineering, will be head the department that he has been a faculty member of since 2007, helping the department to grow in enrollment and national stature. He will be replacing J.P. Mellor, PhD, who had been the department head since the 2015-16 academic year. Mellor will remain on the department's faculty.
Bill Weiner, PhD, will be the head of the Department of Biology and Biomedical Engineering, where he has been an award-winning faculty member since starting in 2000. He replaces Jameel Ahmed, PhD, who is returning to teach within the department he led since the 2011-12 school year.
Meanwhile, Richard Onyancha, PhD, will remain head of the Department of Mechanical Engineering and Galen Duree, PhD, returns as head of the Department of Physics and Optical Engineering.
Mohan has been among Rose-Hulman faculty helping other higher ed leaders and faculty bring academic change to their departments. On campus, he played a lead role in the development of data science as a second major course of study and the incorporation of reflection and problem-based learning into the software engineering curriculum. Mohan recently earned the Rose-Hulman Dean's Outstanding Academic Advisor Award and was selected as the Outstanding Young Alumnus of the Year (2015) from Indiana University's School of Informatics and Computing, where he earned doctorate (2007) and masters (2003) degrees.
Weiner enjoys teaching and trying to maximize each student's potential. That's why he has earned the Rose-Hulman Dean's Outstanding Teacher Award (2008), been named one of America's Best 300 Professors by the Princeton Review (2012), and co-chaired the Rose Reimagine initiative that led to the development of the college's engineering design program. Weiner is considered an expert in circadian rhythms, the sensory processing of neural systems and invertebrate vision. He earned his doctorate in neuroscience from Syracuse University (2000) after receiving his bachelor's degree in bioengineering from the New York college (1991).
Onyancha has been the ME department head since 2019 and a member of the faculty since 2007 and now services as chair of the American Society of Mechanical Engineering's ME Department Heads and Chairs Executive Committee. He has been an advocate for undergraduate research and global education opportunities, including the new Global Engineering & Social Context program. Onyancha spent the 2016-17 school year as a Fulbright Faculty Scholar at Zambia's Copperbelt University. He earned his PhD from
University of New Hampshire after receiving a master's degree from Brunel University in London and a bachelor's degree from the University of Nairobi in Kenya.
Duree, who has led the department since 2015, has earned the Dean's Outstanding Teacher Award for helping students understand concepts of optics and physics. He provides students with practical experiences working on a variety of projects with Naval Surface Warfare Center in Crane, Indiana. Duree also authored the book "Optics for Dummies" to promote the field of optical engineering by making it easy to understand. He earned a doctorate in physics from the University of Arkansas after a bachelor's degree at Northwest Nazarene College (Idaho).