'Rose Family' Expands with 600+ First-Year Students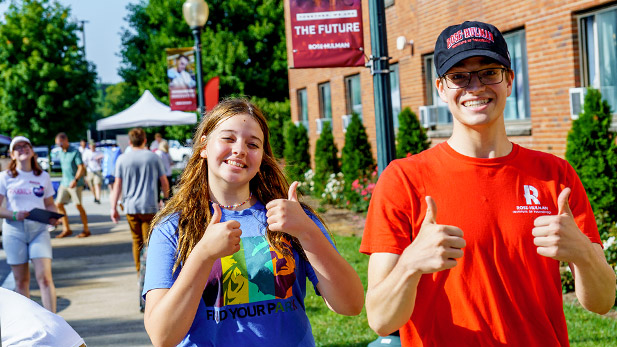 Wearing NASA-themed "Welcome to the Family" t-shirts, Rose-Hulman's residence life and student affairs staff members greeted the Class of 2026 with smiles, open arms and sweet treats as more than 600 students moved into campus residence halls to begin New Student Orientation on Friday, August 26.   
Upper class students will join them this weekend and early next week. The 2022-23 school year begins September 1. 
A family atmosphere is one of the cherished virtues of a Rose-Hulman education, according to Vice President for Student Affairs Erik Hayes. He points out that each residence hall floor planned to host their first "family dinner" Friday evening in the Mussallem Union's main dining room – a tradition that will continue each weeknight throughout the students' first year on campus.
"We know that parents have left behind their most precious item, their son or daughter, and entrusted us to take care of them. I want them leaving Rose-Hulman feeling good about where they have left their child to attend college," said Hayes. "Our students are leaving one special family and finding another family here. The bonds and relationships being made here, starting this weekend, are special." 
Surveys of Rose-Hulman students conducted last school year by The Princeton Review gave the Institute high marks for student support and counseling services (No. 3) and residence life (No. 5).
First-year optical engineering student Katie Kesterson brought a little bit of home from Indianapolis with her as she moved a 10-gallon aquarium with her beloved Klaus, a 3-year-old betta Siamese fighting fish, and two live-bearing fish into her room on the third floor of Baur-Sames-Bogart residence hall.
"Klaus goes wherever I go. I couldn't imagine doing this adventure without him. He's going to college too," remarked Kesterson, whose father, John, is a 2003 engineering management master's degree graduate. "The experience that Rose-Hulman offers is so great and welcoming. I know that there are going to be struggles, but we're doing this thing together." 
The family atmosphere runs deep for incoming civil engineering student Ellie Goodwin, a third-generation Rose-Hulman student. Her father, Pat, is a 1995 civil engineering alumnus and her late grandfather, Max Goodwin, was a 1963 physics graduate. Ellie's attendance as part of the Noblitt Scholars' Class of 2026 is being supported by the first-year Hannum Scholar scholarship, set up last year with a $1 million donation by alumnus/trustee David Hannum and his wife, Kathy.
"I've known about Rose-Hulman for most of my life. I'm now excited to be a part of it," she said.
Pat and his wife, Marti, shared in their daughter's Move-In Day excitement.
"I'm hoping that she has the same great experience here that I had, but makes better grades," said Pat with a chuckle. "She has worked hard for this and we're glad to see her finally realizing her goals."
An interesting twist to this year's Move-In Day was that there's a Rose is among the incoming class: Ian Rose, a mechanical engineering student from Jackson, California.
"I felt a good fit here from the first time I heard about Rose-Hulman," he said. "I'm really looking forward to getting involved in so many things here, especially the Innovation Centers and abundant clubs and organizations. I can't wait to get started in the next stage of my life."
The Class of 2026 is a dynamic group of diverse learners with a global perspective, according to Vice President for Enrollment Management Tom Bear. Students have come to campus from a record 19 international countries along with 40 states, plus the District of Columbia. A record 13 states have sent at least 10 students to the Institute this fall. The 5,010 applications received for the Class of 2026 was a 10% increase from last year.
Other characteristics of the class include:
18.3% of first-year students are either first-generation attendees and/or Pell Grant recipients
26.4% of domestic first-year students are from demographic groups which are historically underrepresented in the STEM disciplines
26.1% of students are racially diverse being non-white
"Prospective students and their families see and appreciate the value of a Rose-Hulman education. They see the difference our students and graduates are making in their career fields and want to be a part of it as well," Bear said.
The Princeton Review's 2022 Best Colleges listings also gave Rose-Hulman high marks for internships (No. 1), science lab facilities (No. 1), career services (No. 3), career placement (No. 6), and campus operations (No. 6). The Institute also was named a Best Value College, with a strong Return On Investment.