Garmong Family's $1M Gift Establishes Rose-Hulman Scholarship for Vigo County Students
Tuesday, November 02, 2021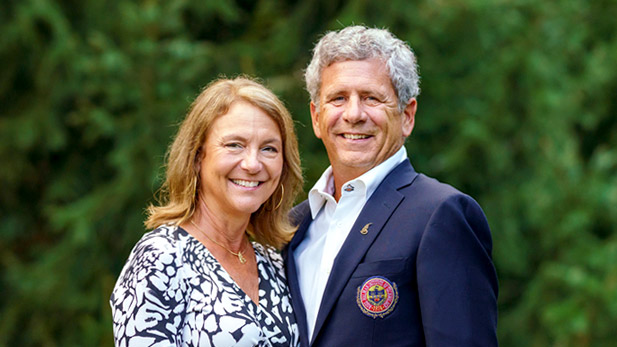 Rose-Hulman has a special significance for Terre Haute native David Hannum and his family. Spanning four generations, David is one of 12 members of the Garmong/Hannum families to graduate from Rose-Hulman.
The impact Rose-Hulman made on his life and business is a key reason why Hannum and his wife, Kathy, have donated $1 million to establish a new scholarship fund supporting future graduates of Vigo County high schools. The scholarship fund will cover a student's full tuition for four years. Prospective scholarship candidates must meet Rose-Hulman's academic entrance requirements, rank in the top 5% of their graduating class, and be accepted into the Noblitt Scholars program.
"Rose-Hulman changes lives through its demanding academics and quality facilities, excellent and caring faculty and staff, and special campus community," says Hannum, a 1981 mechanical engineering alumnus who is president and chief executive officer of Garmong Construction Services, the nearly 100-year-old Terre Haute contractor now with offices in Terre Haute, Indianapolis, and Evansville. "Rose-Hulman changed my life. So, Kathy (bachelor's degree in mechanical engineering from Michigan State University) and I want local students to benefit from Rose-Hulman well into the future."
The Hannums add that they hope the scholarship supports well-rounded students interested in science, technology, engineering and mathematics (STEM) career fields who have also demonstrated outstanding leadership skills through a variety of past teamwork experiences.
President Robert A. Coons expressed his appreciation that the Hannums share Rose-Hulman's commitment to make the college accessible for students from all socioeconomic backgrounds.
"The Garmong family has a proud history at Rose-Hulman and the David and Kathy Hannum Scholarship Fund will continue to strengthen those bonds, while making it possible for more high-achieving Wabash Valley students to attend in the future," Coons says.
A longtime member of Rose-Hulman's Board of Trustees, Hannum sees the opportunity for Rose-Hulman to further tap into the talent that exists locally. These students might be academically qualified to attend Rose-Hulman but may not consider it for a variety of reasons.
"My grandfather Claude (Garmong) thought it was a great measure of success to send his son to earn a Rose Poly degree in the 1920s, and that feeling of pride continues today within the family," David Hannum says. "Rose‐Hulman is a gold mine of young talent and that is why my company still hires its graduates."
Two of David and Kathy's children have continued the family's Rose-Hulman heritage into the fourth generation: Rachael (Hannum) Lynch, a 2007 biomedical engineering alumna, and Eric Hannum, a 2012 mechanical engineering graduate.
Under Hannum's leadership, Garmong has transitioned into design-build, construction management and ownership/development of complex industrial, and large public works partnership agreements. It has grown from 10 employees in 1989 to more than 200, with many members being Rose-Hulman alumni.
Hannum was recognized as one of the Indianapolis Business Journal's "Fast 25" in 2019 for the success of Garmong & Son and Indiana Business Magazine has listed Garmong among Indiana's fastest growing businesses multiple times. He also has been named Entrepreneur of the Year by Indiana University's Kelley School of Business.
In his hometown, Hannum has been president and board member of the Terre Haute Chamber of Commerce, board member of the Terre Haute Economic Development Corporation, President of WV Contractors Association, actively involved in church, and countless baseball and school activities. In 2014, he received the Sagamore of the Wabash award from Governor Mitch Daniels for his service as chairman of Indiana's Fire and Building Safety Commission from 2006-2013. Kathy has led Union Hospital Foundation's service league for many years and many area non-profits.