Professor Receives KEEN Grant to Embed Entrepreneurial Mindset with Engineering Professional Societies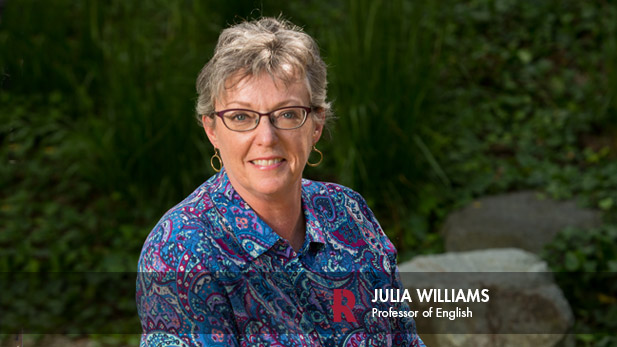 Over the next three years, Rose-Hulman professor Julia Williams, PhD, will build connections between engineering professional societies and the Kern Entrepreneurial Engineering Network (KEEN) to create value for engineers in industry and in education. 
The "Embedding Entrepreneurial Mindset in Engineering Professional Societies" has received a $457,500 grant from The Robert D. and Patricia E. Kern Family Foundation.
Williams explains, "Since its inception, KEEN has supported the development of an entrepreneurial mindset (EM) in engineering students through the integration of an engineering mindset into engineering courses and partner cultures. Engineering faculty are key to achieving this goal, since faculty pedagogies determine both what students learn and how they learn it.
"While KEEN has accomplished the goal of cultivating faculty community, there are still a large number of engineering faculty and students who remain unaware of the importance of EM. These individuals are, however, connected to their engineering professional societies.  This project will leverage KEEN faculty and their connection to engineering professional societies as the mechanism for expanding awareness of EM," Williams said.  
Core to Williams' project is the Engineering Unleashed Ambassadors, a cohort of engineering faculty drawn from across the county who are members of KEEN and who have implemented EM into their courses. Williams initiated the EU Ambassadors program during her sabbatical in 2020-21, with the support of the Kern Family Foundation.
Thirty new Engineering Unleashed Ambassadors will be recruited during the new project and will join the current Ambassadors in order to connect with student competitions, publications and conferences that are the backbone of some engineering professional societies. 
KEEN is a growing network of 50 colleges and universities across the United States that emphasizes the importance of EM for the engineering workforce in a period of rapid environmental, social, and technological change. Professional societies, Williams observes, play a role at the intersection of academia and the workforce, connecting engineering faculty to industry and influencing the education of the next generation of engineering professionals. Both Rose-Hulman and KEEN are at the forefront of this effort. Rose-Hulman has been a KEEN Partner since 2014. 
Williams, a member of the Rose-Hulman faculty since 1992, served as executive director of the Office of Institutional Research, Planning, and Assessment from 2005-16, helping the institute become a national leader in assessing student educational outcomes, e-portfolios and use of educational technology. She then served as interim dean of cross-cutting programs and emerging opportunities from 2016-2019 before returning to the classroom.
The Rose-Hulman Board of Trustees Outstanding Scholar Award winner in 2008, Williams has blended her work in the classroom as an English professor with work in assessment. She co-founded Making Academic Change Happen annual workshops that have helped higher education leaders implement new academic programs and initiatives on their campuses. Williams also has collaborated with colleagues at Rose-Hulman and at the University of Washington Center for Evaluation & Research in STEM Equity to support the work of National Science Foundation (NSF) Revolutionizing Engineering and Computer Science Departments grant recipients.  
Williams has received numerous awards, including the 2015 Schlesinger Award from the Institute of Electronic and Electrical Engineers' Professional Communication Society and 2010 Sterling Olmsted Award from the American Society of Engineering Education's Liberal Education Division.