Haiden Smith Graduates as First Grand Challenges Scholar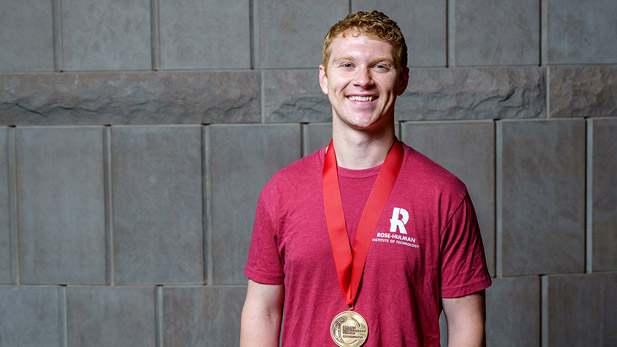 Haiden Smith, an electrical engineer major, graduates from Rose-Hulman this month not only as class president, but also the school's first Grand Challenge Scholar.
The Grand Challenges Scholars program allows students to give their degree a global focus. The program stems from the National Academy of Engineering's focus on 14 urgent challenges facing the world in the 21st century. Those 14 challenges fall within five categories: sustainability, health, security and joy of living. Grand Challenges Scholars center their education on one of the challenges to make a tangible impact in that area before they graduate. 
Students commit to being a Grand Challenges Scholar their first year at Rose. Each Scholar's curriculum and college experience — elective classes, minor, internships, research, service-learning projects and possible study abroad opportunities — are centered around their challenge.
"The Grand Challenges Scholars program is unlike any other one on campus," says Smith. "It requires you to learn in a similar way that you may at a liberal arts school, but also includes the strong focus on engineering and research. It's demanding in terms of experiences, but it ties them together in an efficient way to provide a great learning opportunity." 
Smith's challenge area is sustainability, specifically access to clean water. He has been passionate about clean water accessibility from a young. During his first year at Rose, Smith had the opportunity to travel to Cuba. It was there, when he would travel between cities, that he witnessed first-hand the limited resources people have with respect to water. 
"Water shouldn't be a commodity," says Smith. "Access to clean water should be a human right. This program was a great opportunity to make part of my education be related to why I wanted to become an engineer." 
Grand Challenges Scholars work with a faculty advisor who guides them throughout their years. Smith's advisor is Assistant Professor of Chemistry and Biochemistry Fumie Sunahori, Ph.D.
"Haiden is a very strong student, very bright and independent, and did all of his research all on his own," says Sunahori. "I was lucky to be his supervisor."
Smith believes being a Grand Challenges Scholar gave him an extremely well-rounded education and an even better chance to take advantage of all the opportunities that exist at Rose. 
"Electrical Engineering students are typically in the labs, but don't do a lot of research," says Smith. "But working on sustainability and the clean water crisis gave me chance to dive into research on campus and that's been a huge learning experience." 
After graduation, Smith will complete a summer internship in patent law at Faegre Drinker law firm in Indianapolis. In the fall, he will work as an engineer with Eli Lilly and Company. Smith is also completing his master of science degree in engineering management from Rose-Hulman.