First-Year Students Come to Rosie's Rescue in Fall Robotics Challenge
Monday, November 07, 2022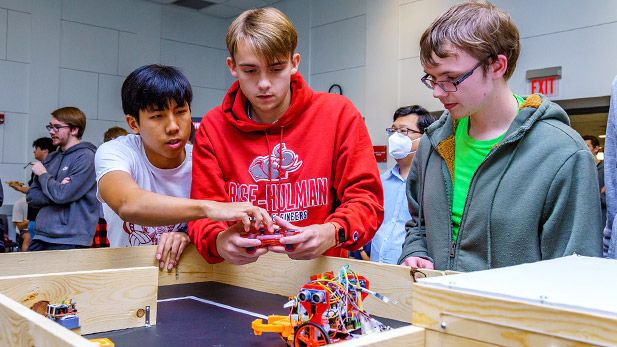 First-year electrical and computer engineering students came to the rescue to save Rosie, the college's elephant mascot, from alien monsters in a special robotics challenge that brought together lessons learned in this fall's Engineering Practice course.
Teams created remote- and autonomous-controlled Lego Minestorm robots that collected three Rosie figurines being held captive in locations scattered throughout a ping-pong table-sized playing field. The robots had to find Rosie, wrestle her away from a monster, and carry Rosie through a cave to a safe zone to receive care.
Throughout the project development process, the students learned elements of teamwork, programming, circuitry, documenting their work, and dealing with failure and conflict.
"They might not know or appreciate it now, but the students are learning valuable lessons, like communication skills and working together with others, that will help them succeed throughout their college and professional careers," said Department Head Mario Simoni, PhD, one of the 10-week course's professors. Other course benefits include introducing students to department faculty, classmates, and alumni.
"This had more engineering applications than any other course I'm taking this fall. I thoroughly enjoyed it," said electrical engineering major David Dalton. "We were learning something new in nearly every class session."
Teammate Kaden Nutter, a computer engineering student, added, "I know that calculus or physics are important, but programming, circuitry and robotics are what I want to do with my life. I was excited to come to class every week."
The two classmates joined computer engineering majors Connor Witkemper and Sam Zech on a team that pulled off a surprising third-place score in the final of three rounds – each successively whittling down the original 24 teams, based on points earned while rescuing the three Rosies. Along the way the foursome was the final team to qualify to the next round, placing 12th, sixth and finally third.
"This was very satisfying," said Nutter, who managed the remote controller that kept the team's robot collecting points throughout each three-minute round. "We kept things simple and got better each time. Our autonomous (computer) program also was consistent."
Other teams benefitted from taking more elaborate and strategic approaches on their rescue missions. The Mr. Roboto team was a top scorer in all three rounds and took top honors in the finals. Team members were computer engineering majors Siddarth Peddi, Sean Rody and Django Wardlow, and electrical engineering student Cohen Woods.
"Optimizing our systems and fine tuning the (controllers) joystick helped give us an edge," said Wardlow. "We just tried to go our best each round and see where it landed. Fortunately, we came out on top at the end." 
Meanwhile, Team B110 placed second in the finals after being the top scoring team in the first two stages. Members were computer engineering students Ellis Lyons, Jacob Richardson and Adi Sangole, along with electrical engineering major Kobe Stoudemire.
"We learned that programming is a lot harder than we thought," said Richardson. "I've written a lot of (computer) code in the past. However, coding for a physical robot was definitely challenging. Not everything went the way we wanted, but we figured things out."
The performance of each team's robot doesn't impact the student's grade in the course. This is a practical class exercise.
"At this time of their first academic quarter, these first-year students need a good pick-me-up and have some fun," Simoni said. "We have found this to be a great way to introduce students to electrical and computer engineering and the department."