Carvill Has a Passion for Teaching and Rose-Hulman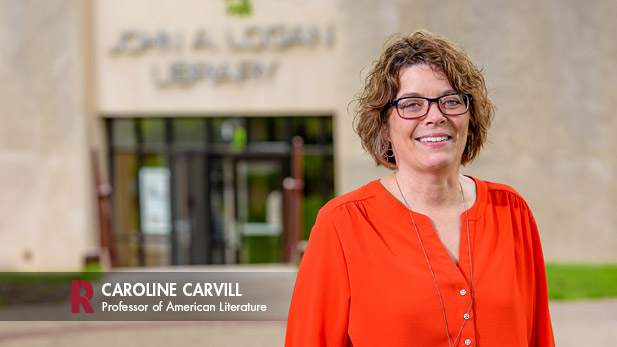 Take one step inside Caroline Carvill's faculty office lined with the literary works of William Faulkner, F. Scott Fitzgerald and Kurt Vonnegut and you quickly realize that she appreciates a good book.
Asking one question gets a quick response that showcases her deep passion for teaching ... and Rose-Hulman.
Carvill is amid her 33rd year as a professor of American literature on campus. And, during that tenure she has been the first female professor to receive the Dean's Outstanding Teacher Award (1994), serve as associate dean of faculty, and earn the Alumni Association's Honorary Alumni Award (2003). She also has served as head of the Department of Humanities, Social Sciences and the Arts, represented the faculty to the Board of Trustees, and led several institute faculty committees. 
"This place (Rose-Hulman) just gets deep rooted in your soul," she said.
In Carvill's soul are 20th-century American literature, especially southern fiction, and novels by Faulkner, which she studied for her doctorate at the University of Arkansas before coming to Rose-Hulman in 1989.
"I came as a nine-month sabbatical replacement and I'm still here," stated Carvill, chuckling while taking a moment after a busy day of classes to reflect upon her career with the institute. "Teaching at a technical-based institution, one that doesn't award English degrees, isn't what an English major envisions coming out of college. But here I was teaching what I love, American literature and fiction, and I love teaching good students. The gratifications are different here but they're very real."
Later, she remarked, "Who wouldn't love teaching in an environment where good teaching is so appreciated and valued as an institution? What our mission statement says (about providing students with the world's best undergraduate experience in an environment of individual attention and support) matches what we do. That's kept me here. We reward what we say we value." 
Carvill received the American Society for Engineering Education Liberal Education Division's Sterling Olmsted Award in 2007 for her contributions to educating engineering students.
Each year Carvill requires her students to read eight 20th-century American novels, including Faulkner's "The Sound and the Fury," Fitzgerald's "The Great Gatsby," Vonnegut's "Slaughterhouse-Five," and Salinger's "The Catcher and the Rye."
"It is important that students read and appreciate great literary works," she said. "They create great classroom discussions."
Carvill's personal favorite novel is Faulkner's "Absalom, Absalom!", but she also appreciates "The Great Gatsby" and Mark Twain's "Huckleberry Finn."
Carvill has accentuated her literary teaching by bringing aspects of service learning and active learning to Rose-Hulman. Several years ago, she worked with Wabash Valley Habitat for Humanity to have students construct a house from scratch on campus. It was then meticulously transported several miles into Terre Haute for use by a low-income family. She also had students volunteer at local non-profit agencies and subsequently write newspaper articles about the agencies – drawing attention to each organization and their needs for support.
Carvill's own community service has included serving as president of the Council on Domestic Abuse and Planned Parenthood of Southern Indiana Advisory Council, and lengthy service on the United Way of the Wabash Valley's Community Impact Committee. She received the organization's Solomon Award in 2017 for "demonstrating extraordinary wisdom, responsiveness and flexibility in investing United Way donor resources to create the greatest impact in our community," according to executive director Richard Payonk.
The Arkansas native said, "It's important to give back where you live and to make it better, and I want to instill that feeling in our students. People are happier when they're involved."
And she is happiest teaching at Rose-Hulman.
"I'm so fortunate that in my first faculty position, I found one that I love so much. This has always been the place for me," stated Carvill. "Having great students help a lot. You expect a lot from them, but they always rise to meet those expectations."
Learn more about Carvill in her faculty profile.