Board of Trustees Add Alumni Expertise with Wayne Patrick, Chris Inman
Wednesday, November 02, 2022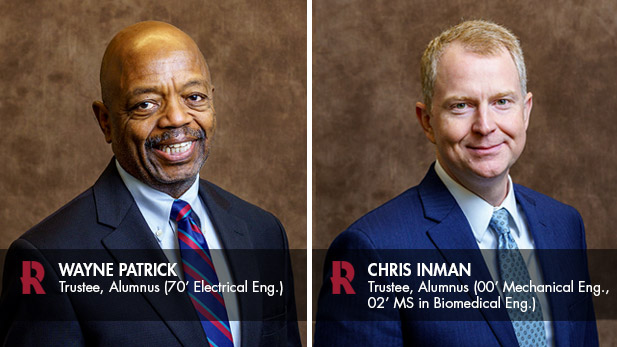 Rose-Hulman has added expertise in management, technology, manufacturing, and entrepreneurship with successful alumni Wayne Patrick and Chris Inman becoming new members of the Board of Trustees. They began their contributions to the institute during the board's recent fall meeting. 
Patrick is chief revenue officer with AIS, an Indianapolis-based information technology consulting, strategy and security company. Inman is serving a three-year term as an alumni representative trustee. Inman is associate director for systems and software engineering with Raytheon Technologies in Salt Lake City, Utah.
President Robert A. Coons said, "Wayne and Chris bring valuable perspectives to our board of trustees through their broad experiences in business and life. But most importantly, they have a passion for Rose-Hulman and our mission. We're looking forward to their contributions as we set the strategies that will keep the institute at the forefront of undergraduate STEM education."
A native of Chicago, Patrick earned a bachelor's degree in electrical engineering from Rose-Hulman in 1970. Patrick also holds an MBA from Butler University. After a tour of military service duty, he started a career as an information technology, consulting, and data analytics professional, primarily in Indianapolis. He founded and led Professional Data Dimensions for 23 years (1990-2013) and became senior relationship executive with Onebridge (2013-19) after it purchased Professional Data Dimensions. Soon thereafter he became a leader with AIS, developing and implementing the company's growth strategy and strategic planning.
Patrick has lent his experience and talents as a board member to several central Indiana organizations, including the Indianapolis Chamber of Commerce, Indiana Chamber of Commerce, TechPoint Foundation, Eskenazi Health Foundation, Independent Colleges of Indiana, and Butler University. He also has been an angel investor in several entrepreneurial enterprises throughout America. 
"My Rose-Hulman education brought value and influence on my life and career. This (Board of Trustees) appointment is providing me the opportunity to give back to a place that I hold in such high regard because of the quality of its alumni, administrators, faculty, and staff members. I hope my experiences will be able to help Rose-Hulman get even better in the future," said Patrick.
Inman earned a bachelor's degree in mechanical engineering in 2000 and a master's degree in biomedical engineering in 2002 from Rose-Hulman. He also holds an MBA from Indiana University. His studies have led Inman to become a change leader with more than 20 years of program and engineering management expertise in the public and private sectors related to defense, intelligence, counter terrorism, and healthcare. He is currently a member of Raytheon Applied Signal Technology's engineering leadership team that oversees the strategy and activities for over 350 engineers. He has worked for the company since May 2017. 
Other experiences have had Inman serving as telehealth director for Indiana University Health in Indianapolis (2016-17), director of strategic initiatives with Hospital Sisters Health System's central Illinois division (2014-15) and a career in government service that included being a deputy program director with the U.S. Air Force (2010-14), program director with the U.S. Department of Homeland Security (2008-2010), and chief flight systems engineer and chief of operations with the Air Force (2002-08). He earned civilian honors as the Air Force's Acquisition Staff Officer of the Year in 2012 and Air Force Materiel Command's Junior Engineer of the Year in 2005.
"I'm honored to be serving as a trustee of a place that means so much to me. I'm looking forward to representing our alumni and contributing to the institute's future success," said Inman, a former residence life staff member. "Rose-Hulman is a special place, a true community, that provides unrivaled learning experiences to students for personal and professional growth both inside and outside of the classroom. Those experiences prepare its alumni to accel in their careers and have a substantive impact on our global society."