Biomedical Engineering Seniors Applying Skills to Improve Lives
Tuesday, December 06, 2022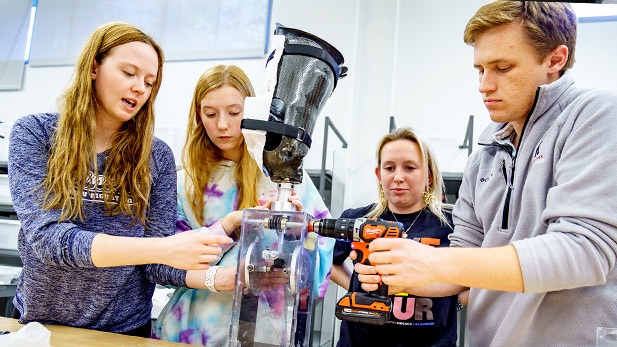 Senior biomedical engineering students are applying skills in product design, biomechanics, biomaterials, and circuits that have them closer to realizing their goals of becoming future engineers that can improve people's lives. 
As part of the Department of Biology and Biomedical Engineering's extensive design component, year-long capstone design projects have students working together to analyze the forces, stresses, and strains involved in creating biomedical systems or medical devices. This includes studying the motions of bodies or joints, fluid flow, and the deformation of materials.
Teams are creating devices that study the cyclic pattern of movement that occurs while walking, assist in providing a noninvasive form of brain stimulation for therapy, and support equine-assisted therapy through a biometric feedback stirrup.
Also, the development of an easy rocking chair will improve the quality of life for a 16-year-old boy, a prosthetic device may help a former Navy serviceman once again enjoy his love of weightlifting, and a video game that's controlled by a player's brain waves could draw attention to the wonders of science, technology, engineering, and mathematics (STEM). 
"This project features aspects, no matter how big or small, of everything that we've learned during the past four years. It's been interesting to see how everything has fit together. It has been problem solving from beginning to end," said Ethan Drong, who worked on the biofeedback stirrup project with Connor Stapleton and Ed Whetter. "Knowing that we're creating something that's going to help people's lives through equine therapy kept us motivated. This hasn't been just for a (class project) grade; it's a real, living project for a client (central Indiana's The Lakeland Center)." 
Lexi Fortuna remarked, "This was reality, not a virtual (design) project, like past assignments. We were creating (a gait cycle sensing device) with lots of moving parts that needed to come together and meet a client's needs." 
Team member Eryn Castaneda adds that the gait cycle sensing project included several aspects of project validation that will be useful in her career as a biomedical engineer.  
"Because of our past classes and work experiences, we all had a good background on what was needed to get the project done. However, the human element really made this project important to all of us," stated Newt Ziegler. Maggie Swank also assisted on the senior-year activity.
Luci Duncan, Grace Hobson, and Elliott Whiteside mixed fun and learning during the development of a headset that reads a person's brain waves to move objects in a video game. It is hoped that the system will help inspire school children toward STEM careers. 
"What looks simple on paper, can be really complicated in real life," said Hobson while demonstrating the video game. "There were A LOT of elements (more than 250 LED lights spread evenly above and below the video screen) that had to work together. We've had a 70% accuracy rate in early testing and are striving to improve that mark in the future." 
Whiteside added, "If we're having this much fun developing the project, I can't imagine how much fun school kids are going to have playing the game."
Creating the prosthetic leg were Prescott Brackett, Conner Coffy, Evan DeGroote, Emma Nichols, MaKenzie Morgan, and David Peacock.
Meanwhile, the responsive device to help patients during brain stimulation therapy sessions were Jacob Meyers, Camden Ringo, Josh Suslowicz, and Noah Woodson.
The team of Danna Carreno, Breanna Rogers, and Jia Webb worked together seamlessly to develop The Easy Rocker device.
"Knowing that what we were doing will help someone kept us motivated," said Nichols in a statement that summarized the sentiments of biomedical engineering's Class of 2023. "Knowing that I have skills that can make a difference is why I wanted to become an engineer. Now, I'm getting close to that becoming a reality."