Biology Alumna Spreading the News About Health Care Innovations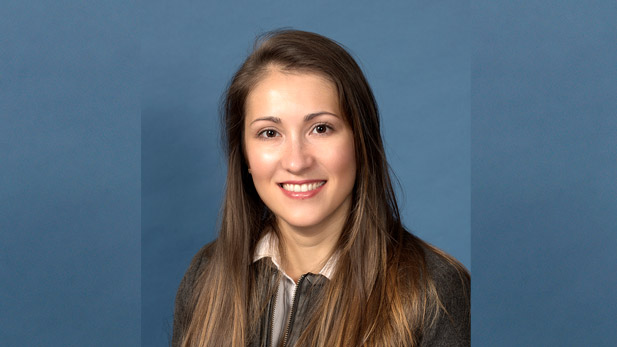 Researcher. Educator. Health care advocate.
Biology alumna Mariya Krisenko-Lewis, Ph.D., believes she has the best of those three areas as senior manager of Medical Science Liaison (MSL) oncology services for Astellas Pharma U.S., Inc.
MSLs have an increasing critical role within health care companies. With advanced training and academic credentials, the positions help communicate within the medical research community and educate the public about the effectiveness of research and treatment discoveries in specific therapeutic areas and diseases.
As part of Astellas Pharma's global field medical affairs team, Krisenko-Lewis leads and executes field medical activities that support the medical affairs strategies for prostate cancer therapeutics. She uses clinical knowledge and field expertise to identify and communicate business and scientific trends in the health care environment.
"I get to meet and engage in peer-to-peer in-depth scientific conversations with health care professionals for discussions on education, research, and innovation," says Krisenko-Lewis, a 2010 biology graduate. "A big part of my job is answering health care providers' questions about our product in a non-promotional, purely clinical and scientific way. I also work with top-notch researchers to bring new trials and innovation that aligns with driving the field of prostate cancer forward. And, of course, I do feel like a health advocate for patients because I try to educate around the most current treatment guidelines since we know that medical/treatment inertia is common in almost all sectors of medicine."
Earlier, during four years as MSL with Novo Nordisk, Krisenko-Lewis educated and promoted research in rare pediatric genetic disease areas and pediatric Type 1 diabetes. In 2019, she helped the company launch the first oral glucagon-like peptide-1 receptor (GLP-1RA) agonist for treatment of Type 2 diabetes in adults. Later, Novo Nordisk launched the first injectable GLP-1RA for pediatric obesity.
"I have always enjoyed science," she says. "I was involved in science fair all throughout high school, so science came naturally to me. I also wanted to make a difference in the health care sector. The U.S. health care system is very complex. That challenge also added to my curiosity and the desire to be a part of it to learn and make an impact."
Krisenko-Lewis originally came to Rose-Hulman to study biomedical engineering. However, she quickly averted to the biology program because of its undergraduate research programs, especially the senior thesis project.
"Senior thesis is the best aspect of (Rose-Hulman's) biology program," she says. "It allows you to think outside the box, design your own experiments, and really practice your scientific skills. I loved every minute of it and it really sums up all of everything you learned throughout your undergraduate time and puts it to the test."
Another asset, according to Krisenko-Lewis, is the program's quality and caring faculty. "Rose really prepared me well for graduate school (earning a doctorate at Purdue University)," she says. "Being able to have a good graduate education was really important and helped me to be competitive in the job market once I graduated. Additionally, I still use many of the skills that the Rose faculty taught me in my everyday job, specifically how to give clear and concise scientific presentations and how to think outside the box." 
Her academic and senior thesis advisor Jennifer O'Connor, Ph.D., gave Krisenko-Lewis a summer undergraduate experience examining amphibian viruses. "She allowed me to have so much scientific freedom yet advised me when I was stuck. She also advocated for me to go to my first big national conference and present our data. Her guidance and help really set me up for success in graduate school. I am forever grateful for that," states Krisenko-Lewis.
Also, Associate Dean for Professional Development and Biology Professor Ella Ingram, Ph.D., encouraged Krisenko-Lewis to become a good scientific presenter. She is still using those skills while making scientific presentations to corporate health care leaders and a hospital system's nursing staff.
And, Biology and Biomedical Engineering Department Head Jameel Ahmed, Ph.D., allowed Krisenko-Lewis to return to Rose-Hulman following graduate school to teach and mentor future scientists. She says, "His kindness in giving me this valuable opportunity really showed me how much Rose faculty care about their current students and alumni. It is truly a wonderful Rose community … It is hard to find such a caring and scientifically rich community at other institutions."
-----------
In Her Own Words
Mariya Krisenko-Lewis, one of the Alumni Association's 2021 Distinguished Young Alumni Award recipients, made a presentation about diabetes discoveries in a Rose Talk session. Watch it at www.rose-hulman.edu/rosetalks.