Alumnus Ashvin Lad Catches a Random Act of Kindness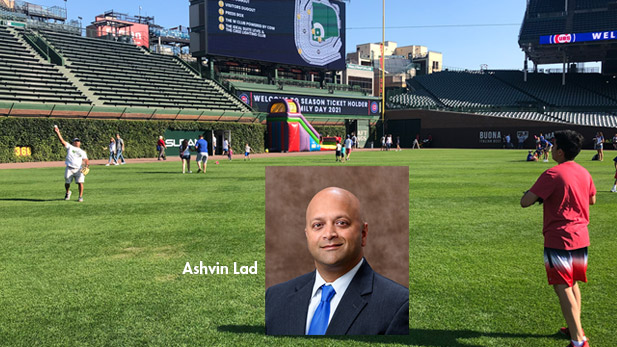 Moments that resembled that heartwarming movie scene from "Field of Dreams" have forged a special friendship between chemical engineering and biomedical engineering alumnus Ashvin Lad and a 13-year-old Chicago boy who wanted to hone his baseball skills by playing a simple game of catch.
It culminated with both exchanging baseball tosses in the outfield of the Chicago Cubs' historic Wrigley Field last fall.
Lad replied to a neighborhood Facebook post by Carmen Cruz in search of baseball-oriented individuals who could volunteer playing catch with her 13-year-old son, Nikolas, who loves the game and is determined to master its mechanics. Nikolas had learned the game from his older brother, but those kinship lessons stopped when he died nearly six years ago. That left a missing link in the family.
"When I learned the family's story, it was no longer just a good deed. Rather, it was making a positive impact on a family that had been through so much pain," says Lad. "I replied to (the mother's) request because I enjoy playing catch. It gave me an opportunity to get out there and play again. Also, to have an opportunity to perhaps teach the kid a few things was the motivating factor."
The first game of catch came in a neighborhood field, with Lad offering helpful advice on how Nikolas could improve his throwing and catching. Later, the two made plans to have a pitch-and-catch session in front of nearby Wrigley Field, where Lad is a Cubs' season ticket holder. However, Lad surprised Nikolas with an invitation to join him in the stands to watch how professional players really play the game. 
Things would get even better after conclusion of the Cubs' 2021 season when Lad and Nikolas played catch in the Wrigley Field outfield during an event for season ticket holders and guests. The teenager also got to take batting practice, sit in the team's dugout and visit the press box.
"Ashvin has been a godsend," Carmen told Chicago Tribune columnist Heidi Stevens, who wrote about Lad's random act of kindness.
"I believe in paying it forward," says Lad, a cancer survivor who is director of strategic initiatives with PSG Energy Group, a division of Envelop Group. "My mom was always being of service to others and volunteering her time to different people and organizations. I think it's even more important today to set examples of doing good for others, and hoping others follow suit."