Rose-Hulman Becomes Santa's Workshop to Brighten Holiday Season
Tuesday, December 07, 2021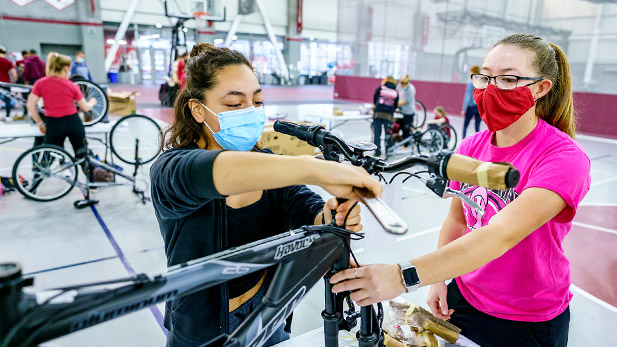 The significance of a child's first bicycle was on the minds of volunteers assembling, inspecting and delivering a variety of dazzling bikes for this year's holiday season through the Bikes For Tykes community service project.
Organized by Terre Haute's Chances and Services for Youth (CASY) organization and with the loyal support of several local groups and financial donors, nearly 250 bicycles will soon be distributed to children in need at elementary, middle and high schools in the Vigo County School Corporation.
This year's bicycles included Disney Princess- and Frozen-themed 12-inch bicycles with training wheels and rear seats for transporting dolls, brightly colored 20-inch models, and 10-speed 24- and 26-inch bicycles.
"To wake up Christmas morning with a new bike under the tree will be pretty special for these school children and, in many cases, may be the only present they receive this year," said CASY Chief Operating Officer Brandon Halleck. "We all remember that wonderful feeling of receiving our first bike. We're happy to share those feelings with several kids this holiday season."
This is the 23 rd year that the Bikes For Tykes project has distributed bicycles throughout the community. And for the 20 th straight winter space at Rose-Hulman was transformed into a temporary Santa's Workshop as nearly 200 students, faculty and staff members used their engineering and problem-solving skills to assemble, conduct tire pressure checks, inspect, and sort the bicycles for CASY.
Senior Susan Harmet organized a group of female students living on campus to form one of the 30 assembly teams scattered throughout the fieldhouse area of the Sports and Recreation Center on December 4.
"As a software engineering student, I don't get to do something like this every day. This puts me out of my comfort zone. However, I like working together with others and share in something special," she said as the group put together all of the elements on a 24-inch bicycle. "I'm glad I was able to be (a Bikes For Tykes) volunteer before graduating. It has been so much fun."
Nearby, sophomore chemical engineering student Andrew Toler helped fellow members of the Phi Gamma Delta fraternity put the finishing touches on assembling one bicycle while opening the box to begin work on another.
"It feels so good to give back to the community," he said. "The local and Rose-Hulman communities have given a lot to me. It's my turn to give back."
Mechanical engineering professor Jay McCormack, mathematics professor John McSweeney, and electrical and computer engineering professor Tina Hudson organized students at 10 inspection stations while Branam and Kremer Innovation Center Manager Tom Rogge supervised the multiple tire pressure stations.
Members of other fraternities joined student-athletes from a variety of different teams and residents of campus residence halls worked together to have the bicycles ready for delivery within three hours.
"Bikes For Tykes wouldn't exist without all the volunteers who help us fundraise, assemble and distribute the bicycles," said Halleck, acknowledging members of the Terre Haute South Rotary Club, local Walmart and Pepsi businesses, and VCSC school counselors, teachers and staff members for assisting this year.
Rose-Hulman President Robert A. Coons says Bikes For Tykes is one of several community projects that the institute's students, faculty and staff support each school year.
"This campus event allows more of our students to learn valuable lessons about how they can use their talents to help others," he said.