Mechanical Engineering Student Team Creates Bottling Solution for Indiana Company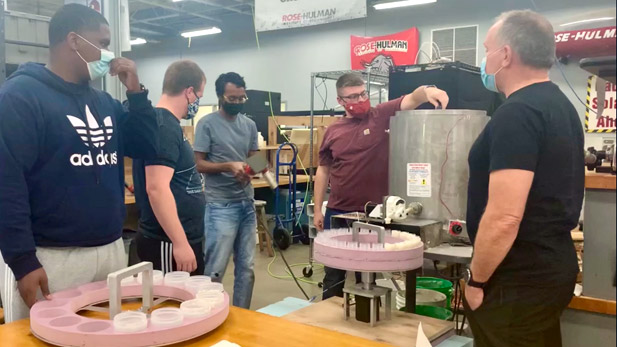 Dr. Doug's Balms, a small entrepreneurial business in Carmel, Indiana, is giving Rose-Hulman mechanical engineering students practical hands-on experience to solve bottlenecks in the company's production line.

And the work was so satisfying that more projects could be forthcoming.

"We're a mom-and-pop shop trying our best to do everything as economically as possible," says Douglas Strobel, MD, owner of Dr. Doug's Balms, which creates and sells organic and anti-bacterial balms designed to treat everything from dry skin and eczema to pain and stretch marks. "Up until now, we've been filling bottles by hand. It is slow and time-consuming. We needed a solution that wouldn't break the bank but would help automate the process."

According to a company press release, Strobel reached out to engineering schools across Indiana. Within weeks he heard back from Rose-Hulman assistant professor of mechanical engineering Rebecca Bercich.

"We are always looking for companies to partner with our senior students on capstone design projects," Bercich says. "The goal is to match students with a real-world problem – something outside of a textbook –
that will help them improve their skills so they're marketable and feel confident leaving school and heading out into the job market."

The eight-month project development cycle starts with faculty spending the summer vetting the ideas before pitching them to student teams each fall. The first 10-week quarter is spent setting objectives and creating concepts. The second quarter is spent building and testing prototypes. Then, the final semester is spent resolving problems and presenting a final product prototype to the client. Students devote 6-12 hours per week during the school year on their projects and have access to design workspaces, 3D printers, machine shop devices, electron microscopes, and plasma cutters in the new academic building, Branam Innovation Center and Kremer Innovation Center.

Thakir Berhane was among the four 2021 mechanical engineering seniors who worked on Dr. Doug's Balms project.

"We chose the project because the goal was very straightforward," Berhane says. "Building a fully functional dispensing system was something I knew we could deliver on. Doug was clear in what he wanted and provided us with a budget that allowed us to be innovative."

Their solution was a scalable peristaltic pump on a revolving tray that dispenses balm into containers. Strobel's only requirements were that the machine must be compact enough to fit in the backseat of a GMC Acadia and narrow enough to fit through a standard door frame.

"Their solution was very novel," Strobel says. "They took a medical approach to a mechanical engineering problem and ended up with a pretty impressive solution. The new automated process will increase our rate of production by more than 500% with less cleanup. It's definitely a game-changer."

Berhane states, "Doug gave us his bottlenecks. We gave him a solution. But we got so much more out of this project than just a happy client. This project really helped me learn how to manage team expectations, communicate with a client, and leverage the strengths of a team to reach different milestones. This project is something I'll put on my resume."
Other students on the project development team were Zach Eme, Vikram Hari, and Gavin Hurst.

Bercich adds, "Rose-Hulman has a strong capstone design program that is based on trust in our students. We give the students a lot of latitude and autonomy so that they can take ownership of the project, exercise creativity, apply critical thinking, and ultimately produce their best design work."
Strobel has plans for pitching a labeling system for seniors during the 2021-22 school year. "There will come a day when we need solutions for mixing, capping, and laser etching. As far as we're concerned this is just the beginning of our relationship with Rose-Hulman," he says.

Submit ideas for future Rose-Hulman capstone program, within any academic major, here.

----------
Tammy Sander of Mother of Pearls Public Relations contributed to this story.