Computer Security Team Members Capture the Flag
Thursday, December 09, 2021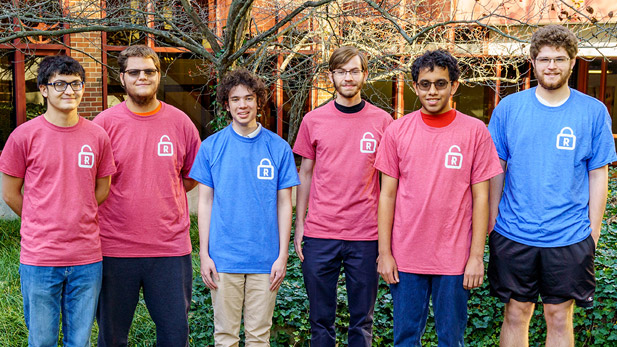 The competitive spirit of the Capture the Flag game has a new meaning in the world of information security as Rose-Hulman computer science, computer engineering and software engineering students use ethical hacking techniques to piece together complex computing puzzles.
And, have lots of fun doing it.
Members of Rose-Hulman's Computer Security Club started the 2021-22 competition season with six students making up a team that placed seventh out of 284 teams in the undergraduate division and 27th out of 505 total teams at Ohio State University's Buckeye Capture The Flag event.
The performance was commendable for a team that had as many seniors as first-year students – two in each class (along with one junior and another sophomore).
"We may have been a relatively small (since there is no team size limitation) and inexperienced team, but we really worked well together and got better as the challenge went along," said team captain Omar Roth, a senior majoring in computer science, software engineering and mathematics.
Other team members were computer engineering students Tom Kirchhoffer, a senior; Blake Baker, a junior; and first-year students Justin French and Pranav Krovviki; and Seth Marcus, a sophomore computer science major.
Capture The Flag (CTF) competitions call upon team members to complete a variety of computing tasks to get into the servers and steal an encoded string from a hidden file – the flag. Points are awarded per the degree of difficulty required to capture each flag.
For the Ohio State competition, the flags were hidden within problems covering such topics as cryptography, reverse engineering, web challenges, computing forensics, and binary exploration.
The Rose-Hulman team correctly solved 12 challenges to rank among the top teams in the competition.
"(CTF contests) throw you in the deep end and with only your (computing) knowledge to keep you afloat," said Baker, who likes playing puzzle games. "If you know how to learn, the challenge allows you to grow. You get better with each problem encountered along the way. Rose-Hulman prepares you well for those types of challenges."
Kirchhoffer added, "These challenges are much different than schoolwork. That's why I like them. They push you to new extremes and you learn to work together under pressure. It's like a final exam, without grades. There's just the satisfaction of knowing you accomplished something exciting."
For the Ohio State competition, team members came together for the first time before the 8 p.m. starting time on a Friday this fall. They then reviewed the different problems, decided on subgroups that could address them, and then went to work in developing solutions. Answers were submitted within 48 hours.
"It's fun and a great way to learn new things," stated Roth. "You also get to see if you're up to the challenge."
Baker said, "You learn more about a subject, but most important you learn about yourself. You take random bits of knowledge and see what you can come up with."
As first-year students, French and Krovviki were experiencing game skills that can be used for future CTF and Hack-A-Thon competitions.
"It was neat to be in an atmosphere where others were working together. We (first-year students) may have had limited skills, but we could help the more experienced team members find things to help," said French. "More first-year students should do it."
Krovviki added, "We all succeeded together."
Team members plan to continue competing in CTF competitions throughout the rest of the school year.